New 'Avengers' Movie Posters Spotlight Character Duos
I know it's struck some people as strange that Marvel Studios and Paramount Pictures hadn't employed the so-called "character poster" strategy for The Avengers, whereby each of the film's recognizable (or in the case of Hawkeye and Black Widow, photogenic) heroes appears in their own one-sheet image for display in cinema lobbies around the world. Who knows, but they finally got around to it this week as tickets go on sale for Marvel Cinematic Universe marathons. The series provides close-up versions of some of the portraits seen in the previous group poster, but also introduces new images of Samuel L. Jackson's Nick Fury with Cobie Smulders' Maria Hill in her first poster appearance, as well as Scarlett Johansson's Black Widow, Chris Evans' Captain America and Chris Hemsworth's Thor.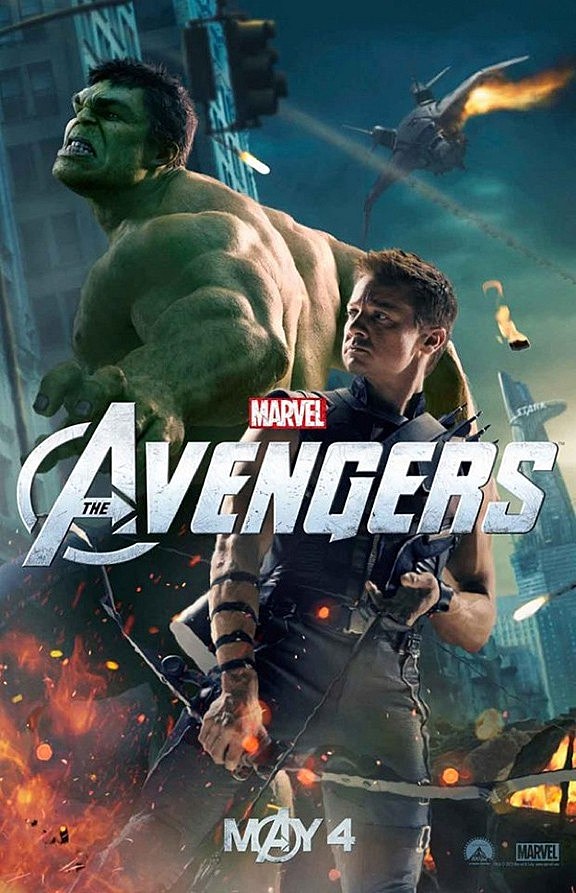 The Avengers
is much anticipated by superhero comics fans as well as the wide audience that the charming Marvel Studios productions have cultivated. However, some industry professionals like
Golem's Mighty Swing
cartoonist James Sturm have
called for a boycott in protest
of Marvel and its parent company Disney's treatment of the late Jack Kirby -- the legendary cartoonist who created many of the Avengers characters (and a great deal of others owned by the company) and his heirs, who recently lost a court battle to reclaim rights to the characters.
Directed by Joss Whedon, The Avengers is a first for nerd cinema in that it assembles the main players from a series of several Marvel films that began with 2008's Iron Man and continued with The Incredible Hulk, Iron Man 2, Thor and Captain America: The First Avenger. Known as the Marvel Cinematic Universe, all of these films were mostly pretty good to even great, performed very well in their own rights, and served collectively as a prelude to The Avengers. The film opens May 4.