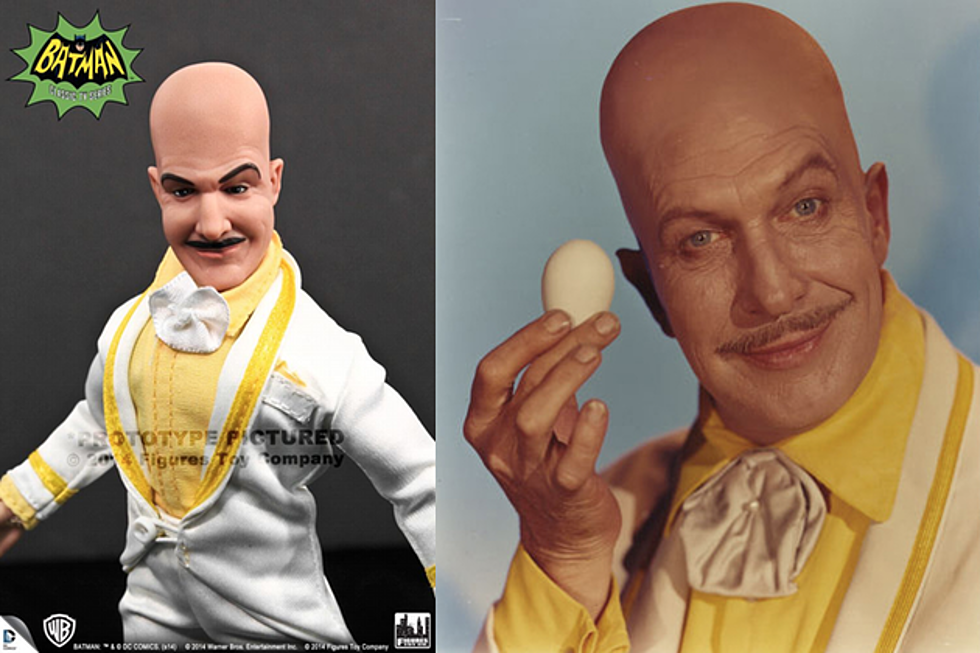 Holy Vincent Price! The 'Batman '66' Egghead Action Figure
Warner Bros./Figures Toy Company
A favorite villain among Batman fans for his genius/softboiled schemes and egregious egg puns, Egghead stands out as a character crafted specifically to suit the campy tone of Adam West, Burt Ward and Yvonne Craig's TV adventures. Though Egghead appeared in just four Batman episodes across its second and third seasons ("An Egg Grows In Gotham/The Yegg Foes In Gotham," "The Ogg And I/How To Hatch A Dinosaur," "The Ogg Couple" and "The Entrancing Dr. Cassandra"), the character continues to appear in Batman multimedia, most recently in the Batman: Brave and the Bold animated series.
Figures Toy Company has been teasing various prototype images of the figure's sculpt since last year, but this is the first proper showing of the painted and clothed figure. No word on whether or not he'll come packed with one of his many egg-themed weapons yet (Stinking Egg Bomb, Radar Egg, Laughing Gas Egg, Tear Gas Egg), but that detail seems like something FTC can crack.
You can check out the upcoming Figures Toy Company Egghead figure below.