Best Comic Book Covers Ever (This Month) – July 2012 A great comic book cover is both an advertisement and a work of art. It is both a statement and an invitation. Sometimes a great cover conveys character, sometimes mood, sometimes moment. Great covers can pastiche the classics or pay tribute to the past, or they can strive to show us something new. Great covers always show us a glimpse of somewhere else, on a canvas no bigger than a window pane. In Best Comic Book Covers Ever (This Month), we look back at some of the most eye-catching, original and exceptional covers of the month that was.
This month I've picked out two covers that riff on skyscraper-crushing monsters, two with a punk rock edge, and a handful that splash red ink to great effect. There are great covers from Jaime Hernandez, Adam Hughes and Colleen Coover, and showcase pieces from Epic Kill, Creepy, and Night of 1000 Wolves.


Johnny Wander vol. 2: Escape to New York (Johnny Wander), cover by Yuko Ota
Are giant rampaging monsters the new vampires? A young adult novel about a girl in a tragically conflicted relationship with a 300-foot-tall lizard would be a surefire bestseller. Until that wondrous event we have three great kaiju-inspired comic covers this month. My favorite is this playful take from Yuko Ota, which suggests that being giants doesn't make these characters any less awed by the city.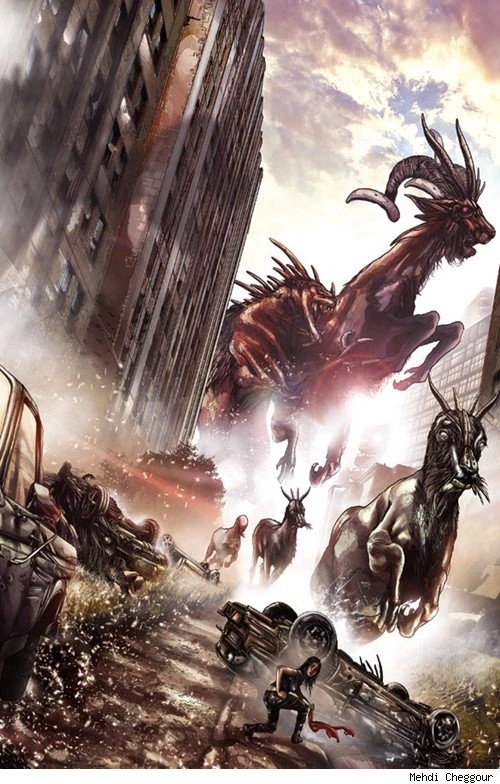 Enormous #1 (Image), cover by Mehdi Cheggour
Enormous is a more traditional take on the genre in that it's actually about giant monsters, but the monsters themselves look far from traditional. There's a strong Western pagan influence here that we don't normally see in kaiju, and Cheggour does a great job of framing for scale.

Johnny Hiro vol. 1: Half Asian, All Hero (Tor), cover by Fred Chao
Last but not least, a kaiju cover with an actual lizard and actual Asian people! And it still doesn't look like a Gojira poster! The lizard here isn't knocking down buildings and the characters aren't fleeing in fear. The title of the book suggests that this is at least in part a book about identity, and the cover gets that across with good humor.

Punk Rock Jesus #1 (DC Vertigo), cover by Sean Murphy
From giant monsters to rock monsters, Sean Murphy gives us some punk pop-art -- and a bit of an album cover mash-up -- for his new Vertigo book. But even this cover isn't as hardcore as...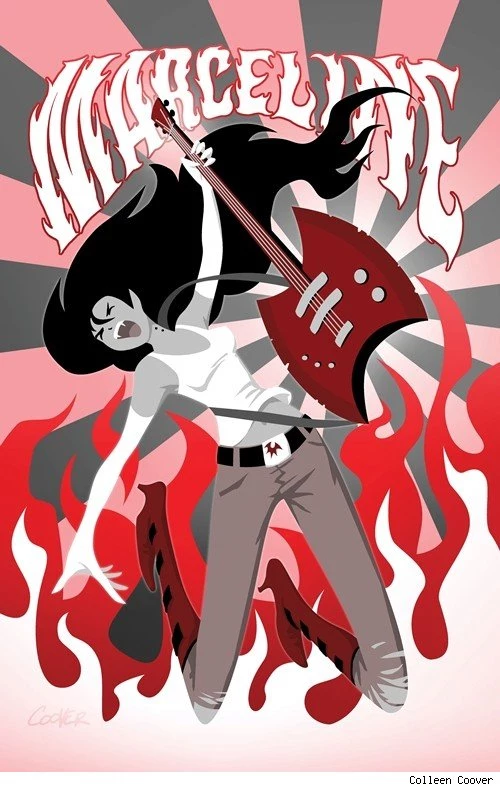 Adventure Time: Marceline And The Scream Queens #1 (Boom! Studios), variant cover by Colleen Coover
Now that's a concert poster I'd hang on my wall.

Warlord Of Mars #19 (Dynamite), cover by Lucio Parrillo
This is one of three covers I liked this month despite some reservations. I think it's possible that there are maybe just a few too many comics being sold with mostly-naked ladies on the cover. Just a smidge, you know? But this one is so over-the-top that I have to admire its shamelessness, and those are some well-executed evil smoke faces.

Cape 1969 #1 (IDW), variant cover by Nelson Daniel
My reservation about this cover to Joe Hill's latest is that it looks a little culturally suspect. That sinister tattooed vietcong villain just screams "handle with care" to me. But it's clearly a pulpy story and it's a striking pulp cover.

Scarlet Spider #7 (Marvel), cover by Ryan Stegman and Edgar Delgado
With this over it's the dynamics that give me pause. That's a very locked-in pose for a man swinging on a web rope. But I get it. The pose and the physique show us that this Spider-Man clone is not another Spider-Man. That's not how Spider-Man swings, and that's the point, and it's an effective contrast.

American Vampire #29 (DC Vertigo), variant cover by Dave Johnson
If that last cover didn't have enough red for you, here's a splash more, and a wonderful use of reflection to add depth, dimension and detail. Maybe this is just my perception, but I feel like it's rare for Dave Johnson to do a cover that's entirely in the scene rather than on a conspicuously constructed "stage." He does that amazingly well, but I like this a whole lot too.

Bloody Chester trade paperback (First Second), cover by Hilary Florido
More red! This time it represents both blood and fire, and we get a big dollop of deathly black to boot. This is a cover treatment that conveys place, character and theme and looks like nothing else on the shelf.

X-Factor #239 (Marvel), cover by David Yardin
From red to redheads, and some of that purple/yellow contrast I now think artists are just putting in their covers because they know I love it and they're desparate to get a mention in my highly revered column. But I like the presentation here so much that I'd have given it the nod anyway.

Batwoman #11 (DC), cover by JH Williams III
Another redhead in a monstrous clinch. There's a lot going on in this cover, from the monster's distorted face to the oily background to the overlaid image of a snake, but somehow it all holds together.

Night of 1000 Wolves (IDW), cover by David Wachter
Katniss! Look out for that wolf! And, presumably, 999 other wolves! This feels a lot like a Fables cover, both in composition and theme, and that's definitely praise.

Fairest #5 (DC Vertigo), cover by Adam Hughes
Speaking of Fables, the spin-off book Fairest has been giving Adam Hughes a chance to cover some fantastical new terriroty, and he's knocking it out of the park. Though admittedly this cover does rather play to one of his best-known strengths. (He's so good at polar bears.)

Batman #11 (DC), cover by Greg Capullo
The "Night of the Owls" crossover ends with an image that looks more iconically Christian than iconically Batman, with the caped crusader evoking both the crucifixion and la pieta with his body language. On first sight I thought the flames were licking into the shape of owls. On second sight they looked like bats. Now I wonder if Capullo has managed to make them both at once.

God and Science: Return of the Ti-Girls (Fantagraphics), cover by Jaime Hernandez
One last superhero book this month, and of course it's from Fantagraphics, those known purveyors of spandex action! All right, this isn't quite their wheelhouse, hence the maudlin mood and the atypical character designs. But isn't this exactly what you want a Jaime Hernandez superhero book to look like? (If a Jaime Hernandez superhero book was ever something you thought you might look for at all.)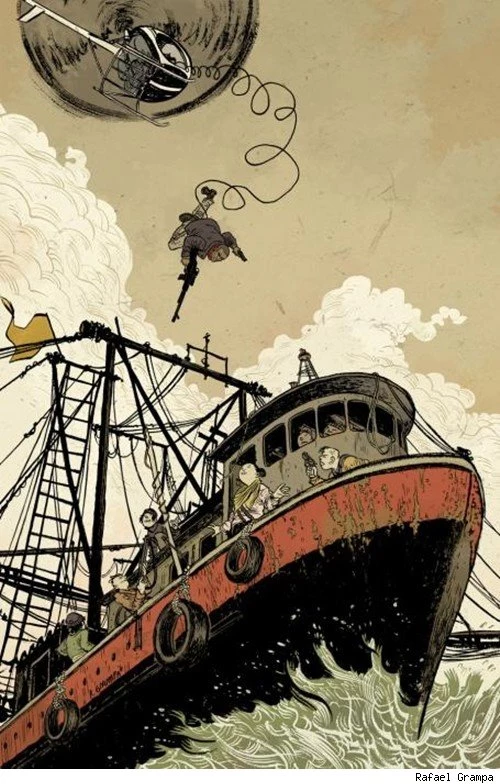 The Massive #2 (Dark Horse), cover by Rafael Grampa
These are some sedate colors for a Grampa cover, but it still manages to be eye-catching in the way it captures a kinetic moment. Also, it feels like James Bond in a Tintin world, which is awesome.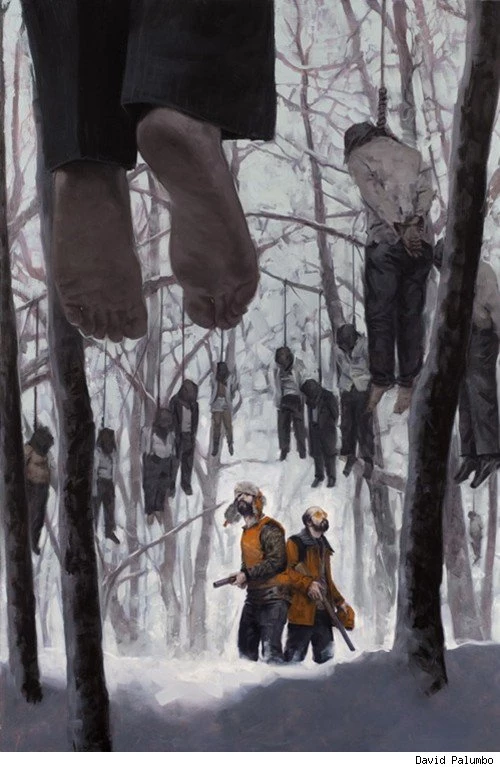 Creepy Comics #9 (Dark Horse), cover by David Palumbo
Creepy covers should actually be creepy, right? I'd say this does the job quite nicely.

Epic Kill #2 (Image), variant cover by Robert Ball
My favorite cover in July. It's either Quentin Tarantino by way of children's illustrator Miroslav Sasek, or it's the kill-craziest crazy quilt I've ever seen. Whatever you call it, I think it's an amazing piece, and the best cover ever (this month).