 Best Comic Book Covers Ever (This Month) – October 2012
A great comic book cover is both an advertisement and a work of art. It is both a statement and an invitation. Sometimes a great cover conveys character, sometimes mood, sometimes moment. Great covers can pastiche the classics or pay tribute to the past, or they can strive to show us something new. Great covers always show us a glimpse of somewhere else, on a canvas no bigger than a window pane. In Best Comic Book Covers Ever (This Month), we look back at some of the most eye-catching, original and exceptional covers of the month that was.
October was a very strong month for great covers, so I can only assume that book publishers are pushing big product to the shelves to get ready for the holidays. The offerings include some great repackaging of Basil Wolverton and Wally Wood, stunning color work from Ted May and Jon Vermilyea, great design from Gary Taxali and Chris Ware, and a lot of blossoms and a little touch of houndstooth.



Spacehawk Mini Comic (Fantagraphics), cover by Basil Wolverton
Basil Wolverton may be best known for his grotesque caricatures in MAD Magazine, but he worked in a lot of genres. Spacehawk was evidently one of his early works, and if this gorgeously lurid cover is anything to go by it was a delightfully daffy sci-fi pulp.
Adventure Time #9 (Boom), variant cover by Jon Vermilyea
If Wolverton has an heir in the business of brilliant grotesques it may well be the gloriously gory Jon Vermilyea, whose Adventure Time cover is one of the most exquisitely vile images I've ever seen. And this is for (ostensibly) a children's book!
30 Days of Night #11 (IDW), cover by Christopher Mitten
This similarly demonic cover for an actual horror book isn't anywhere near as disturbing! But it is still a wonderfully vivid piece, and the smoke skulls are terrifically realized.
Injury #4 (Alternative), cover by Ted May
I've written before about the appeal of dissonant palettes. I think of it as a hallmark of underground comics, which often sought to reject the comforts of insubstantial gloss and present readers with more challenging visuals, but we're increasingly seeing the use of these palettes in the mainstream (see below). Here it is in its natural habitat -- alternative press -- and used to extraordinary effect to create a cover that begs to be explored.
Haunt #27 (Image), cover by Nathan Fox
And here's dissonance in the mainstream; much less confrontational, but still pleasingly striking. Nathan Fox is really establishing his brand with his work on this title.
Building Stories (Pantheon Books), cover by Chris Ware
Comics' master draftsman sets out his stall with this impressive image map cover for an innovative new work that invites readers to navigate one life through multiple stories in any order. And look, the "i" in "Stories" is an eye! (Sometimes it's the little things.)
Cartoon Utopia (Fantagraphics), cover by Ron Regé Jr
This cover really makes me smile, and maybe gives me a sense of four-color spiritual well-being. But cartoon utopia looks more outdoorsy than I expected.
Blab World vol. 2 (Last Gasp), cover by Gary Taxali
I love the nostalgic advertising vibe of this cover. It comes from contemporary illustrator Gary Taxali, but it looks authentic, like something found at a garage sale.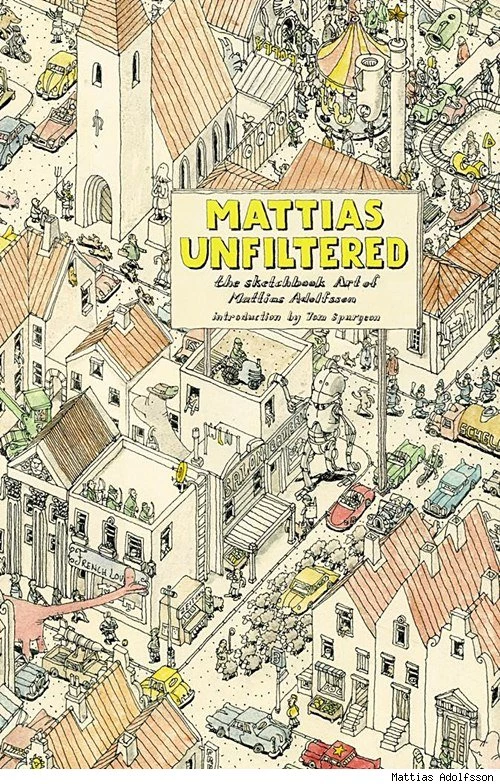 Mattias Unfiltered: Sketchbook Art of Mattias Adolfsson (Boom), cover by Mattias Adolfsson
I don't know the work of Mattias Adolfsson, but I was totally charmed by the detail and understated whimsy of this cover. It's like Where's Wally, but with a giant robot! And a dinosaur! And I think that might be a Valkyrie? Catch them all!
Blacklung (Fantagraphics), cover by Chris Wright
I see a lot of Joann Sfar in this densely demonic and stylishly constructed cover, and that's enough to convince me to investigate the work of newcomer Chris Wright.
Dark Horse Presents #17 (Dark Horse), cover by Carla Speed McNeil
Carla Speed McNeil achieves a lovely effect here by layering the organic patterns of a tree over the geometry of architecture and nesting her leading man in the middle of it all. This is a representation of a moment, but it's also reminiscent of the graphic beauty of Japanese paper craft.


Bride of the Water God Vol. 12 (Dark Horse), cover by Mi-Kyung Yun
Trees and blossoms seem to be a theme on covers this month. Here they provide depth and grace, a frame for a beautiful image and a motif for the character that's repeated on her dress.

Wolverine #315 (Marvel), cover by Michael Del Mundo
And here are those blossoms again, both forming a leering face to threaten our heroes and giving a heavy clue to the story's location. But I also like this cover for the stylized shapes Del Mundo constructs his heroes out of.

Hawkeye #3 (Marvel), cover by David Aja
I considered skipping superhero covers entirely this month; there weren't many good ones, and there were more than enough great covers from other places to get on with. But this cover convinced me of my folly. Wonderful design.
Fairest #8 (DC Vertigo), cover by Adam Hughes
This may be the best naked lady comic book cover of all time. Of course, most of the others are terrible, but I don't mean it as faint praise.

Paradise Kiss (Vertical), design by Nicole Dochych, art by Ai Yazawa
If it weren't for the serious design aesthetic of the guys at Vertical I'd almost never get to talk about manga here. Manga covers so rarely stand out on their merits. This is a pretty simple portrait piece, and I don't love the font, but I do love the houndstooth. More houndstooth on comic covers! Perfect as the winter winds roll in!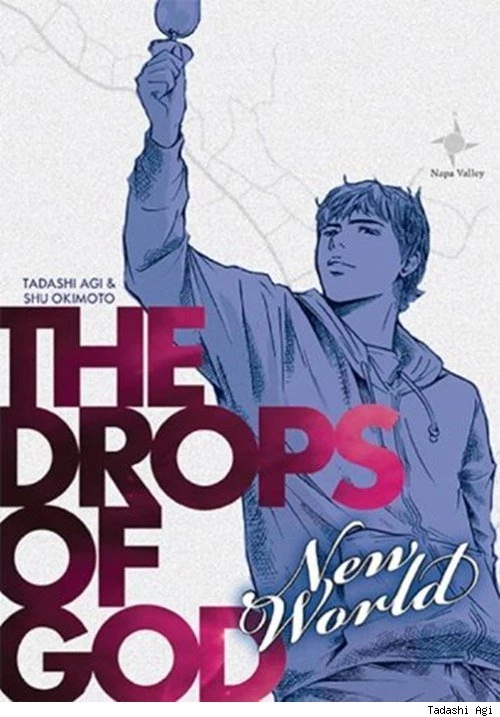 Drops of God: New World (Vertical), design by Taylor Esposito, art by Tadashi Agi
Vertical again, and a very mature combination of color, interior art and eye-catching typography. This cover makes great use of book design ideas without shying away from being a comic.

Came the Dawn and Other Stories (Fantagraphics), cover art by Wally Wood
And while we're talking smart use of interior art, here's another superb example. This collection is all about the mastery of Wally Wood, so the cover presents a taste of his work in an uncluttered and respectful way, while also establishing a trade dress for Fantagraphics' new EC artists line.

Fatale #8 (Image), cover by Sean Phillips
This could potentially have been a boring image -- it is, after all, a man sitting in a chair -- but Phillips gave it atmosphere and presence not just with the neat use of spot red in the candles and the dog's eyes, but with the simple trick of slightly tilting the angle. That creates a level of engagement with the figure that wouldn't be there otherwise, because of the sense that you're not looking at him; he's looking at you.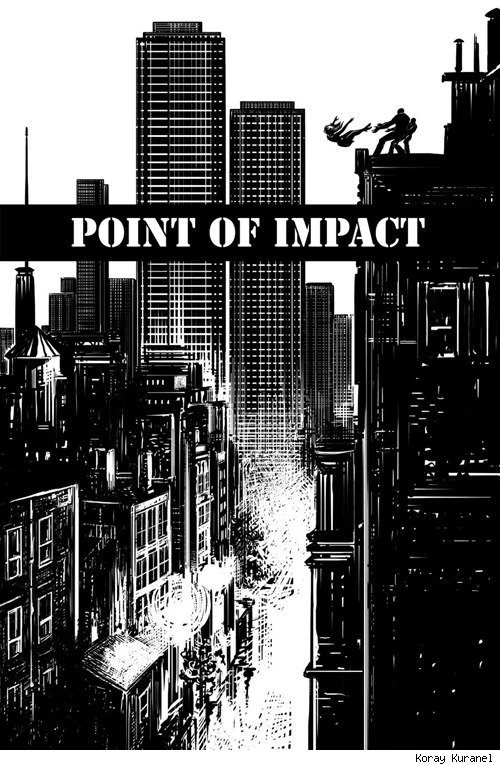 Point of Impact #1 (Image), cover by Koray Kuranel
This is a really smartly framed cover. You may have heard the stories of rookie comic writers who set their artists the impossible challenge of establishing a location and showing an action in a single panel. This cover manages that impossible feat, with style and restraint.