Best Comic Book Covers Ever (This Year) – 2012 Edition
I joined Comics Alliance in January of 2012, and my first pitch out of the gate was for this column. I love cover art. I love the tension between the freedom that covers offer -- you can do almost anything on that canvas -- versus the restrictions of scale and necessity. I wanted the opportunity to not just highlight the best covers, but to talk about what makes them great.Here at the end of 2012 I've picked out my favorites from the last twelve months. I've kept this list to just one cover per title and just one cover per artist, otherwise you'd be overwhelmed with covers from Fiona Staples and those of The Massive. So here they are: The Best Comic Book Covers Ever (This Year), in no particular order.
Amazing Spider-Man #692 (Marvel), variant covers by Marcos MartinMarcos Martin produced five monochromatic alternative covers for this book to mark the 50th anniversary of Spider-Man -- one cover for each decade. All five covers were great, but this was my favorite, showcasing what is among Spider-Man's least prestigious stories, the Clone Saga, and elevating it considerably!
Injury #4 (Alternative), cover by Ted MayI've often written about the appeal of dissonant palettes. I think of it as a hallmark of underground comics, which often sought to reject the comforts of insubstantial gloss and present readers with more challenging visuals, but we're increasingly seeing the use of these palettes in the mainstream. Here it is in its natural habitat -- alternative press -- and used to extraordinary effect to create a cover that begs to be explored.
Batman #7 (DC); cover by Greg CapulloI'm really enjoying Capullo's recent run of Batman covers, which exhibit a compelling but unobtrusive design sense. Capullo has evolved a much more controlled and confident style since his Spawn days, and he produces strong, emphatic superhero covers that put me in mind of a less crazy Chris Bachalo.
Adventure Time: Marceline And The Scream Queens #1 (Boom! Studios), variant cover by Colleen CooverNow that's a concert poster I'd hang on my wall.
Astonishing X-Men #54 (Marvel), cover by Phil NotoPhil Noto is one of my favorite portrait artists because he puts so much into the expressions. I also like the way this cover combines the visual signature of Karma's psionic powers with the symbols of the Communist regime that controls the character's home nation of Vietnam. A subtle visual dramatization.
Dark Horse Presents #17 (Dark Horse), cover by Carla Speed McNeilCarla Speed McNeil achieves a lovely effect here by layering the organic patterns of a tree over the geometry of architecture and nesting her leading man in the middle of it all. This is a representation of a moment, but it's also reminiscent of the graphic beauty of Japanese paper craft.
Batwoman #5 (DC), cover by J.H. Williams IIIJH Williams III makes so many interesting choices that other artists are unlikely to touch. This cover, for example, combines dramatic immediacy with narrative complexity. The image is strong and simple, but there's a lot to unpack in the significance of those layered faces.
B.P.R.D. Hell on Earth: Pickens County Horror #2 (Dark Horse); cover by Becky CloonanI don't know where Pickens County is, but I never want to go there. This is a deliciously gruesome piece from Becky Cloonan, and I love the bloody fanged mouth, the bright blue eye, and the way the top of the page reads as landscape until your eye travels down to discover the horror.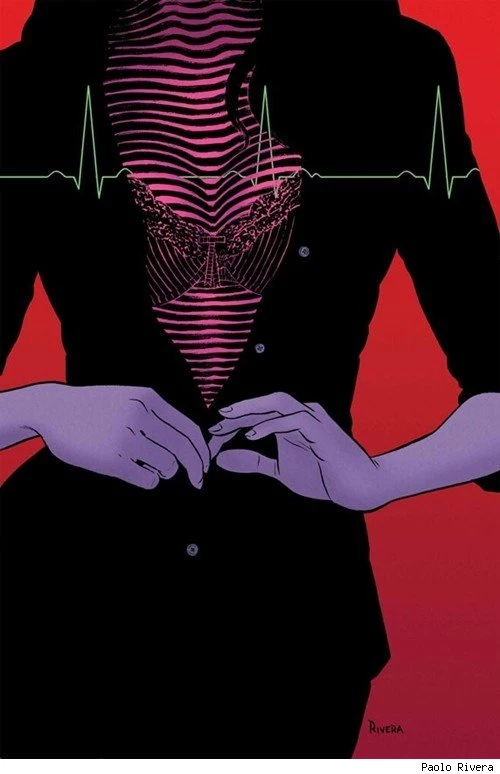 Daredevil #12 (Marvel); cover by Paolo Rivera
I think one thing Marvel has done very well for years now is find cover artists who want to establish striking aesthetics tailored to the books they work on, far removed from the usual banal language of superhero covers. It doesn't happen across the board, but when it does happen it's very welcome. Paolo Rivera knocks it out of the park with this provocative radar view.
Click here
for some behind-the-scenes on this image.
Fairest #4 (DC Vertigo); cover by Adam Hughes
I'm smitten with this lavish pastiche of an Orientalist harem painting. I'm so used to Hughes's cheesecake that I didn't immediately recognize this smoldering Lothario as his handiwork.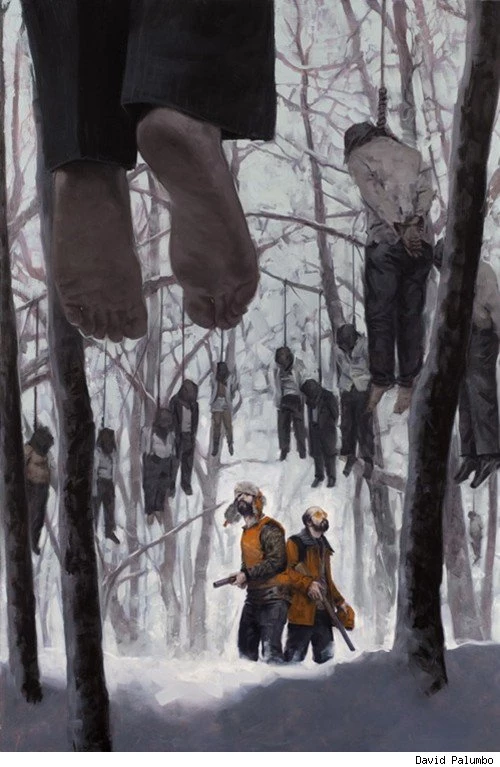 Creepy Comics #9 (Dark Horse), cover by David Palumbo
Creepy covers should actually be creepy, right? I'd say this does the job quite nicely.
The Stand: Night Has Come #6 (Marvel); cover by Tomm CokerA strong, sinister and brilliantly realized horror image with cleverly counter-intuitive colors.
Key of Z TPB (Boom); cover by Nathan FoxThe covers for the series had energy and edge, with raw vibrant colors and a touch of wit. This trade cover isn't typical of the style of the series, but it has the same punk aesthetic and looks instantly iconic. I see Nathan Fox as part of an emerging wave of artists embracing a Paul Pope aesthetic with dissonant color schemes and ugly-beautiful composition.
Hellblazer #298 (DC Vertigo), cover by Simon BisleyI haven't seen the cover to the final issue of Hellblazer yet (issue #300), but I can't imagine a better tombstone for the series than this image, which captures the series' themes of death, magic and trickery and its icons of cigarettes and trenchcoats with definitive wit and style. A great, great image.
Epic Kill #2 (Image), variant cover by Robert BallMy favorite cover in July. It's either Quentin Tarantino by way of children's illustrator Miroslav Sasek, or it's the kill-craziest crazy quilt I've ever seen. Whatever you call it, I think it's an amazing piece.
X-23 #21 (Marvel); cover by Kalman AndrasofszkyThis digitally painted cover for the final issue of X-23 marks a departure from Andrasofszky's usual sinewy style. The result is a gory scene rendered with beautiful softness. It feels like a perfectly iconic Wolverine-esque image to cap the character's solo run.
Adventure Time #9 (Boom), variant cover by Jon VermilyeaIf Basil Wolverton has an heir in the business of brilliant grotesques it may well be the gloriously gory Jon Vermilyea, whose Adventure Time cover is one of the most exquisitely vile images I've ever seen. And this is for (ostensibly) a children's book!
Elric: The Balance Lost #10 (Boom); cover by Dan PanosianThere are no rules about which covers I pick. I don't look for a publisher or an artist or a character. I just choose the covers that I really like. If I know the story that might help me grasp the significance of a cover, but it shouldn't be strictly necessary. This Elric cover is a perfect example; I've never read an Elric book in my life. I couldn't tell you the first thing about the series. But this is a cover that makes me want to know more. This is a cover that sparks my imagination and stirs my love of art.
Scalped #59 (DC Vertigo); cover by Jock
I haven't seen many covers bolder than this simple painted-in-oils-style image of a blazing fire. The orange glow consumes the cover, and the burning building is almost a footnote. That's a confident approach.
G.I. Joe #19 (IDW), variant cover by James Biggie
This simple black and white "rock poster" variant is a hugely appealing exploitation of a simple, familiar character design.
Fables #115 (DC Vertigo); cover by João RuasThere can't be many tougher gigs in comics than being the guy who took over cover duty from James Jean, but João Ruas does stunning work. This cover cleverly evokes Alice in Wonderland with an extra dose of creepy. It's a piece that proves he's fully on top of the job.
Wonder Woman #7 (DC); cover by Cliff Chiang
Chiang's cover plays on the iconic nature of its familiar lead character to create a glorious Soviet poster moment (with a starburst that feels unabashedly American).
These are my favorite covers from the artists that I think consistently led the field in 2012. These are the best of the best.
American Vampire #29 (DC Vertigo), variant cover by Dave JohnsonA splash of red and a wonderful use of reflection to add depth, dimension and detail. Maybe this is just my perception, but I feel like it's rare for Dave Johnson to do a cover that's entirely in the scene rather than on a conspicuously constructed "stage." He does that amazingly well, but I like this a whole lot too.
The Lone Ranger #1 (Dynamite), by Francesco FrancavillaA sincere and evocative portrait of an iconic character. The Lone Ranger isn't hugely relevant to modern audiences, but this cover almost fooled me into thinking that he is.
The Massive #3 (Dark Horse), variant cover by Rafael GrampáRafael Grampá has a spooky gift for color and composition. Many of his variant covers for The Massive have made my list this year. They're too compelling to overlook, and I would hang any one of them on my wall.
The Unwritten #44 (DC Vertigo), cover by Yuko ShimizuThis stunning piece of mythology-making was surely Shimizu's best piece this year, and she certainly wasn't slacking in 2012.
Hawkeye #3 (Marvel), cover by David AjaI considered skipping superhero covers the month this came out, as there weren't many good ones, but this cover convinced me of my folly. Wonderful design.
Saga #4 (Image); cover by Fiona StaplesI think this is my favourite Fiona Staples cover yet. Just perfect execution.