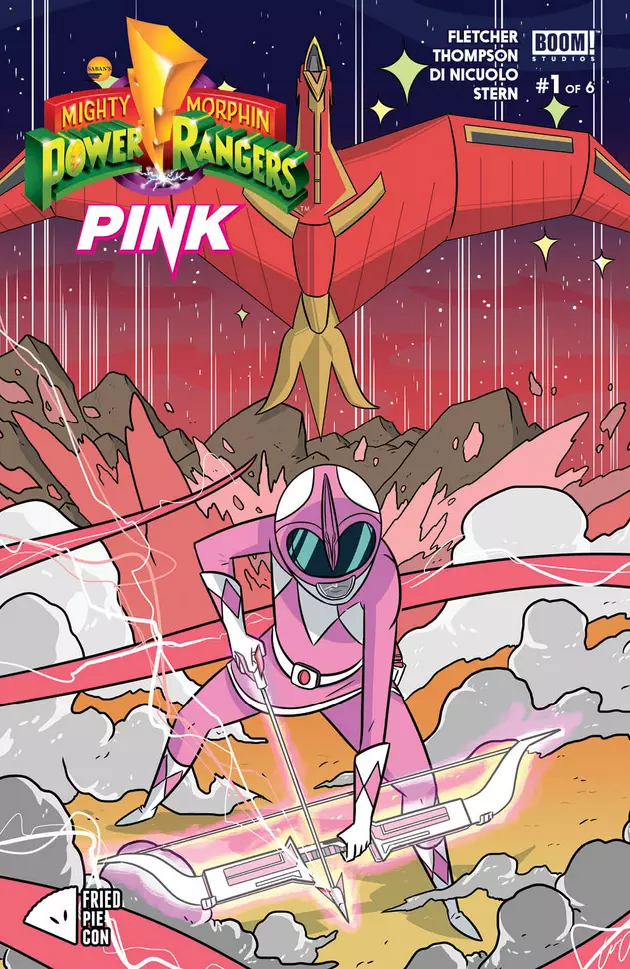 Boom Unveils Fried Pie Variant Covers for 'Lumberjanes' and 'Mighty Morphin Power Rangers: Pink' [Exclusive]
Fried Pie Con Exclusive by Wook Jin Clark
The Lumberjanes: Makin' the Ghost of It #1 cover by Nowak and the Mighty Morphin Power Rangers: Pink #1 cover by Clark will both be offered exclusively at Fried Pie Con on May 28th at the 2nd & Charles store in Kennesaw, Georgia, where Power Rangers: Pink co-writer Brenden Fletcher will appear for a store signing. Ganucheau's Mighty Morphin Power Rangers: Pink #1 cover will be available from Fried Pie as part of the book's regular release.
Nowak's Lumberjanes cover is in a moody painted style that's very different from the Lumberjanes art we're used to, while keeping the characters distinctly recognizable. Despite the book's summer setting, it has a very autumnal mood, which seems fitting for a ghost story.
The two Mighty Morphin Power Rangers: Pink covers are a perfect fit for the franchise. Wook Jin Clark's cover is somewhat more stylized, but the Pink Ranger cuts a strong figure in her uniform, wielding her trademark bow as her pterodactyl zord zooms overheard. Paulina Ganucheau's cover shows Kimberly's transformation into the Pink Ranger, and immediately brings to mind Ganucheau's recent work on Zodiac Starforce, which is an entirely positive association, to be sure. Check them out below:
Fried Pie Comics are available at Books-A-Million and 2nd & Charles stores. Learn more at FriedPieComics.com. Check out the solicitation info for both books below:
Lumberjanes: Makin' the Ghost of It 2016 Special #1
Publisher: BOOM! Box, an imprint of BOOM! Studios
Writers: Jen Wang, Kelly Thompson
Artists: Christine Norrie, Savanna Ganucheau
Cover artists:
Main Cover: Jen Wang
Incentive Cover: Cathryn Virginia
Fried Pie Con Exclusive Cover: Carolyn Nowak
Format: 48 pages, full color
Price: $7.99
On sale: 5/18/16
Synopsis:
Not only does this oversized one-shot feature a whopping 40 pages of brand-new, original, Lumberjanes stories, but we welcome two of our favorite creators to the campground: writers Jen Wang (In Real Life, 2017's The Prince and the Dressmaker) and Kelly Thompson (Jem and the Holograms), and artists Christine Norrie (Hopeless Savages) and Savanna Ganucheau (Fresh Romance)!

Jen takes the girls on a nature walk to show them which plants are edible in case they need to survive in the wilderness. Along the way, she tells them the story about an axe murderer who took his friends out, one by one until no one was left, thoroughly scaring Mal. Terrified and unable to sleep, Mal thinks she sees something lurking outside. Is it...THE AXE MURDERER?! In the second story, Ripley recounts how she saved Jen's life—but did it go down as fantastic as she claims?

 

Mighty Morphin Power Rangers: Pink #1 (of 6)
Publisher: BOOM! Studios
Writers: Brenden Fletcher & Kelly Thompson
Artist: Daniele Di Nicuolo
Cover artists:
Main Cover: Elsa Charretier
Incentive Cover 1: Marguerite Sauvage
Incentive Cover 2: Helen Chen
Incentive Cover 3: Stephanie Hans
Unlockable Coloring Book Variant Cover: Missy Pena
Fried Pie Exclusive Cover: Paulina Ganucheau
Fried Pie Con Exclusive Cover: Wook Jin Clark
Format: 32 pages, full color
Price: $3.99
On sale: 6/1/16
Synopsis:
We're so thrilled by the response to our Mighty Morphin Power Rangers comic series that we wanted to focus on some of the individual Rangers and let them shine in their own stories. First up is a series centered around Kimberly Hart, the Mighty Morphin Pink Ranger, and who better than Batgirl and Gotham Academy writer Brenden Fletcher and A-Force and Jem and the Holograms writer Kelly Thompson to bring it to us!