'BPRD Hell on Earth: Return of the Master' Is Coming This Summer [Exclusive]
For my money, Mike Mignola's BPRD is one of the most consistent comics on the stands. In the past, writer John Arcudi and artist Guy Davis formed the backbone of the creative team for the paranormal investigator series and created some of the best adventure comics of the past few years. In the "Hell on Earth" era of BPRD, artists like James Harren and Jason Latour have taken us on excursions into the hellish world the BPRD now protect. Now, Dark Horse has announced exclusively to ComicsAlliance that BPRD Hell on Earth: Russia artist Tyler Crook will be joining Arcudi for BPRD Hell on Earth: Return of the Master this August.
It may seem contradictory to say that BPRD is consistent right before discussing the multiple artists who work on the series, but it does make sense. Arcudi, Davis, Dave Stewart, and Clem Robins have produced some of the best comics in recent memory, and the one thing you can always be sure about with BPRD is that it's going to be excellent.There's something about BPRD that causes everyone involved to step up their game. Maybe it's a sense of competition, or awe for the foundation Mike Mignola laid down. Whatever it is, it's working. Tyler Crook's first entry in the BPRD franchise was in BPRD Hell on Earth: Monsters where he showed some pretty impressive horror and facial acting chops. In BPRD Hell on Earth: Russia, his second time at bat, Crook revealed that he's got a talent for military hardware, zombies, and the kind of beasts and monsters that'll make your skin crawl. There's a definite improvement between these two books, from good to better, and now I'm left wondering: what's next? Well, check out this exclusive interior page from BPRD Hell on Earth: Return of the Master #1: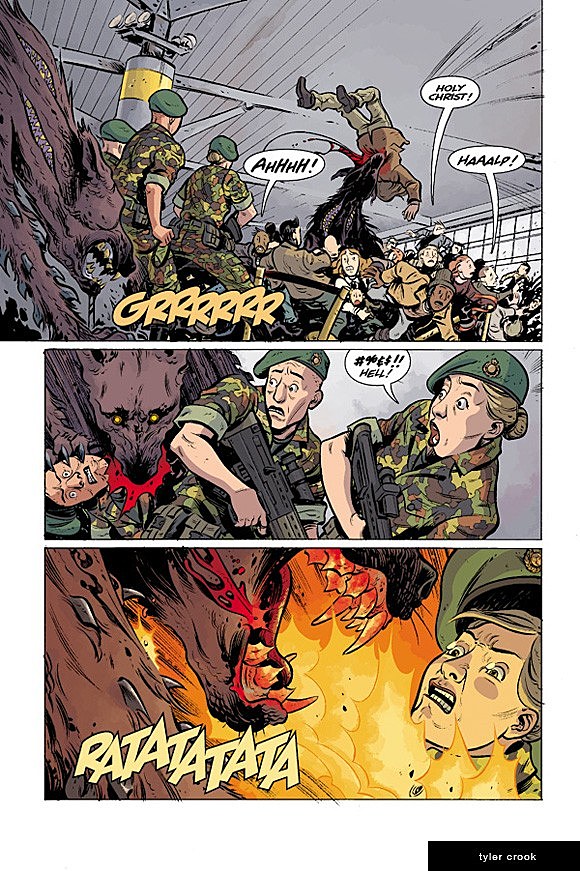 Do you see what I see? I see giant wolves with mouths running down their side and dewclaws all up and down their legs. I see bloody, yellowed teeth set in grey, disgusting-looking gums. I see soldiers holding and using accurate depictions of the L85, a British assault rifle. I see even better facial expressions than Crook has done before, and they're right alongside some classic cartooniness in the panicking crowd. I see a sensible bun and bangs that are slipping out of place. I see a monster rising up out of a mass of people, victim still in its mouth, which is as perfect a horror moment as you'll find in comics.
I see Tyler Crook and Dave Stewart, knocking it all the way out of the park.
BPRD Hell on Earth: Return of the Master follows up on BPRD Hell on Earth: Russia. A group of scientists were massacred, but one escaped the carnage. Now, that guy is back, and he's bringing a paranormal cult with him. What's his goal? C'mon, dearest readers. What do all mad scientists want? Return of the Master is written by John Arcudi, drawn by Tyler Crook, and colored by Dave Stewart. There's a creepy cover from Ryan Sook and a variant cover by Mike Mignola, who does a great take on the classic Martian tripods.
It doesn't matter whether you're looking for a new series to dive into, curious about what's going on in BPRD these days, or just eager for good comics: BPRD is both the comic you need and the comic you deserve to experience. If you want to catch up on BPRD, you can start with the very beginning or with the beginning of the "Hell on Earth" era. "Hell on Earth" is about as literal a title as you can get, so if you're willing to hit the ground running, there you go. The solicitation copy is below, along with a look at Ryan Sook and Mike Mignola's covers. Look for this series to begin on August 29, 2012.
In the Scottish Highlands, a rogue scientist who escaped the bloody massacre in B.P.R.D. Hell on Earth: Russia, assembles a paranormal cult bent on world destruction. Can the B.P.R.D. hunt down this group on time, or will demons be released into a world already teetering on the edge of apocalypse?