Comics And Meth: Partners In Crime
It turns out comics are useful for more than just escapist reading -- especially if you're into selling meth.
A Colorado drug ring that police say laundered their money through sales of classic comic books has just been shut down through the efforts of an undercover law enforcement operation of more than 200 officers, according to The Denver Post.
The details aren't pretty: Suspects including Alfonzo Elias Castro and his brother Aaron Noah Castro allegedly channeled meth across multiple states using women as drug mules to carry the illegal substances in their body cavities.
Authorities believe comics played the important role of laundering money from the operation, with the pair allegedly starting a collectible comics company to cover their tracks. Over half a million dollars worth of comics were seized by police, including classic "Superman" and "Batman" issues and individual comics worth thousands of dollars a piece.
"To launder the money, you have to have something you can use that is quick and convenient," Colorado Attorney General John Suthers said. "And in this case, they used classic comic books."
The two brothers and alleged drug kingpins now face grand jury indictments, and are being held on $1 million bail each. No word yet on what will happen to the comics collection.Elsewhere on the web:
The Dark History of Batman in Video Games

British Government Releases UFO Files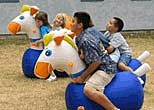 Nintendo Wants to Make Me Look Like an Idiot