Digital ComicsAlliance: 'Rambo' for $0.99, 'Wolverine', and 'Graveyard of Empires'
Welcome to Digital ComicsAlliance, your headquarters for digital comics news and recommendations. This week, we're taking a look at Jim Rugg's absurd Rambo 3.5, Mark Sable and Paul Azaceta's surprising Graveyard of Empires, and Mark Millar and John Romita Jr's run on Wolverine, which is about as great of a Wolverine story as you'll ever read.
1. Name: Rambo 3.5

Creative Team: Jim Rugg (cartoonist)

Platform: ComiXology (iOS, Web, Android)

Price: $0.99

Format: One issue

Why: Jim Rugg's Rambo 3.5 is a mean little fever dream of a minicomic. Taking place shortly after 9/11, Rambo 3.5 shows us what might have happened had George W Bush and the United States government enlisted Rambo to hunt down Osama Bin Laden and Al Qaeda. Rugg is a monstrously talented artist, and he uses a lot of different styles in this one. There's fumetti, thanks to a couple of George W Bush and Rambo toys. He employs a style similar to his work on Afrodisiac on a few pages, while others are cruder, like a drawing on a high school notebook. It's funny, in a stream of consciousness sort of way, and that raw feel is what makes it such an incredibly fun and weird book.

2. Name: Graveyard of Empires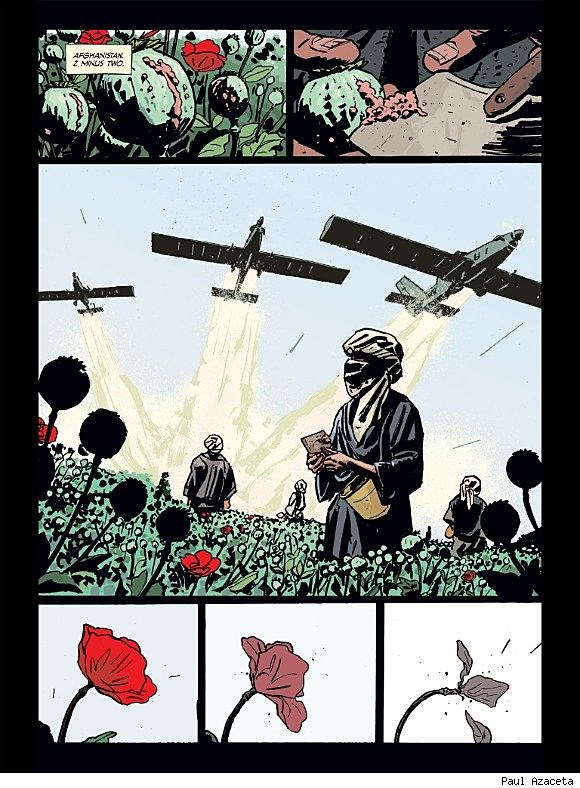 Creative Team: Mark Sable (writer), Paul Azaceta (art), Matt Wilson (colors), Thomas Mauer (letters/design)

Platform: ComiXology (iOS, Web, Android)

Price: $1.99

Format: Limited Series

Why: I was wrong. When I first heard the concept for this series--"Zombies versus Marines in Afghanistan!"--I probably rolled my eyes. I like war comics, sure, but zombies? That's a much harder sell. (No sell, actually, if we're being honest with each other.) But, I liked Paul Azaceta's work on Amazing Spider-Man a year or so ago, and Mark Sable is a name I keep noticing here and there. The first cover is fantastic, too. And yeah--I was wrong. This is a well-put together little comic that, so far at least, is heavy on the war and light on the zombie cliches. It does hit more than a few war story cliches, but overall, it's a measured read on a characterization level. On an action level, it brings the exploitation. People explode, dogs devour innards, and yeah, zombies have their guts hanging out. It's an interesting mix, and right now, it works. Azaceta's art more than delivers, too, with a dirty, dusty military base and well-rendered people. On top of that, the lettering is great. This one caught me by surprise, but I like it. I figure you will, too.
3. Name: Wolverine: Enemy of the State
Creative Team: Mark Millar (writer), John Romita Jr (pencils), Klaus Janson (inks), Paul Mounts (colors), Rus Wooten (letters)

Platform: ComiXology (iOS, Web, Android)

Price: $1.99

Format: #20-31

Why: Let's be honest here: Mark Millar bit the opening to this story from Akira Kurosawa's High & Low, and then went on to jack scenes or gimmicks from Frank Miller and Lynn Varley's Elektra Lives Again, Miller and Chris Claremont's Wolverine, and a whole host of other comics and movies. This is an extremely Millar-y book, too, featuring characters that have the same incredibly condescending voice ("Hey there, sweetcheeks"), a bit of casual racism and/or sexism (oh, of course Wolverine would be the guy to stoop to racist jokes to needle his foes), and expository statements pretending to be dialogue. (Stay with me, I'm about to tell you why I like this book so much.) But Millar's greatest strength, as seen in Authority, Ultimates, and Civil War, is that he knows how to set up great action scenes. He's comics' own Michael Bay in that sense, and it's fair to say that he's low on substance and high on spectacle. As a result, this book belongs almost entirely to John Romita, Jr, Klaus Janson, and Paul Mounts, and those guys pulled off some of the best work of their careers. Millar's script is nothing more than an excuse to have Wolverine fight all of his friends and armies of ninjas, and the art team absolutely kills. Every single issue has an amazing action sequence that's totally worth poring over. Their work is so, so good that Millar's typically snide script doesn't harm the book at all.

-ComiXology runs Marvel Mondays sales (wait for it) every Monday. Certain Marvel comics, usually ones from a specific series or united under a theme, are offered for half off. You can check their blog for the current sale on Monday mornings, and sometimes Sunday nights. Once Monday is gone, though, so is the sale. Keep an eye on their blog for other sales, too.

There are a few different ways to get digital comics right now. Here's a selection of the methods, listed by company in alphabetical order, and the formats they support:



Archie Comics (iOS)

Boom! Studios (iOS [identical to the Boom! offerings on ComiXology and syncs with your ComiXology account])

Comics4Kids (iOS [ComiXology for all-ages comics])

ComiXology (iOS, Web, Android)

Dark Horse (iOS app that syncs to your account on the web)

DC Comics (iOS, Web [identical to the DC offerings on ComiXology and syncs with your ComiXology account])

DriveThru Comics (CBZ, PDF, ePUB, and more)

Dynamite Entertainment (iOS,Web, Android [identical to the Dynamite offerings on ComiXology and syncs with your ComiXology account])

eManga (web)

Graphic.ly (iOS, Web, Android, Nook Color)

IDW Comics (iOS)

Image Comics (iOS [identical to the Image offerings on ComiXology and syncs with your ComiXology account])

iVerse's Comics+ (iOS, Nook Color)

Marvel Comics on Chrome (Web)

Marvel Digital Comics Unlimited (Web)

My Digital Comics (PDF, CBZ, and more)

The Illustrated Section (PDF)

Square Enix Manga (web)

Viz Manga (iOS, web)

Yen Press (web)
There are a few things you need to know. You no longer need an iOS device (you know: iPad, iPod, iPhone), but you will need an internet connection, web browser, and, usually, Flash. Generally, you don't get to actually own your digital comics. You're paying to read them, and while this has been a fairly smooth process this far, that may rankle for some readers.
Are all these distributors different? Functionally, no, they aren't that different at all. Most of them allow for panel by panel reading (or a variation thereof) or page-based reading. The main differences are in selection. Frustratingly, certain comics are offered on several services, but released at different times. Marvel alone offers five choices. Most other publishers keep to one distribution method, and if they don't, they tend to keep their stuff mirrored across the various methods. If you want DC Comics, you're using ComiXology, for example, but Boom! Studios has comics on both. For Marvel Digital Comics Unlimited, you'll have to pay a subscription fee. It's essentially Netflix for comics, however, so that may be worth it for you.
Personally, I use a mix of all the services, which is far from an optimal configuration, but one that works well. Poke around and see which one you like the most.
When do digital comics come out? Marvel has a weekly schedule, with an option for viewing the next month's releases. That's as close as you'll get to a release schedule. To see what's new on ComiXology, subscribe to this RSS feed. IDW generally releases books four weeks after they ship in print. ComiXology updates on Wednesdays, Graphic.ly updates throughout the week, and IDW's app updates on Tuesdays, with day-and-date books arriving on Wednesday. Dark Horse updates on Wednesdays. This category on iVerse's Comics+ site lists the updates for the week. Marvel Digital Comics Unlimited releases books every Monday.
I'll update with RSS feeds and landing pages that show new releases as they appear! If you're a digital comics publisher and you don't have a feed or page that users can visit... well, please create one. We'd all appreciate it.