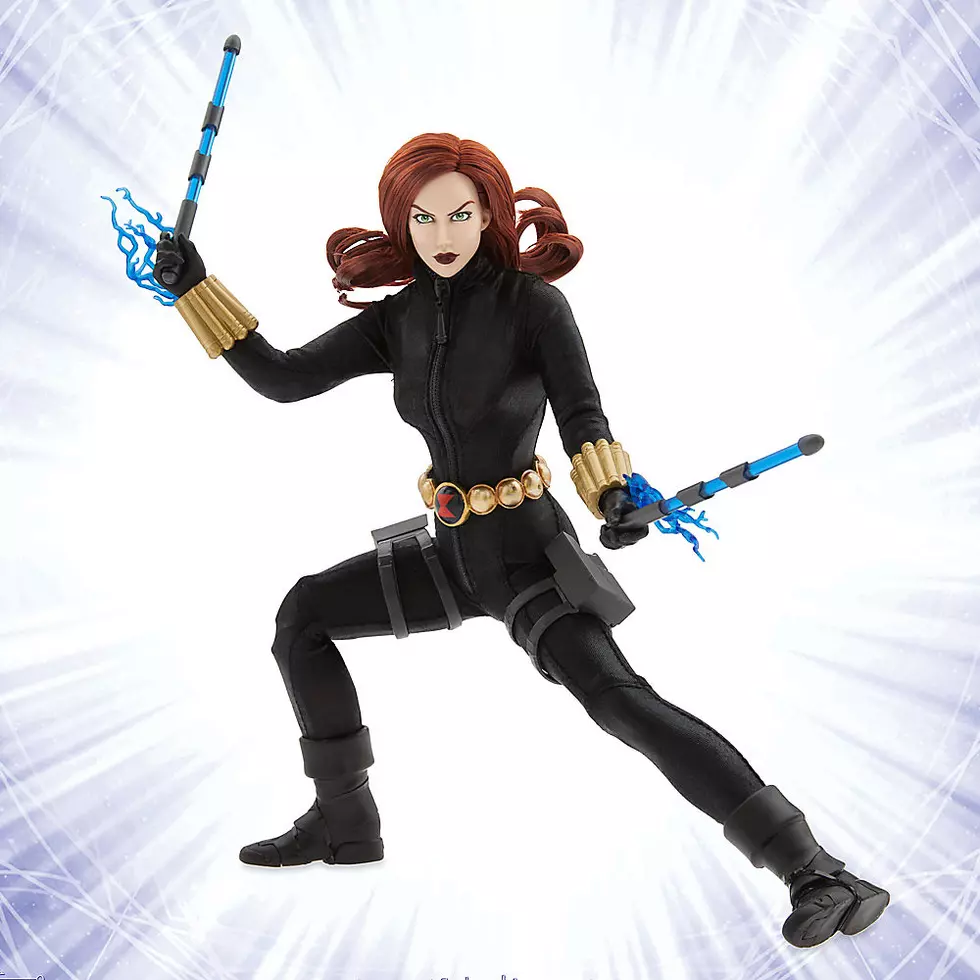 Black Widow and Captain America Kick Off New Marvel Ultimate Action Doll Series at Disney Stores
Disney
Surprise, there are new Black Widow and Captain America figures hitting Disney Stores right now! Marvel's parent company just launched an all-new premium figure series called Marvel Ultimate, and the Soviet Spy is finally on the front lines instead of waiting around in the wings. Yeah, Captain America is there too, but it's not like he needs any help getting merchandise out to the masses.
The Marvel Ultimate line is Disney's latest take on the action doll market. Each figure includes a fully-poseable body with 30+ points of articulation, as well as molded and fabric elements. You could view this as Disney's attempt to target that DC Super Hero Girls market, without having to rely on any third-party partners. Launching store-exclusive lines isn't a new tactic for Disney, but this is the first time we're seeing practices usually held for the Princesses adapted over to the Marvel brand. Not that we're complaining. The Marvel Ultimate figures actually look cool.
The Black Widow figure appears to be mostly based on her comic book incarnation, though the shock sticks are definitely a movie accessory. She comes with a few different guns and hands, as well as electrical effects to make it look like the Widow's Bite is active. From an accessorization standpoint, it looks like Disney is following closely with what Hot Toys has done with its Widow figures, and that's a smart decision. Thankfully, the Marvel Ultimate line only costs a fraction of what you'd pay for one of the Hot Toys versions.
At 10" tall, Black Widow will fit fight in line with a number of other existing figures at this scale. The rooted hair and costuming look solid enough for a figure in the $30-40 price range, though it remains to be seen just how well all of that mixed media will hold up with prolonged play.
Like Black Widow, the 11.5" tall Captain America is based on a more traditional comic book costume. I'm not entirely wild about the sculpted head sock with painted on wings. All it would have taken was making it look more like a helmet to alleviate this issue, but the head sculpt is caught in this strange in between because of the awkward molding and paint job. The rest of the figure looks rather nice however, from the texturing of the chainmail and the tailoring of the rest of the suit, to the sculpted boots and gloves.
Cap only comes with his shield and a second pair of hands, but that's not outside the realm of typical pack-ins with the character. It would have been nice to get a set of straps to hold the shield on his back, but that's a small complaint. An alternate head would have been too big an ask for a figure in this format. It's not often action dolls like this get swappable portraits. At least he'll be articulated enough to put into some fun action poses.
This line basically came out of nowhere, so it'll be interesting to see where it goes next and who else will join the line. Spider-Man seems all too easy a decision, as does a Thor. Without very many other leading ladies in existing Disney Store Marvel oeuvre, I wouldn't hold my breath for more female characters. That said, I'm hoping Disney surprises me.
Now if only we could get Disney to create the same kind of line for Star Wars.
Both Black Widow and Captain America are currently available for $34.95 each on DisneyStore.com. They should be hitting actual retail locations soon if they haven't already.