'Invincible Iron Man' #500 to Feature Tony Stark's Nemesis, Kids and Death [Preview] We've tried to be strong, dispassionate fanboys-and-girls in the face of Marvel's incredible onslaught of tantalizing hype for Invincible Iron Man #500, which began in earnest during October's New York Comic Con. It was at the convention that Marvel confirmed that Matt Fraction and Salvador Larroca's series would continue the original numbering of the classic Iron Man series, and that the anniversary issue would feature the return of Iron Man's signature villain, The Mandarin. Since then, we've learned that Invincible Iron Man #500 will come in at 72 pages for $4.99, contain what's purported to be the death of Tony Stark, be drawn and/or covered by a multitude of guest artists including Carmine Di Giandomenico, Nathan Fox, KANO, Marko Djurdjevic, Joe Quesada, and John Romita, Jr., and feature a new character called Howard Stark -- Iron Man's son.
With so much awesome stacked against us, we've submitted to Invincible Iron Man #500, and have included after the jump more information and all of the preview artwork so far released from the landmark issue (which goes on sale January 19), as well as a video trailer.The most recent revelation about Invincible Iron Man #500 is the son of Tony Stark, Howard. In a story set in the year 2052, Howard Stark is operating under the name of War Machine and working for the Mandarin, who by then is the emperor of Earth. The tale is illustrated by Nathan Fox, Javier Rodriguez and KANO. Series editor Alejandro Arbona discussed the character at Marvel.com:
"Howard is the greatest cipher of all the characters at the story's start; why is he serving the Mandarin, where did his life go so wrong? He murders his innocent victims in cold blood without flinching. He's obviously undergone really destructive surgical procedures to wear that suit, his body's totally destroyed, and he's in a lot of pain at all times. And because of all those issues, he ends up being, in my opinion, the most surprising and most interesting character by the story's end. His mission during the course of this book is to liquidate once and for all a cell of Black Widows, the rebels that have been such a thorn in Mandarin's side, and his primary goal in order to achieve that mission is to assassinate the Black Widows' genius weapons inventor, Ginny Stark, age 22-Howard's own daughter."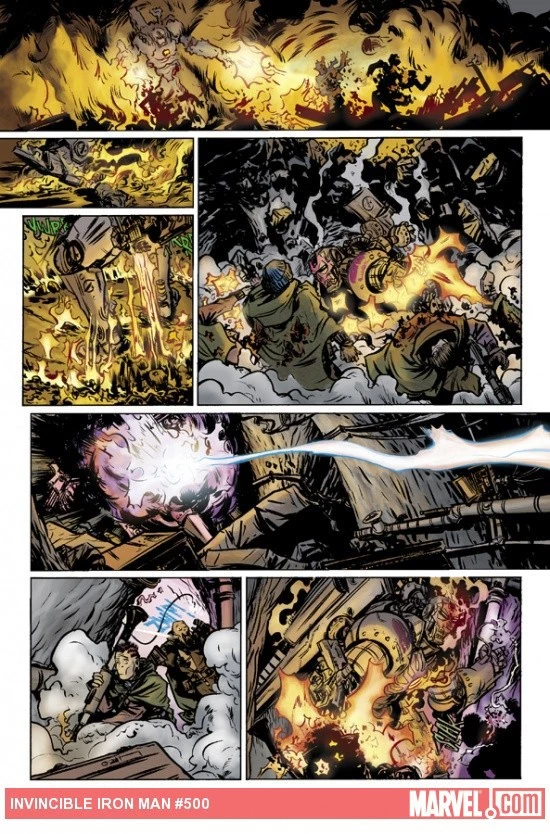 Of course, the Mandarin himself is kind of a big deal. Continuing threads from Invincible Iron Man Annual #1 and the "Stark Disassembled" storyline, the villain survives far into the future thanks to repulser technology and Tony Stark himself, who the Mandarin keeps prisoner and uses as a kind of battery. This story is drawn by Carmine Di Giandomenico and Matt Wilson, who also illustrated the aforementioned annual.
[It is] a terrifying glimpse of the future that is already coming. It came because Mandarin acted and Tony Stark failed to stop him; in the stories unfolding in INVINCIBLE IRON MAN in the present day, Mandarin is already moving against Tony. Iron Man has to stop this future from happening, but he's already at a disadvantage. Can Tony still save the world from The Mandarin?"



And that's not even all the preview art we have to show you! Here's the rest: