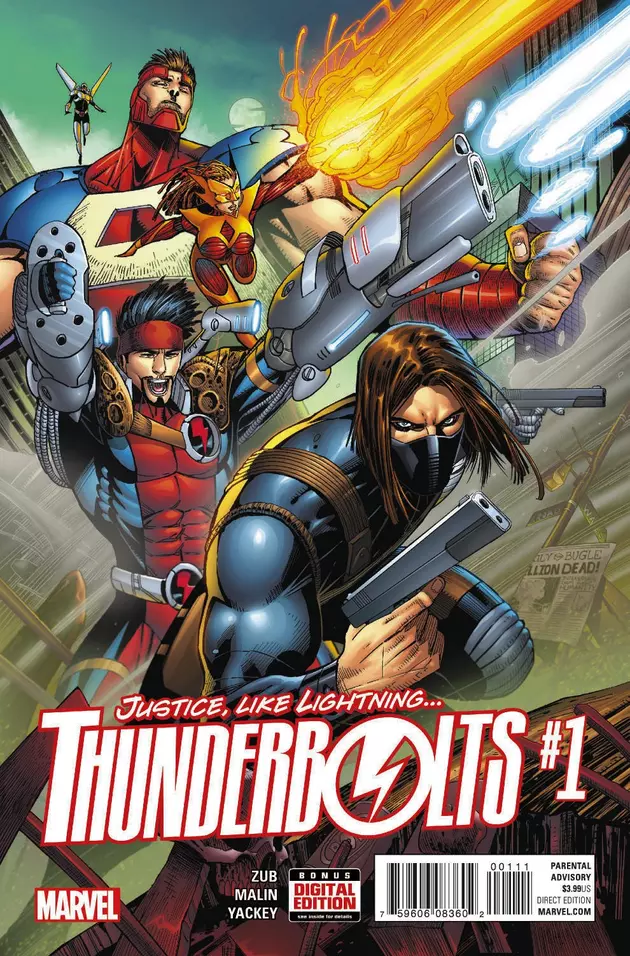 Jim Zub and Jon Malin Bring the Winter Soldier on Board for 'Thunderbolts' #1 [Preview]
Cover by Jon Malin
The original Thunderbolts (several of them anyway) are back in Thunderbolts #1, with their new leader Bucky Barnes, the Winter Soldier. MACH-V, Atlas, Moonstone, and the Fixer are joined by Barnes and another new member, who we know nothing about except that she looks like a ghostly little girl on Mark Bagley's variant cover.
Adding the Winter Soldier to the Thunderbolts actually makes a lot of sense, given his own history as an amoral assassin. After all, the team (once Baron Zemo's out of the picture) is all about redemption. The new Thunderbolts is written by Jim Zubkavich with art by Jon Malin, and the first issue comes out May 4th. Check out a preview of the debut now.
Here's the official word from Marvel:
Spinning out of the blockbuster Avengers: Standoff! crossover comes an all-new team of Thunderbolts! Today, Marvel is pleased to present your look inside THUNDERBOLTS #1 – the high-octane new series launching this May! Creators Jim Zub and Jon Malin take the Winter Soldier on a quest to assemble the original Thunderbolts – Moonstone, the Fixer, MACH-V, Atlas and a mysterious new character for a dangerous new mission. A mission that will put them at the forefront and in the crosshairs of the rest of the Marvel Universe!
"Doing the right thing is different than being good," says writer Jim Zub in an interview with Marvel.com. "We've assembled a potent mix of characters to explore with big drama, big action and unexpected twists along the way. The new team is stacked with powerful personalities and a mission that's going to tear them up and get right to their core. I'm excited about putting them in tough spots and letting the sparks fly."
The threats no one is prepared for. The difficult choices no one else can make. The Thunderbolts stand ready to answer the call. Don't miss their first appearance in Avengers: Standoff and follow their adventures this May when THUNDERBOLTS #1 comes to comic shops and digital devices!