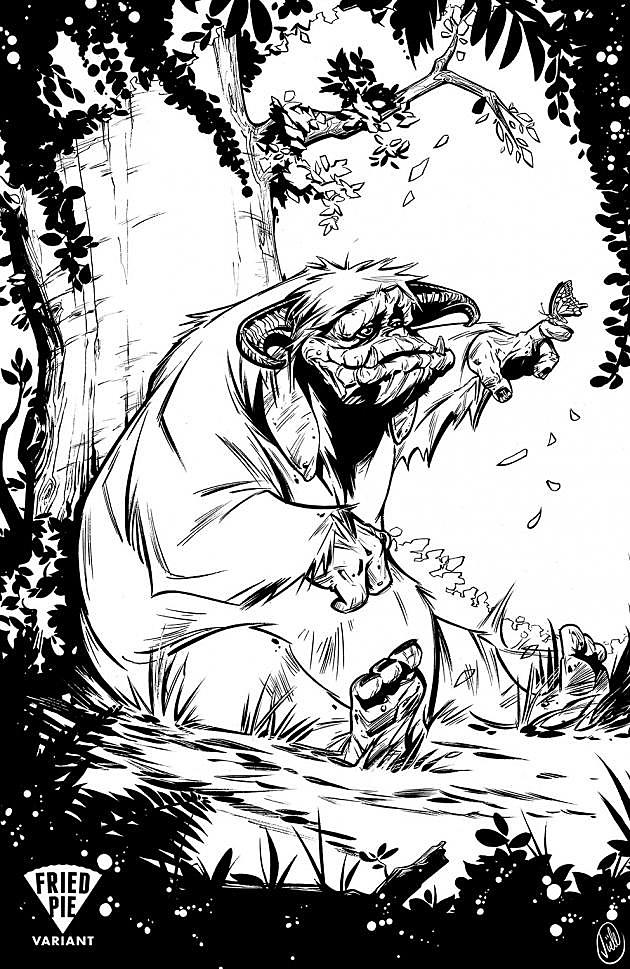 Fried Pie Comics Reveals A Coloring Book Cover For 'Labyrinth 30th Anniversary Special' By Joelle Jones
Jim Henson's Labyrinth is one of those rare movies that was somehow even weirder than I remembered when I finallly got around to re-watching it as an adult. The film, which stars Jennifer Connelly as Sarah, a girl who desperately wants to get rid of her baby brother, and David Bowie as Jareth, the Goblin King who happily obliges by stealing said baby and hiding him in the center of a massive maze, is turning 30 this year, and to say that it's beloved by fans for its fantastic surrealism is putting it mildly.
If, however, you're planning to pick up the celebratory Jim Henson's Labyrinth 30th Anniversary Special, there's one more piece of information you ought to know. There's a new coloring book variant cover by the amazing Joëlle Jones, available from Fried Pie Comics. So if you've ever wanted to color one of Jim Henson's creature designs, as drawn by one of the best artists around, now's your chance.
Check out Jones's cover above, and the other covers for the special below!
If you're interested in getting Jones's cover for yourself, you can pre-order it at FriedPieComics.com. Here's the official solicitation:
Jim Henson's Labyrinth 30th Anniversary Special #1
Publisher: Archaia, an imprint of BOOM! Studios
Writers: Jonathan Case, Cory Godbey, Gustavo Duarte, Ted Naifeh & Adrianne Ambrose, and Adam Smith
Artists: Daniel Bayliss, Cory Godbey, Gustavo Duarte, Kyla Vanderklugt, and Jeff Stokely
Cover artists:
Main Cover: Benjamin Dewey
Incentive Cover: Michael Allred
Unlocked FOC Variant Cover: Dave McKean
SDCC Exclusive: Mark A. Schneider
Fried Pie Exclusive: Joëlle Jones
Format: 48 pages, full color
Price: $9.99
On sale: August 10, 2016
Celebrate the 30th Anniversary of the beloved Jim Henson fantasy film with stories from inside the magical walls of the labyrinth.
Featuring fan-favorite characters like Ludo, Hoggle, Sir Didymus, and a few surprises, this special celebration collects for the first time all of the Labyrinth Free Comic Book Day stories along with new tales from Eisner Award winner Jonathan Case (The New Deal), Gustavo Duarte (Bizarro), and more!
40 pages of story and art!