Marvel Moves: 'X-23′, 'Ghost Rider', 'Black Panther' Canceled, 'PunisherMAX' Ends, Greg Land on 'Avenging Spider-Man' [UPDATED]
More publishing developments from Marvel Comics this week, as the company cancelled X-23, one of its two female-starring solo titles; announced the conclusion (as opposed to cancelation) of PunisherMAX, an acclaimed mature readers; and announced high profile artist Greg Land as a fill-in for its recent hit, Avenging Spider-Man. More details after the cut.
UPDATE: Ghost Rider writer Rob Williams has confirmed via Twitter that his series has also been cancelled.
UPDATE II: It appears Black Panther: The Most Dangerous Man Alive has also been cancelled.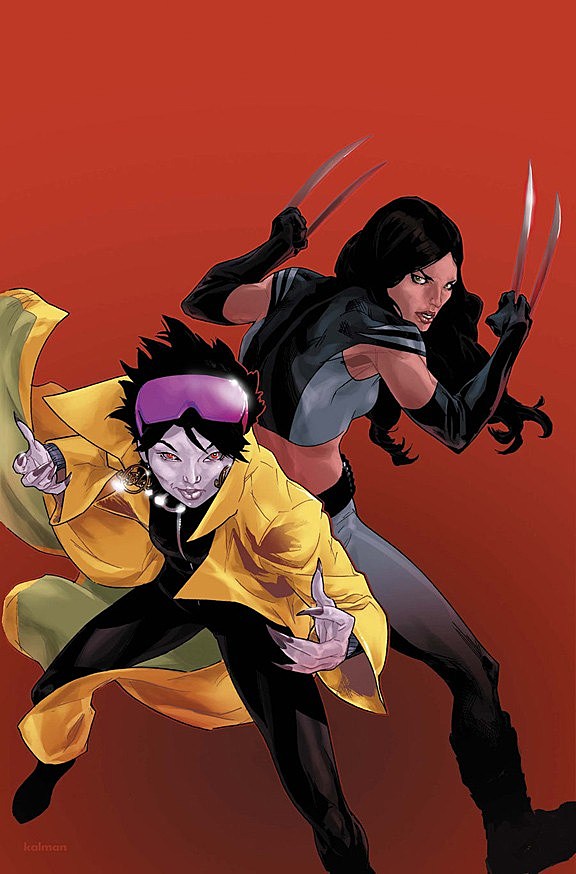 Sad news for fans of Marjorie Liu and the clone daughter of Wolverine to whom the writer has been strongly linked for the last few years: X-23 has been cancelled and the recently launched "Misadventures in Babysitting" is apparently the series' final storyline, with January's issue #20 to be the final issue. X-23's series joins a growing list of other fan-oriented (rather than market-oriented) titles like Alpha Flight, Destroyers and Victor Von Doom that have also been cut from Marvel's publishing slate. However, the reasons for these cancelations are myriad. Comic Book Resources points out that according to Diamond's Sale Estimates for October books, X-23's sales exceeded those of Thunderbolts, X-Factor, Avengers Academy and Ghost Rider -- none of which have been canceled -- but that the publisher also plans to produce extra issues of up to seven other X-Men series throughout 2012.
Sadly, X-23 is one of just two Marvel Comics solo series (the other is Ghost Rider) starring a female lead, and Liu is perhaps the publisher's most prominent female writer. The character is
much loved by Marvel hardcores and will continue to appear throughout the publisher's line, most prominently in future issues of Avengers Academy, and Liu is said to have more in the works with Marvel.
UPDATE: More sad news since we published this post this morning: Marvel has also cancelled Ghost Rider, its one other female-led solo title. Writer Rob Williams confirmed CBR's report via Twitter, writing, "It's disappointing. Thanks to everyone who bought the book." The series was launched out of Marvel's popular Fear Itself event, and starred a woman called Alejandra in the role of the flaming-skulled biker. The series is solicited through January's issue #8.
UPDATE II: Newsarama's early look at select Marvel solicitations for February would seem to confirm that Black Panther: The Most Dangerous Man Alive will conclude with issue #529, which is identified in the promotional copy as "the series finale." iFanboy suspects the series has been canceled, as opposed to merely concluded (as is the case with PunisherMAX, below) because this week's Avengers #19 features a scene in which Black Panther refuses Captain America's offer to join the Avengers, citing uncompleted work in his own series.
PunisherMAX will conclude with February's issue #22, the final chapter of writer Jason Aaron and artist Steve Dillon's epic Kingpin storyline. The mature readers series was relaunched in 2009 following Garth Ennis' landmark 60-issue run, and has been a consistent favorite with critics. Aaron was quick to point out via Twitter that the series is ending as opposed to being canceled. "PunisherMax is ending the way I always intended it. It was not canceled," he wrote.
Newsarama reports that the series' conclusion is part of a new initiative that a Marvel spokesperson described as "a big change" coming to the explicit MAX line, which presently publishers only two ongoing series, PunisherMAX and Deadpool MAX.
Following great fanfare for Avenging Spider-Man #1 (our own Chris Sims gave the inaugural issue a glowing review), former Uncanny X-Men artist Greg Land will join writer Zeb Wells for issue #4. Joe Madureira will return to the series after a break. The news comes courtesy of iFanboy's early look at the Spider-Man solicitations for February 2012.