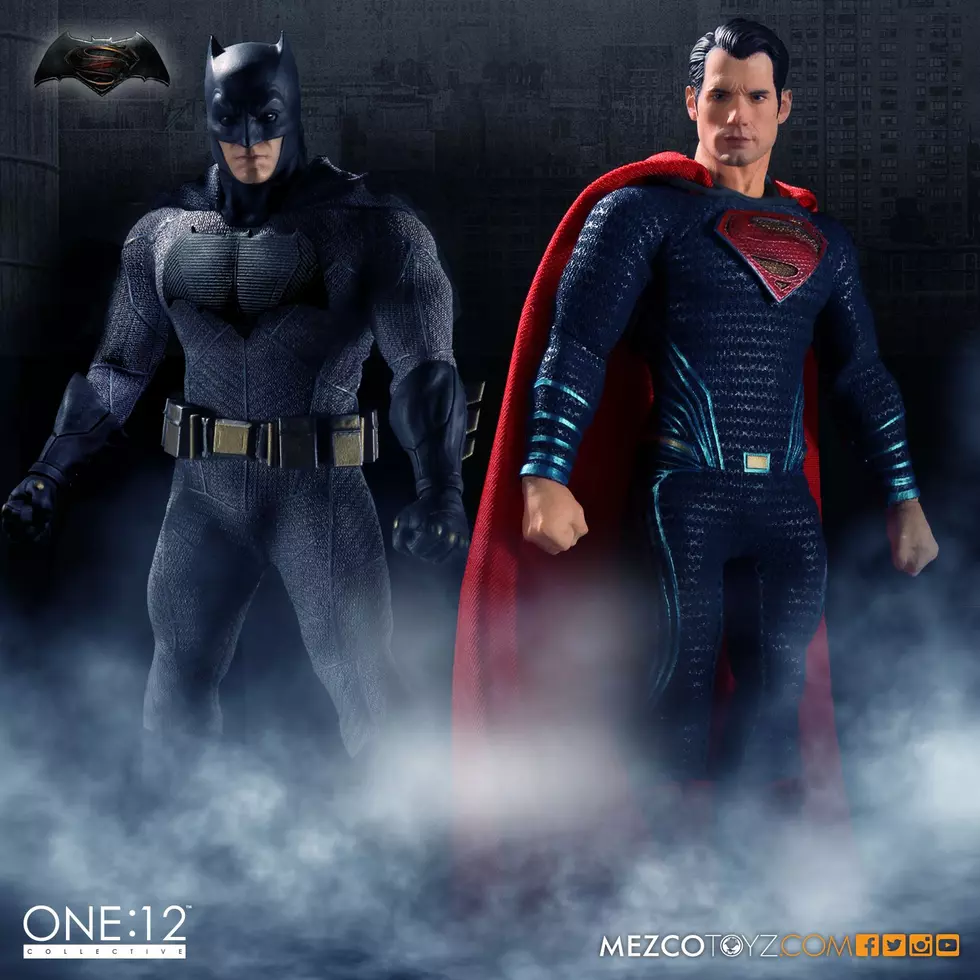 Mezco's One:12 Collective Batman and Superman Rise for the Dawn of Justice
Mezco
Mezco is not holding back with its One:12 Collective line. Things kicked off last year with The Dark Knight Returns Batman, and the line expanded to two more figures with Judge Dredd and the Mutant Leader from DKR. Throughout 2015, Mezco teased even more figures for the line, but 2016 has seen announcement after announcement for this figure series and we're only five weeks into the new year. What's more, of the five figures announced since the end of 2015 (including Spock, who was revealed just before Christmas) none have been of characters previously shown at trade shows or conventions.
Over the weekend, Mezco unveiled the first official looks at its upcoming Batman V Superman: Dawn of Justice One:12 Collective figures. To this point, Mezco's been reliant on more classic interpretations of its comic and TV figures in the One:12 line, but these new figures mark the first time the company will release figures based on a property that's hitting theaters in the same year. Not that there was anything wrong with Mezco's previous strategy. The company has a lot of evergreen licenses, but seeing that Mezco is pushing hard to keep things current with the fan-favorite line bodes well for its future.
As a fan of the One:12 Collective myself, it's hard not to appreciate all that Mezco is doing with these high-end 6" figures, even if I'm not 100% sold on Dawn of Justice just yet. The head sculpts on both Superman and Batman look terrific, though I'm curious to see what the "angry" Batman will look like. You do get to see the "angry" Superman, which would look markedly better if the eyes actually did light up. Still, it's not a bad expression even without the added Photoshop effects. It definitely looks better than whatever it is Hot Toys did to Henry Cavill's handsome mug.
While Batman comes with some solid accessorization (batarangs, grappling hook and line, a grenade, and alternate hands), Superman's a little light in the add-on department. Though there are some additional hands included, the only thing he really comes with outside of a posing stand is a manhole cover. Now I know Supes isn't exactly known for bringing a whole lot with him on his adventures, but there had to be something else to throw in there. Maybe a heat vision effect for his eyes or Batman's cowl just to spice it up a bit.
Additionally, when the figures were announced, Mezco released a teaser for a second Batman from the film. Yes, you guessed it; Armored Batman will be getting his own One:12 Collective figure, too. No details have been released about the Armored Batman figure as of yet other than that it exists. We'll have a better look at the figures in a few weeks at Toy Fair, so expect to hear more about it very soon.
Both Superman and Batman are available for pre-order now for $75 each. Batman is expected to arrive in June/July, and Superman is expected to drop in July/August.
Get the Lowdown on the Batman V Superman Heroes in These Videos