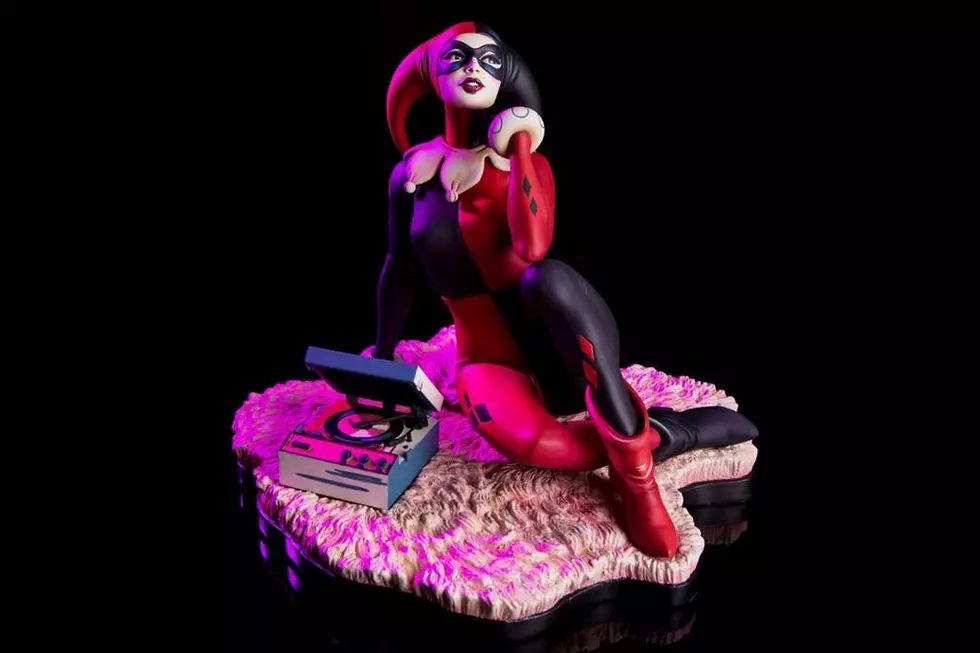 Mondo's New Statue Offers a Quinn Full of Harley With Her 45s
Mondo
Back in 2014, Mondo released a Harley Quinn print by Matt Taylor at San Diego Comic-Con that was both beautiful and managed to capture Harley in a way we'd never really seen her before. The print was so popular, Mondo decided to make a statue capturing Harley Quinn in her room listening to her favorite records. We've seen the piece a few times now in prototype form, but now the pre-orders have opened, and we can't throw our money at the screen fast enough.
The piece captures Taylor's style terrifically, which makes sense given that Taylor worked with Mondo on crafting the 3D representation of his print. Still, getting sculpting to match up with a specific artistic style isn't easy to do, and Mondo makes it seem effortless with this statue. The muted color scheme from the print has been swapped out for a bolder palette, which makes sense too. You do still get some flourishes of Taylor's original coloring though throughout, as there are accents all over the statue that call out wrinkles and shading for more visual impact.
In addition to the standard statue, which features Harley on the shag carpet with her record player, an exclusive edition will also be made available. It will be nearly identical, but it will also feature seven different vinyl records to display with the piece, all of which feature different art styles that call back to the Joker.
The "Waiting for My J Man" Harley Quinn statue is available for pre-order now for $250.00, with the exclusive edition up for order at $260.00. The exclusive edition is only available for pre-order through Saturday, Jan. 28. Both are expected to arrive in Q3 2017.