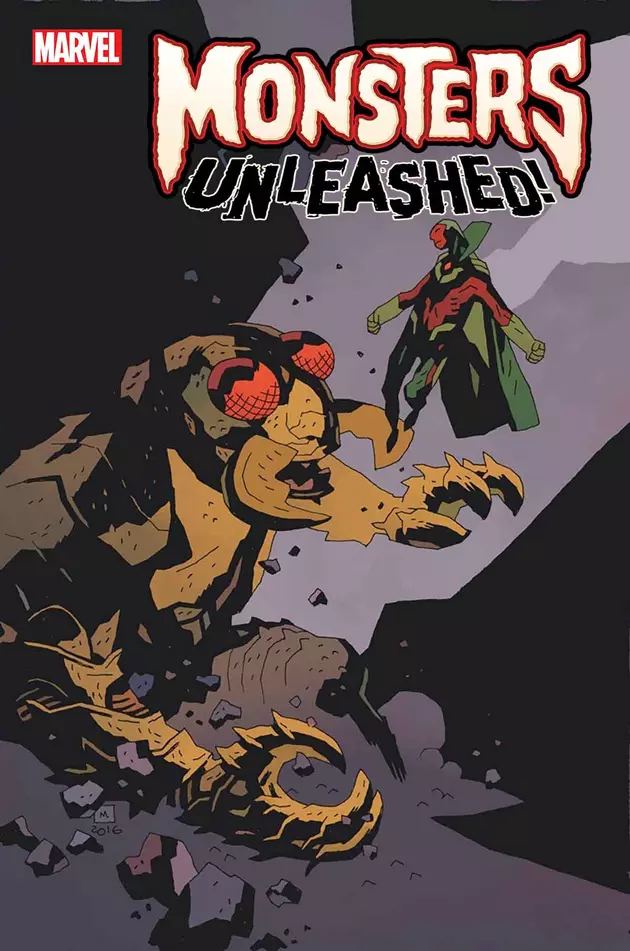 Heroes Fight Monsters On Five 'Monsters Unleashed' Variant Covers
Vision vs. Insect Man by Mike Mignola (Monsters Unleashed #1)
Before there were heroes, there were monsters. Or at least that's how the story of Marvel Comics goes, with the Jack Kirby-driven success of the publisher's monster comics leading to a superheroic renaissance in the early 1960s.
The Monsters Unleashed event, which launches with Monsters Unleashed #1 on January 18 2017, promises to bring back those monsters of primordial Marvel and pit them against the current crop of superheroes. To promote the series, Marvel has just unveiled some of the "Monster Versus Marvel Hero" variant covers that will be available for each issue. Each cover is by a standout artist, and each depicts a single Marvel hero facing off against a Marvel monster.
We don't yet know if any or all of these particular monsters will be featured in the story inside Monsters Unleashed, but given the scope that the series apparently has, it seems likely that at least some of them will.
Here's the official word from Marvel:
Raining down from the skies, rising from the depths of the oceans and emerging from beneath the very Earth itself – monsters are invading, destroying everyone and everything in their path! The only thing that stands in their way is an army of the strongest super heroes in the Marvel Universe! But even they may not be enough to stop these towering titans! It's all happening in MONSTERS UNLEASHED as the Avengers, the Guardians of the Galaxy, the Champions, the X-Men, the Inhumans and more band together to stop complete and total annihilation!

Blockbuster writer Cullen Bunn and some of the industry's greatest artists – Steve McNiven, Greg Land, Leinil Yu, Salvador Larroca and Adam Kubert – bring you an epic 5-part story beginning in January's Monsters Unleashed #1! But these five artists aren't the only ones getting in on the monster fighting action! Today, Marvel is pleased to announce five Monster Versus Marvel Hero Variants from blockbuster artists coming to each issue of the series!
Marvel's Top Ten Monsters, As Voted For By You!