MorrisonCon: The Cure For The Common Comic Book Convention

Devised by the Ignition Sequence (Isotope proprietors James Sime and Kirsten Baldock and iFanboy co-founder Ron Richards) MorrisonCon was first announced in January as a kind of hip, forward-thinking antidote to the organizational chaos and overt commercialism of the traditional comic book show. A collaboration with preeminent superhero comics writer Grant Morrison, the event was also pitched as a mind-bending and life-changing experience whose enigmatic early hype material actually recalled some of the writer's more audacious work.
MorrisonCon came and went last weekend in Las Vegas, and it was definitely, resoundingly and victoriously one of those things, and a pleasant enough amount of the other. I was palpably skeptical of how much I would enjoy a convention seemingly based around the celebration of a single author, but I was pleasantly surprised to discover that the organizers oversold the idolatry and undersold the innovative format. A helpful way of thinking about MorrisonCon is to replace MorrisonCon-vention in your mind with MorrisonCon-ference, because a conference is what the event actually was, and what made MorrisonCon one of if not the most enjoyable comic book conclaves I've ever been a part of.Organization
In a way the greatest achievement of MorrisonCon was its breathtaking simplification of convention registration, transportation, lodging and entertainment. For those of you who haven't participated in the annual indignity of purchasing tickets and finding a hotel room online for Comic-Con International in San Diego, it is essentially a waking expression of the bureaucratic techno-horror and dread depicted in the Terry Gilliam film Brazil. The procedure involves getting up early to race against tens of thousands of other nerds jacking into Comic-Con's infernal and endlessly malfunctioning matrix to create all manner of usernames and passwords just so you can buy tickets later, but before entering a lottery whose prize could be a luxurious hotel room across the street from the San Diego Convention Center or a $200-a-night broom closet on the outskirts of Tijuana. Sometimes you don't get s*** and have to crash in other people's wet bathtubs. It is a process that -- and I am not kidding -- actually gives ComicsAlliance writer Chris Sims nightmares every April.
Assuming you wish to attend the event for all four days, Comic-Con can cost you between $700-$800 just for a bed and access to the event. Add in air travel and you're looking at about an even $1,000.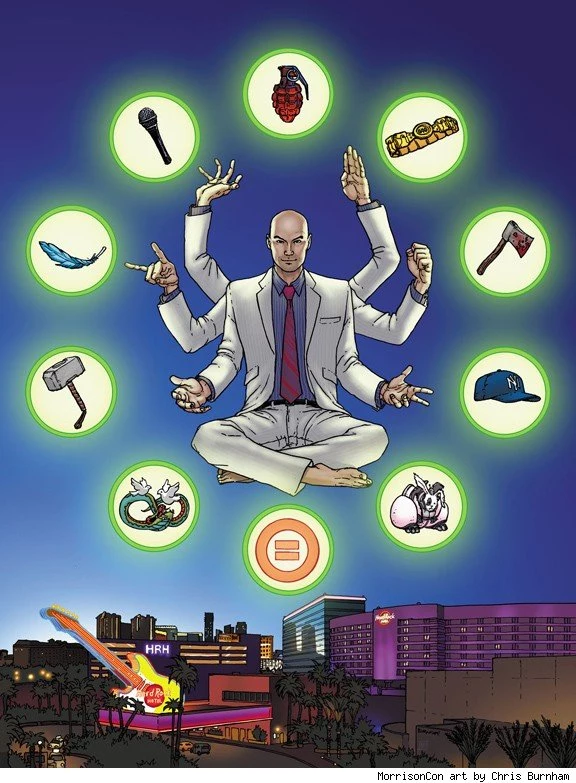 MorrisonCon cleverly evaded those traumatic technological steps by hosting the event completely within the confines of the Hard Rock Hotel & Casino in Las Vegas, making lodging and the event a single purchase, and limiting attendance to just 1,000. This way there was never a problem with the ticketing website and the organizers were able to secure extremely nice hotel rooms for every customer at a relative bargain. By keeping all the programming under one roof, MorrisonCon eliminated the inconvenience and expense of taking taxis or shuttles from your hotel to a convention center. Instead, you just had to roll out of bed and into an elevator (where, in all fairness, you did run the very real risk of seeing somebody wearing an Affliction t-shirt). As for entertainment, the Hard Rock offers a plethora of restaurants ranging from the simple to the elegant, which made sorting out lunch and dinner plans a breeze; something you could do on the spot. At other cons, organizing a meal involves a fury of network-delayed text messages and ultimately disconnected, screaming phone calls made against the toxic din of a crowded showroom floor. And because MorrisonCon reserved the hotel's Body English nightclub, everybody -- fans and pros -- could go to the same place at night to drink, dance and socialize with each other without worrying about the tedious (and elitist) guest lists or party-hopping practices of the New York and San Diego shows. Indeed, most people I talked to never even stepped outside of the Hard Rock Casino all weekend, for we were left wanting for nothing (and it's a good thing, too, for the Vegas daystar is punishing).
Even the MorrisonCon swag bag was of a higher class. The bag itself was cloth, printed with original Chris Burnham artwork, and contained a full-color poster of said artwork and a hardcover programme which included biographies of every guest, more artwork, and blank pages for sketches. Attendees were also given a free copy of Morrison and Darick Robertson's Happy! #1 (with an exclusive MorrisonCon variant cover, naturally).
For this measurably easier and, yes, far fancier experience, MorrisonCon charged $700 for a single admission or $1,000 for two people (more with taxes, naturally). The price is comparable to the Comic-Con scenario I outlined above, but it's also true that hour for hour, MorrisonCon offered far less programming than any of the major conventions, and virtually nothing in the way of shopping. Your mileage may vary, but I think that's a very good thing and I'll explain more about the programming later.
The guest list of MorrisonCon included some of the most popular and highly placed individuals in the American comics industry. There's Morrison himself, of course, but also Robert Kirkman, not just the writer of The Walking Dead -- which is occasionally the business' most popular periodical and a perennial bestseller in the book market -- but also a co-owner of Image Comics. A former Morrison collaborator on Seven Soldiers of Victory and Batman, JH Williams III illustrates Batwoman, which is manifestly the most beautiful comic book DC Comics currently publishes. Jim Lee is not only one of the most enduringly popular and influential superhero artists of the last few decades, he's also the Co-Publisher of DC Comics. Jonathan Hickman has been elevated to the Avengers titles, replacing Brian Michael Bendis as the mastermind behind Marvel's flagship franchise. And of course, Frank Quitely worked with Morrison on some of the pair's most popular and acclaimed works like All-Star Superman and We3. Not to mention Jason Aaron, Darick Robertson and Chris Burnham, all of whom have topped sales charts and/or critics' lists with titles like Scalped, Wolverine and the X-Men, Transmetropolitan, The Boys, and Batman Incorporated.
Film director James Gunn (Super, the upcoming Guardians of the Galaxy), screenwriter Max Landis (Chronicle), and musicians Akira the Don, Gerard Way (My Chemical Romance, and a comics writer in his own right) and Jimmy Urine (Mindless Self Indulgence) took the stage to add some eclecticism and valuable extra-comics points of view to the weekend's ongoing discussion about art and storytelling. And while they were not panelists or involved in the programming, DC Co-Publisher Dan DiDio and Image Publisher Eric Stephenson were also in attendance.
For the mainstream fan, it's difficult to imagine a more compelling list of guests, especially all in one room together, speaking extremely candidly about their jobs, creative processes and personal experiences, and available throughout the weekend for a chat or a drink.
MorrisonCon co-organizer and comics retailer Kirsten Baldock moderated some discussions, adult film star and sex columnist Ryan Keely oversaw the film panel, and Grant Morrison's wife Kristan was also on hand to help manage the event, as she was instrumental in its planning. But I was disappointed that there were no women on the actual guest list. It's true that few female creators currently enjoy the same level of mainstream success and influence as many of the MorrisonCon panelists, but organizers estimate that at least one third of attendees were women, and I do think the absence of a woman's perspective was felt. Although I've no idea as to their availability or interest, I think Marvel Comics writer Marjorie Liu would have been a good fit, as would have Morrison's Invisibles collaborator Jill Thompson. I'd have also been curious to hear what industry leaders Karen Berger (Executive Editor, Vertigo) and Diane Nelson (President, DC Entertainment) would have to say about the various topics discussed.
MorrisonCon attendees gather for a performance by Grant Morrison and Gerard Way
The vibe of the convention was set on Friday night, when MorrisonCon attendees gathered at the Body English nightclub to hang out and watch a live performance by Morrison and Gerard Way. The people I spoke with were a mix of longtime convention goers, industry insiders and people who'd never attended a comic book function before, all of whom were dedicated fans of Morrison or other guests, and were attracted by the intimacy and sophistication of the event. Many of them came from around the world.
A check of the #MorrisonCon hashtag on Twitter revealed a few people were there just to see Gerard Way, whose contribution to the opening night was especially good. He and a fellow musician performed an excellent Daft Tronic soundtrack while Morrison read "The Con," a frenzied spoken word piece about Howard Hughes and Liberace engaged in some kind of psychic duel. I admit I lost the plot a few times, but it was cool to stand in a live music venue and see people checking ComicsAlliance and iFanboy on their phones.
Crucially, with the exception of the
Multiversity news
which we reported on separately, nobody was trying to sell you anything. Without the prescribed talking points, formal pitch presentations, and Q&A sessions moderated by the publishers' judicious publicity staffers, MorrisonCon guests and attendees were free to engage each other in organic and sometimes very personal dialogues about their own work, the craft of comics, industry business, politics, and more. These unpredictable conversations, critiques and debates were not just refreshing, but for the Comic-Con veteran and true comics lover, they were occasionally exhilarating.


Chris Burnham and Frank Quitely discuss comic art

For example, during one hour attendees watched and participated in a discussion with Frank Quitely and Grant Morrison about the merits of Chris Burnham's work. Quitely described it as "brilliant stuff" of course, but he also highlighted with visual aids why he was so enamored with his Batman successor's visuals. "Usually with this kind of confident line you sacrifice movement; the images tend to look a bit stiff," Quitely said, explaining how Burnham's Batman Incorporated pages defy that typical shortcoming with their strong sense of motion. Morrison remarked that Burnham likes to break down and reassemble script directions, sometimes adding panels to the enhancement of the overall work. Later, Burnham and the other artists sat with a video projector and drew, offering their admirers an unusually intimate look at how they create the images that have made them fan-favorites. MorrisonCon attendee Mark Warner filmed some of these demos, and you can watch his videos here.
In another hour, Jonathan Hickman spoke frankly about the role of his family in his life, noting that when he made the decision to create his first comic book, The Nightly News, he telephoned his wife to apologize and thank her for her moral support during all the years he was unhappy and unfulfilled with his previous non-comics work. Hickman cited Steven Pressfield's The War of Art as a direct inspiration, which tied in with the weekend's ongoing dialogue with attendees about how to begin creating their own comics and affect positive change in their lives. Hickman was a particular hero of MorrisonCon, answering all questions about everything from storytelling to the financial realities of comics with honesty, directness and humor, and engaging his fellow panelists with the same.
Later, Morrison led Hickman, Jason Aaron, Robert Kirkman and JH Williams III in a genuinely fascinating discussion about comic book writing. This included explicit criticisms of how Marvel and DC Comics often publish material with respect to advertisements, double-page spreads, collected editions, and double-shipping. This in turn led to similarly open back-and-forth about how they collaborate with artists, which in turn became a discussion about the role of editors in mainstream comics. I wanted to hear more about that topic, and MorrisonCon was designed in such a way that I could simply approach any of those writers in the lounge across the hall and ask them to elaborate (which I did).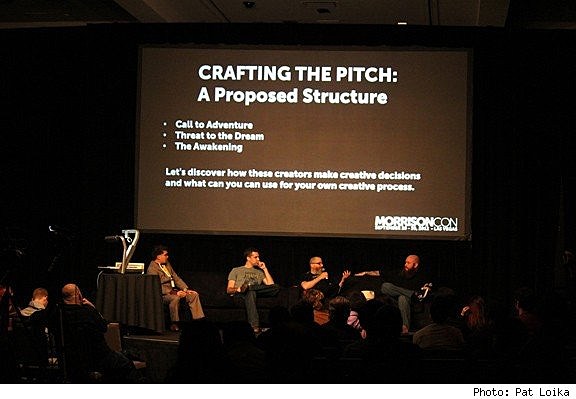 That you could come and go was one of my favorite things about MorrisonCon. Because attendance was limited and the programming took place in a single meeting room, it was extremely easy to step in and out without worrying about losing a seat or having to wait in a line to get back in. Additionally, there was never a concern about having to miss a panel because you chose to attend a different one at the same time. One room, one track. If you weren't particularly interested in a topic or guest, you could walk across the hall to the lounge for refreshments or chat with other attendees and creators. At one point, Darick Robertson set up in the lounge with a guitar and performed for fans, something I learned by checking the #MorrisonCon hashtag periodically throughout each day. The event was small enough that I could dash over to catch Robertson's performance, or head back into the meeting room when something cool was happening. Some people looking for a break grabbed a bite or played cards in the casino, while others chose to take naps in their rooms upstairs. If you're not familiar with how "big name" convention panels work and how early you need to get in line for a seat in most of them, you may not understand how euphoric this sense of freedom felt.
The lounge was a school gymnasium-sized hall adjacent to smaller rooms that included a makeshift art gallery that was usually populated by JH Williams III's wife Wendy, who was selling pages out of his many gorgeous portfolios and answering questions about his career. Also on display was original art by Jim Lee, Frank Quitely and Chris Burnham. This tiny but often crowded room constituted the only explicitly commercial dimension of MorrisonCon, which otherwise lacked a showroom floor and hosted no retailers of any kind.
In another lounge-adjacent space was the signing area, where guests sat eye-to-eye with their readers rather than behind a table at a convention booth. Naturally, this is where the line-waiting finally happened. Autograph queues can be interminable at most shows, but the MorrisonCon organizers mitigated that somewhat by scheduling fan appointments beforehand. This didn't go off without a hitch, however, and unplanned adjustments had to be made to accommodate Grant Morrison fans whose appointments weren't met at the designated times. It worked out in the end, and as far as I could tell this incident was the only logistical shortfall of MorrisonCon.
Leaving the discussion room did have its risks. Because I was having a conversation elsewhere, I missed the MorrisonCon film panel where Super and Guardians of the Galaxy director James Gunn became involved in a protracted genre debate with Chronicle writer Max Landis, whose remarks were described to me by various witnesses as "uncomfortable," "ranting," "a meltdown," "manic" and "ruinous." You can read more about that in Josie Campbell's report at CBR. Although it probably wasn't what the organizers had in mind, anyone with experience at a major film studio presentation at Comic-Con will tell you that such spirited discussions simply do not happen, which only helped set MorrisonCon further apart.
While the seemingly high price tag turned many people off to MorrisonCon straight away, what initially made me skeptical was the hero-worship, iconoclasm and talk of some kind of "transcendental" or "mystifying" experience. Don't get me wrong, I'm a longtime Morrison reader and fully recognize the value and influence of his work, and I respect his cultivation of a rockstar-like persona. But I'm also (respectfully, I hope) incredulous when it comes to topics like magic, extraterrestrial encounters, shared consciousness and various other supernatural concepts that have become such a visible part of Morrison's image and adopted by a vocal bloc of his audience.
Perhaps to the disappointment of some fans, my fears were not realized. Although the organizers opened the proceedings with a talk about how "crazy" their idea for a convention was, the truth is that the structure of MorrisonCon was utterly sensible (what's crazy is how things usually work at comic conventions). And participants weren't indulging just in cool esoterica but actually confronting relevant topics with the kind of consideration, honesty and passion you associate more with TED Talks than hype-tastic comic convention panels or new agey lectures. Morrison himself was not so much the star as he was a member of a happy ensemble. Indeed, the writer was especially engaging, humorous, and humble, making reference to feeling somewhat embarrassed by the use of his name and image in such a dramatic way, and sharing experiences and thoughts that doubtlessly humanized him in the eyes of those assembled -- mine included.
"Fat Superman" sketch by Frank Quitely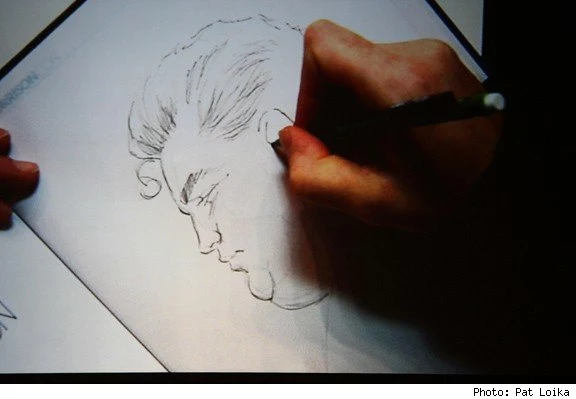 Contrary to what the grandiose programming guide suggested, every panel I watched came with a healthy dose of laughs. Memorably, Frank Quitely took a turn at the projection-enabled drawing board to create a "fat Superman" sketch that, despite how stupid it sounds, was actually really funny. The moment expressed the kind of lighthearted silliness that reappeared throughout the weekend to reset the vibe whenever any conversation seemed like it might become too overwrought. Along similar lines, Morrison and Akira the Don (read his MorrisonCon impressions here) refused to allow the tone of their truly engrossing dialogue about conspiracy theories and apocalypse prophecies to go too far beyond the kind of hilarious dorm room debates some of you might remember from college -- the difference being, of course, that these guys know a lot about that stuff and talk about it so entertainingly that they do it for a living.
When Morrison and Mr. The Don came to Wenlock and Mandeville, the weird one-eyed alien mascots of London's conspiracy theory-laden 2012 Olympic Games, I decided to test MorrisonCon's touted unpredictability by engaging in my own conspiracy with co-organizer Ron Richards, who usurped the panel's projection screen to display some humorous Olympics/Invisibles mashup art while the panelists were speaking. The fantastic pictures were edited years earlier by Jon Sung, who it turned out actually spent the MorrisonCon weekend managing the Isotope, the comic book store owned by organizers James Sime and Kirsten Baldock, while they were in Las Vegas. The crowd reacted with laughter and applause, as this kind of amusing synchronicity was typical of MorrisonCon and is of course a recurring theme in Morrison's own work.
Someone finally asked a magic question during the final panel of the conference, something about a sigil. Akira and Morrison answered that a sigil could be painted on someone's back during sex. "Just aim," they laughed. After that, I felt pretty okay about the whole magic thing.

I was also impressed by the caliber of attendees, who were welcome to interrupt the proceedings at any time to ask questions. Nobody was rude, and I didn't hear any dumb questions that had to be answered with that old convention cliché, "Keep reading to find out!" People talked about their lives and the work that inspired them; asked thoughtful questions about the comics they enjoyed; or just traded funny stories with their favorite creators. In every case, Morrison and his guests listened and responded to the crowd with genuine interest and concern.
Obviously there was dancing, libations and food, but many attendees likened the MorrisonCon experience more to summer camp than to a party. People signed each other's programmes like high school yearbooks, and a group of MorrisonConners took to the the Hard Rock's on-site tattoo parlor to commemorate the experience with inked replicas of Frank Quitely's original S-shield emblem from All Star Superman. I heard that one couple who'd been courting online finally met for the first time at the conference, and -- Vegas being Vegas -- actually got married. And of course people left inspired to create their own works, including one group who announced plans to produce an anthology of comics by MorrisonCon attendees.
That's an awful lot to happen in a two-day comics conference, and I have to say I didn't miss shopping for back-issues a mile's walk away from the nearest bathroom.


Chris Burnham sketches Judge Dredd on the toilet

I fear the Ignition Sequence may have painted themselves into a corner by naming their inaugural event after a single creator. It's honestly difficult to think of many other comic book personas that could support a similar event, at least in the same promotional sense. But everything about MorrisonCon was really a lot of fun and frequently very fascinating. If the format were replicated annually with different creators and themes, I would be happy to attend such a comic book super symposium every year.