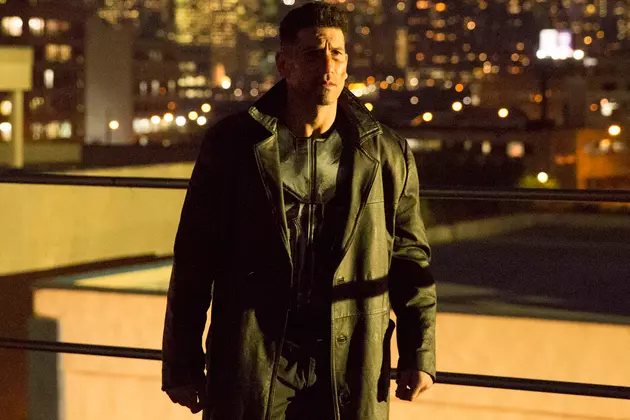 Netflix 'Punisher' Cast Assembles in New Photo, Not Punishing Anything
Netflix
We don't yet have the clearest picture of how Marvel's Netflix Punisher spinoff will fit in with the other Defenders series (beyond a 2017 premiere), but at least its cast is hard at work. See for yourself, as the full assembled roster behind The Punisher stands tall, not punishing things in a new cast photo.
Star Daniel Webber shared the behind-the-scenes look at the cast out of costume, including actors Jason R. Moore, Michael Nathanson, himself, Amber Rose Revah, Ebon Moss-Bachrach, Jamie Ray Newman, Jon Bernthal, Daredevil star Deborah Ann Woll, and Westworld alum Ben Barnes. Missing from the list is Paul Schulze, but we've included the Punisher cast breakdowns beneath the photo:
Daniel Webber ("11.22.63") has been cast as Lewis Walcott, a young veteran who has had a difficult time re-assimilating into Civilian Society.

Jason R. Moore ("A Lonely Place for Dying") joins as Curtis Hoyle, a friend of Frank Castle's and one of the few people who knows he is alive.

Paul Schulze ("Nurse Jackie") will play Rawlins, a high-ranking member of the CIA whose operations in Afghanistan intersect with Frank Castle.

Jaime Ray Newman ("Bates Motel") plays Sarah Lieberman, Micro's wife (played by Ebon Moss-Bachrach) whose marriage has made her life far more complicated.

Michael Nathanson ("The Knick," "Wolf of Wall Street") has been cast as Sam Stein, a Homeland agent who is challenged by his partnership with Dinah (Amber Rose Revah).
Additionally, Ben Barnes is cast as Frank's Special Forces friend (and future Jigsaw) Billy Russo, along with Amber Rose Revah as Homeland Security agent Dinah Madani and Girls star Ebon Moss-Bachrach as "Micro," described as "a former NSA analyst whose secrets may be of great value to Frank Castle and everyone around them."
We'll likely see more of the cast in official capacity over the next few months, but what role might the Punisher play in the franchise going forward?
Check Out 100 TV Facts You May Not Know!