Post-It Note Art Destroys Productivity With Awesome 8-Bit Recreations

Do you love video games? Do you hate trees so much that you want them to be chopped down as fast as possible, possibly because you were a victim of tree-based crime when you were a child? If the answer to both of those is a resounding yes, then have we got a trend for you!
Spurred on by a recent art battle between Ubisoft and the French BNP bank that played out on the windows of their respective buildings, there's been a sudden surge of art created using post-it notes, focusing on video game characters. Check out a gallery of our favorites after the cut!

As chronicled by Obvious Winner, the battle between Ubisoft and BNP included some pretty awesome back-and-forth art battling, which grew to eventually include Nyan Cat, a three-story Piranha Plant from Super Mario Bros., and my second favorite Kirby: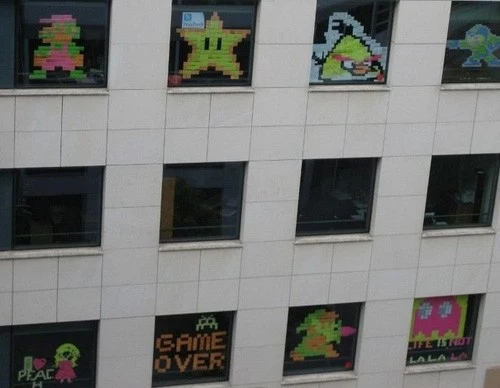 Gamoover had a few more shots of the art going on at Ubisoft and BNP, including a surprise appearance by an 8-bit version of Asterix's pal Obelix:
But as Kotaku reported, that battle was ended pretty decisively when Ubisoft dropped a massive recreation of Assassin's Creed's Ezio Auditore da Firenze:
The trend is hardly limited to those two companies, though. Our own Caleb Goellner spotted these in Portland, Oregon:
.
And accoding to Flickr user BigAssSuperBlog, the Space Invaders have made it all the way up to Halifax:
Don't worry, though, we haven't been left defensless. 327 Pixels found Capcom's MegaMan on a bedroom wall, raising the question of just what the heck you're supposed to do with black sticky notes:
And TechEBlog has found Metroid's Samus Aran guarding our nation's most important resource: the conference room.

And finally, in one of my personal favorites, the engineering students at UC Santa Cruz turned an entire building into a recreation of Super Mario Bros.: