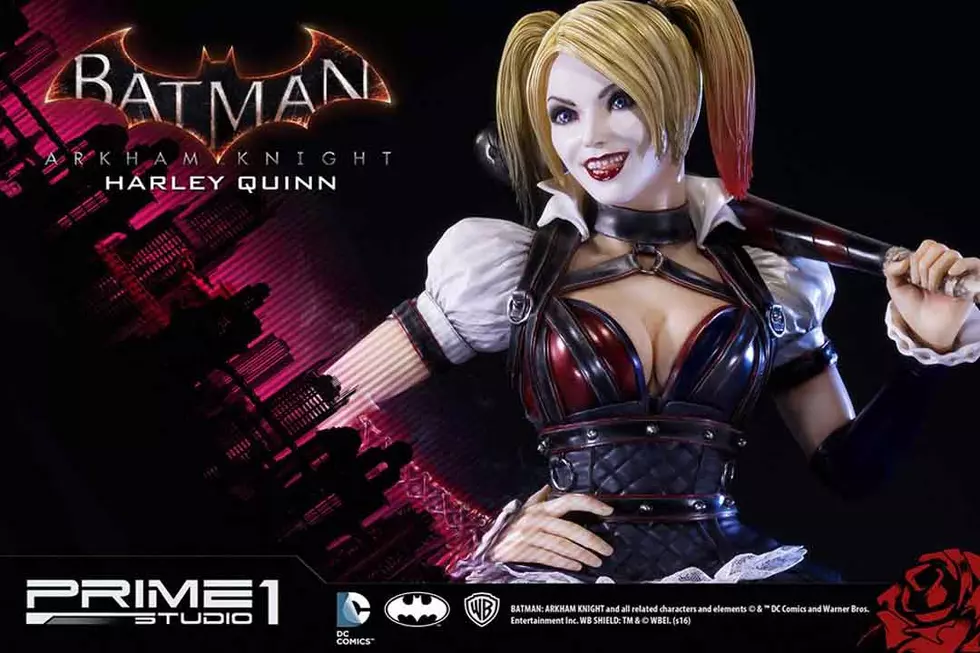 Harley Quinn Steps Up to Bat in New Batman: Arkham Knight Statue
Prime 1 Studio
Do you really like the Batman: Arkham game series? Do you have a lot of expendable income? Are the various mantels above the many fireplaces in your palatial estate sorely lacking for decoration? Prime 1 Studio just might be the "interior designer" you've been looking for. To this point, the Japanese company has released a handful of Batman: Arkham statues and busts, fleshing out the roster of heroes and villains lucky enough to get the Prime 1 treatment. Okay, mostly it's just been Batman, but there's also an Arkham Knight and a Deathstroke, too. Today, the high-end collectible-maker expanded its catalog to include the one and only mistress of mayhem herself, Harley Quinn.
Based on her appearance in Batman: Arkham Knight, the new Harley Quinn statue packs a lot of Gothic Lolita gangster moll into just 29 inches. Though the Arkham versions of Harley Quinn have been hit or miss in their design, this incarnation is actually one of the better looks the character's seen. Regardless of your opinion of the costuming, you can't deny how well Prime 1's brought the look and character to life. There's even a bit of mixed-media with her ruffled skirt to make sure it's got the right look. A sculpted version of that portion of the dress would have ended up looking like a lumpy mess, as many of the smaller-scale action figures of Harley from this game can attest.
Prime 1's done a great job bringing the character to life, which is easy to say of statue that costs nearly $1000. It's probably the best version of the Arkham Knight Harley Quinn to date, though not very many people are going to be able to get one. Technically I suppose you could say the same thing about the Arkham Knight, Batman and Deathstroke statues, but each of those characters actually have action figures that look great. The Harley toys always just miss in one area or another, and it's mostly because she has so many different elements going on. Dudes in armor are easy. Women in dresses, not so much.
Harley will come with three head sculpts, and all of them look good. I can't say including a straight-faced Harley makes much sense, as the winking face and "crazy" face are much more true to the character. I'm sure Harley isn't always making a face of some sort, but I'm so bored of statues and figures that go with such a generic facial expression. At least here you've got some options.
She'll also come with three different right arms to swap around. You can see one with the baseball bat, one is there to pose with her hands on her hips, and one is included to hold the Jack in a box. The wind-up toy isn't molded to the arm so you will be able to display it separately if you want. The Jack in a box plays a small role as one of Harley's explosive weapons in the game, and having it as an accessory is a nice touch that adds a bit of depth to the piece. Its wackiness complements the stark and serious base (that Harley's defaced) quite well. I'd definitely not put it in her hand myself. I know how clumsy I am, and watching that thing fall to the floor and shatter would be pretty heart-breaking.
Additionally, an exclusive version will include Joker and Batman "plush" dolls to display with the statue. Both look nice, and suit the mood of the piece quite well. Batman having a noose around his neck and a busted button eye is a nice bit of detail. Like the Jack in a box, I'd be wary of displaying the Batman in the hanging pose in case it fell and broke.
The Batman: Arkham Knight Harley Quinn will be available for $929. No release date or pre-order date have been revealed as of yet.