'Scott Pilgrim' Comics Go Digital With ComiXology
At this point, I'm going to go ahead and guess that everyone's hip to this whole "Scott Pilgrim" thing: The movie's coming out this Friday, a video game that hit the PlayStation Network and a soundtrack album that both dropped yesterday, and the final volume of the graphic novel series hit last month, finishing out six years of work from Bryan Lee O'Malley. And as though all that wasn't enough, there's another huge announcement:

The entire series has gone digital and is now available on iPhone and iPad thanks to a "Scott Pilgrim" app powered by comiXology.
IThe first five volumes of the series are up for $6.99 each, while the newly released "Scott Pilgrim's Finest Hour" shares its print counterpart's cover price of $11.99, complete with a couple of free offerings, including the first 37 pages of "Scott Pilgrim's Precious Little Life," and a full color version of "Free Scott Pilgrim," the Free Comic Book Day special from 2006!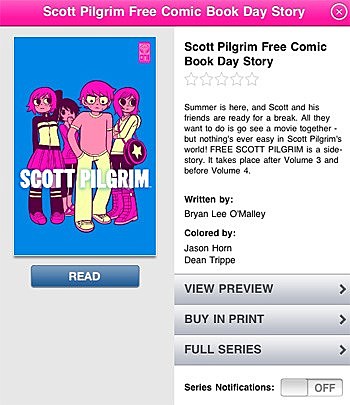 It's a pure side story that doesn't impact the ongoing plot at all, but it is an awful lot of fun, was overtly referenced in the movie, and -- at least around here -- was one of the first FCBD comics the shops ran out of, so putting it online for free makes the completist in me pretty darn happy. Plus, while the original was in black and white, the new version's in full color courtesy of colorists Jason Horn and Dean Trippe!

The only thing that's missing that I'd really like to see show up there is the four page Kim Pine solo story from FCBD '07, but as that's already available in its entirety on ScottPilgrim.com, it's no big loss not having it here.
As for how they actually read, well, I've gone on record before as a guy who loves reading comics on the iPad, but there are a couple of things about "Scott Pilgrim" in particular that are pretty great in the digital version. For one, while O'Malley and Oni have been very good about keeping dialogue and important bits of art away from the inside margin and losing them in the binding, it's still nice to see everything laid out flat. And by the same token, it's awesome to see O'Malley's big double-page spreads like this one, from volume 4...

...without it being divided up by a page break.
It's well-done in just about every way it can be, and it's a very smart move on the part of Oni and O'Malley to have it available both right as the movie hits and so soon after the final volume dropped, especially given its runaway success as a non-super-hero series. And in making it available digitally, they've really set themselves up for the future.