The Spider-Man Panel: Spider-Island, Punisher, Daredevil, Return of the Spider-Clone [Comic-Con]
Senior Editor Steve Wacker led an all-star panel of Spider-Man talent on Friday at Comic-Con International in San Diego, where the Marvel crew discussed what fans can expect from the upcoming "Spider Island" event, whereby everybody in Manhattan finds themselves in possession of the same powers as Spider-Man, as well as new series like Daredevil and The Punisher. Panelists included Zeb Wells of Avenging Spider-Man, Humberto Ramos of Amazing Spider-Man, Mark Waid of Daredevil, Rick Remender of Venom, Nick Spencer of Spider Island: Cloack and Dagger, Antony Johnston of Deadly Hands of Kung Fu, Greg Rucka of The Punisher, Marvel's Director of Communications Arune Singh and Marvel Comics Editor-in-Chief Axel Alonso.


The panel began with a video message from Dan Slott, writer of Amazing Spider-Man and architect of "Spider-Island," who said that in the story Mayor J. Jonah Jameson has quarantined New York, which becomes known as Spider Island. "Characters you know and love from Spider-Man history will have the same powers as Peter Parker," Slott said. While discussion of the project centered around Spider-Man taking the heroic lead and "having his moment" as major player in the Marvel Universe, Slott did add, "This is the most fun, guilty pleasure you will have all summer."
The eight-part main "Spider-Island" story begins in Amazing Spider-Man #666, on sale July 27.
Naturally, the event will have numerous tie-ins:
Spider-Island: Clock and Dagger by Nick Spencer and Emma Rios

"I've been begging to work on a Clock and Dagger book since I got to Marvel," said Spencer. "Emma Rios is turning in the work of her career. It's a fantastic, beautiful book to look at it.
"The book is really about a relationship. We don't have a lot of books about couples. In Cloak and Dagger, we're telling this story about these two people trying to live together and make it work against the backdrop of Spider Island. It's really fun and we're enormously proud of this book."
The panelists indicated that there is a desire to produce more Cloak and Dagger stories and hope audiences enjoy the Spider Island tie-in.
Spider-Island: Spider-Girl by Paul Tobin and Pepe Larraz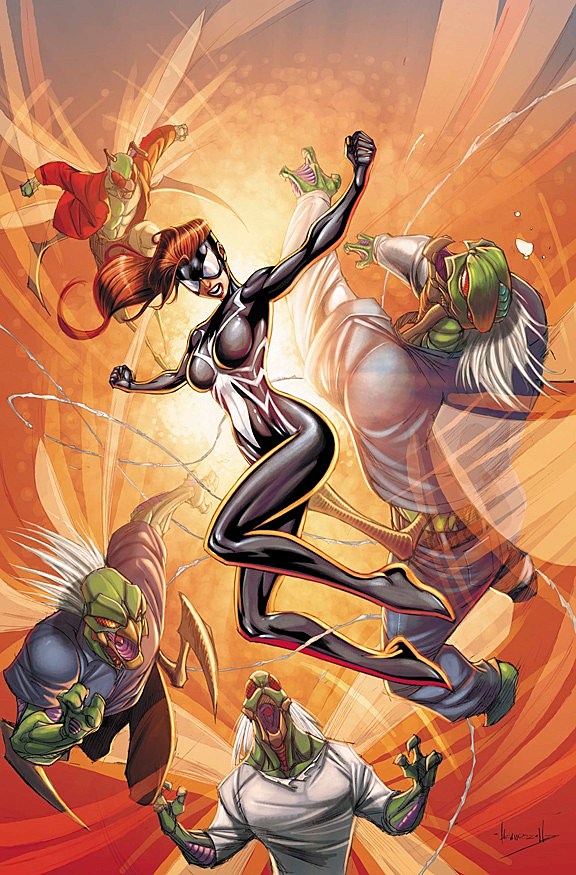 "Part of her past is coming back... not really to haunt her but more like viciously attack her," said Wacker.
Spider-Island: Deadly Hands of Kung Fu by Antony Johnston and Sebastian Fiumara

Shang-Chi, Iron Fist and Bride of Nine Spiders star in this miniseries. Johnston said it was a gothic/horror take on the kun fu genre that begins when Shang-Chi has a nightmare in which he's turned into a spider. The writer promised his miniseries would contain "more kicks per page" than any Spider-Island book. Wacker joked that the mini "appeals to lovers of violence."
Spider-Island: Deadly Foes by Dan Slott, Christos Gage, Fred Van Lente, Giuseppe Camuncoli and Minck Oosterveer
This one-shot will contain two complete stories, one about the Hobgoblin and one about the Jackal, the latter of whom is the mastermind of Spider-Island.
Spider-Island: Avengers by Christopher Yost and Mike McKone
Wacker said this title would remind readers of the classic Justice League International stories written by Kieth Giffen and JM DeMatteis.
Spider-Island: Spider-Woman by Fred Van Lente and Giuseppe Camuncoli
Spider-Woman vs. the Thing against the backdrop of Spider-Island.
Spider-Island: I Love New York City by Greg Rucka, Kelly Sue DeConnick, Joe Caramagna, Skottie Young and Max Fiumara
Spider-Island through the eyes of New Yorkers. Wacker specifically mentioned that a young child would find himself with spider powers. The issue also comes with a special story by Greg Rucka about how The Punisher deals with every NYC criminal becoming a superhero.
Venom by Rick Remender and Tom Fowler

Venom will tie-into Spider-Island in a major way, we were told, but one that also deals explicitly with the character of Flash Thompson. The Spider-Island issues will be drawn by Tom Fowler. Lan Medina takes over as regular artist from issue #9.

Zeb Wells discussed his and Joe Madureira's forthcoming Avenging Spider-Man series, which sees the wall-crawler team up with assorted heroes from the Marvel Universe for bigger-than-life action stories (as opposed to the more character-based, soap operatic tales of Amazing Spider-Man).

Talk of the new Daredevil series by Mark Waid, Paolo Rivera and Marcos Martin was met with praise not just from the San Diego crowd but Arune Singh himself, who claimed the first issue was the single best comic book being published by anyone in any genre and that anyone who didn't agree could approach him and ask for their money back.

Waid joked that the response to DD #1 was so good, he's decided to quit. He went on to explain that it was risky to make such a radical shift in Daredevil's tone following so decades of grim noir stories created in the shadow of Frank Miller's influential run more than 30 years ago. "Let's take it out of the shadow of Frank and see what we can do with it," Waid said. "We're not doing goofy, we're not doing retro, we're not doing Silver Age. But you don't have to have a drink after every issue. As many great things have been done with Daredevil over the last few years -- Bendis, Brubaker -- I didn't know how else you could tighten the noose around Matt Murdock's neck. Make him deaf, too? So let's have a sea change."

Because Greg Rucka's script for The Punisher #1 included a graphic, matter-of-fact description of the most effective way to slit a person's throat, Singh identified the writer as "the scariest man in comics." For his part, Rucka said the fascinating thing about Frank Castle is that he is not insane. Everything he does is planned and direct. The series will deal heavily with how the Punisher's relentless mission affects those around him - like the police who may be trying to work cases whose principals have been murdered by the Punisher. Along those lines, Rucka revealed that the Punisher does not speak for the first three issues, nor are his thoughts revealed in any captions.

With respect to Carnage USA, a Zeb Wells and Clayton Crain project slated for next Summer, the writer said he hopes to capture the "vibe' of the popular "Maximum Carnage" storyline of the 1990s but not what he said was its poor quality. "I know that's not cool but it's really terrible," he said, with the panelists nodding in agreement.
An incredulous fan asked about the role of the traditionally lame Jackal as the mastermind of Spider-Island. Wacker answered by explaining the writers' jobs are to convince him as to a character or story's worth, and that the Spider-Man contributors manage to do so all the time. He cited Venom, Carnage, the Jackal and others as examples of concepts he was not interested in until writers like Wells and Slott "sold him" on their takes. The prime example of this, Wacker said, was Frank Miller's interpretation of Bullseye, a dubious villain character who became something much more.
The subject of Ben Reilly - aka the Scarlet Spider, aka the Spider-Clone, came up many times during interactions with the audience. Wacker said the character's story was told and that there were no plans for the character to return. But at the very last second, Singh displayed artwork which depicts the character's sleeveless spider-hoodie in flames and the caption "2012".