 Revised Spider-Man Musical More Heroic, Less Nightmarish The New York Times' Patrick Healy watched a rehearsal of the newly retooled Spider-Man: Turn Off the Dark and reports that the Broadway production, which has returned for preview performances following a three-week hiatus, now more closely resembles the myth of Spider-Man as understood by general audiences and is less preoccupied with the bizarre inventions and critically savaged vision of former Turn Off the Dark director Julie Taymor. Composers Bono and The Edge of U2 have also owned up to mistakes with the original production, which cost a record-setting $70 million and sent numerous performers to the hospital with variously serious injuries.The original version of Spider-Man: Turn Off the Dark was an amazing spectacle of stagecraft and acrobatics as witnessed through a thick filter of WTF. Classic Spider-Man villain Norman Osborn aka the Green Goblin was killed off in the first act to give way to Arachne, an invention of Taymor's who's meant to be a mortal woman of the ancient world cursed by the goddess Athena to exist in hideous spider-form. There was also a "geek chorus" of comic book nerds who provided explanations for just that kind of weirdness, which included an ending where Spider-Man retired to some kind of astral plane with Arachne.

Turn Off the Dark producers eventually jettisoned Taymor and hired comics writer and playwright Roberto Aguirre-Sacasa to work with existing co-writer Glen Berger on reworking the musical into something less pretentious and operatic and something more family-friendly and closely resembling a Spider-Man comic book legend. Among the changes, the Green Goblin survives into Act II; Archane's role has been diminished; there are five additional action scenes; expanded roles of comic book icons Aunt May, Mary Jane Watson and Uncle Ben; and new or reworked songs by Bono and the Edge, who demonstrated some uncharacteristically humility in conversation with the New York Times.
"What was great about 'Turn Off the Dark' 1.0 was unusual and rare: magic, a pop-up Pop-Art opera with a bit of rock 'n' roll circus thrown in," Bono wrote by e-mail in response to questions. "What was not right about it was a catalog of commonplace problems - story knots, bad sound and finally a failure to cohere, meaning that the whole was not greater than the sum of the parts, as wonderful as some of those parts were."

"In 'Turn Off the Dark' 2.0, the myth of Arachne does not overpower the reason people are there," Bono wrote, "to discover what makes Peter Parker a superhero, which in the end turns out not to be his spider senses, but his personal integrity and especially his humility - something I hope all of us in this process have learned from."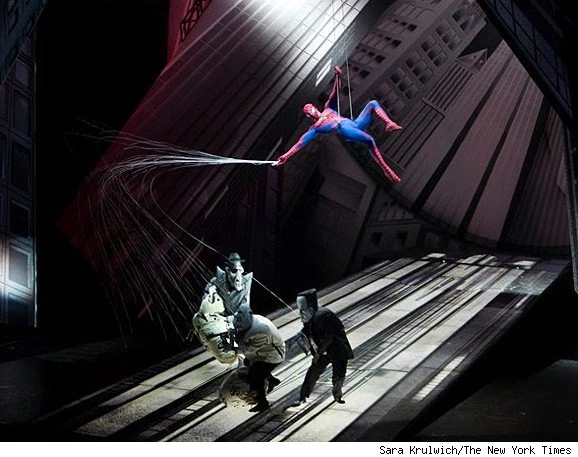 The result of the creative changes -- which cost around $5 million to implement -- is something producers hope will appeal to the "8 to 88 crowd." Aguirre-Sacasa elaborated.
"There is still a ton of emotional complexity in the musical, and some of that original darkness."

"But we all also wanted a show that would honor the rich legacy and history of the Spider-Man story: the high school love story, the pretty girl next door, the science geek who is coping with new powers," Mr. Aguirre-Sacasa, a playwright and an author of Spider-Man comic books, said.
Despite more than 145 public performances, Spider-Man: Turn Off the Dark has yet to officially "open." Previews resume tonight at the Foxwoods Theater on Broadway, reflecting the changes to the production, and the show is slated to properly premiere June 14.
The original Julie Taymor version of the Spider-Man musical was a memorable and uniquely dangerous experience that was shared only by the relatively few lucky enough to see it, but producer Michael Cohl has good news for those of us who couldn't make it to the show. Cohl revealed to the New York Times that his son Jacob has been filming behind-the-scenes material for months in preparation for what may become a thrilling documentary about this endlessly fascinating endeavor.