A 'Street Fighter' Legend's Origins Are Finally Revealed In UDON's 'Akuma' [Complete Chapter 1 Preview]
Premiering this summer at Comic-Con in San Diego is Street Fighter Origins: Akuma, an original graphic novel feverishly anticipated by devotees of the enduringly popular Capcom Street Fighter franchise and UDON's decade-long line of fan favorite comics based upon it. First announced in 2010 and only the publisher's second original SF graphic novel (following Super Street Fighter: New Generation), Akuma will finally reveal the heretofore untold origin story of one of gaming's most beloved evildoers, a Darth Vader of the fighting game realm whose every appearance adds to a fearsome myth that, as I will explain, extends beyond the comic book page and into his fans' own distant pasts.
The book doesn't go on sale in stores until July/August this year, but because UDON takes perverse pleasure in flashing me back to my most vicious childhood gaming defeat, ComicsAlliance readers can check out the entire first chapter of Street Fighter Origins: Akumaright now.
First introduced all the way back in 1994's Street Fighter II Turbo, the villain Akuma has been a haunting and irrepressible presence in many a gamer's life for generations. Some of us of a certain age may remember the genuine shock and awe of making it to the end of the game only to witness "the devil," a hidden boss, appear out of nowhere, defeat Bison within seconds, and uppercut us into oblivion just as we ran out of game tokens... forever. Indeed, I was so demoralized by the experience that I Charlie Browned my way out of arcade gaming, never to return. But the fearsome legend of Akuma only grew in the years hence, and he is regularly ranked among the most popular video game villains by those players who have the courage to continually face him.
The mostly computer-controlled character's backstory has been revealed slowly across a number of games, comics and animations. The most crucial and canonized fact is that Akuma is known to be the wayward brother of Gouken, the heroic martial arts master who trained Street Fighter heroes Ryu and Ken, and that the equally skilled Akuma chose a far darker, deadlier path than his brother. The feud between them has been the source of much conflict in the Street Fighter universe.
A great deal more of the brothers' story will be presented in prestige fashion with the release of Street Fighter Origins: Akuma, an original graphic novel by Chris Sarracini and Joe Ng. The 128-page hardcover is meant to be a coming-of-age story for the villain, depicting for the first time the tragedies that led him to become the lethal master of the "Dark Hado." The 8"x11" book will also come with backup material including production art and an Akuma gallery.
As promised, here is the entire first chapter of Akuma for you to read for the very first time.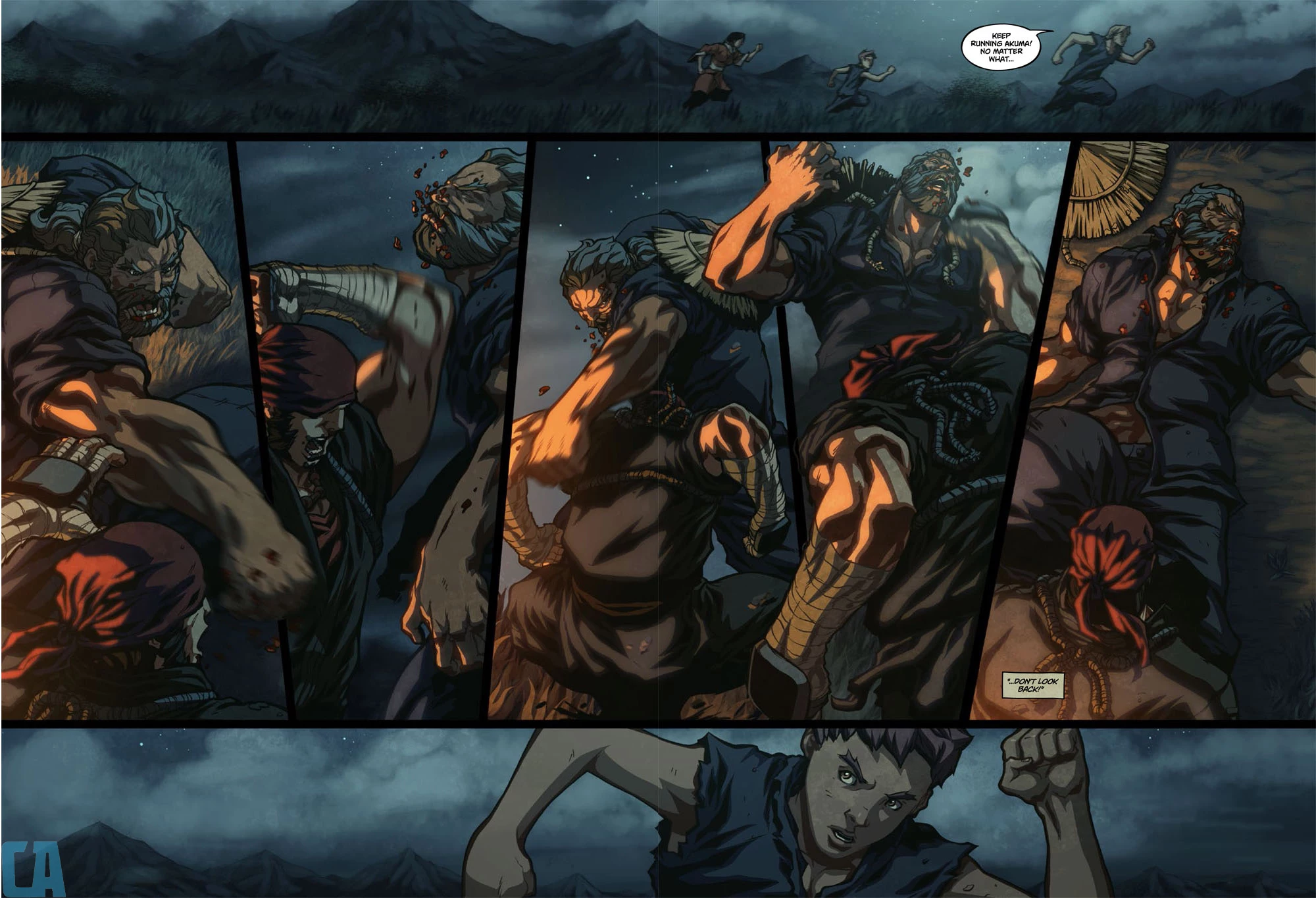 Street Fighter Origins: Akuma debuts at Comic-Con International in San Diego this summer. The book will be available in retail stores later in July or August.