Art and Superheroines: Getting Sex and Cape Comics Right

Sex is a natural part of life. It's how babies are made and it's how people pass the time. It's natural that sex would be a part of superhero comics, too. What's strange is how rare it is to find a well-done sex scenes, or sexy scenes, in cape comics. There are plenty of chaste kisses, followed by a fade-to-black, but when actual sex is the subject, superheroes come up short. These scenes tend to come across either exploitative or too inept to be anything approaching believable. Why is that? Why do cape comics have such a hard time bridging that gap in their portrayals of sex?To be fair, I wasn't entirely sure how to start with this post. I read a bunch of DC's New 52, looking for inspiration, and was surprised by what I found in terms of sexual content. The bulk of it felt immature at best. Superman #1 featured a "Oh, we have company? Why don't we go back and have sex instead and leave this guy who is clearly interested in you here at the doorway?" scene that was straight out of the most cliché soap operas, and it's telling that Red Hood and the Outlaws's approach to sex read more like a fantasy than the apparently progressive approach it was intended to be.
Catwoman #1's been chewed over to death, but it felt like a 14-year-old's wet dream on overdrive, a fever dream constructed out of the ghosts of all the teenage boys from the '90s who wanted pornography but only had access to scrambled episodes of The Red Shoe Diaries.
When I hit Batwoman #4, which juxtaposed the brutal beating of a teenage sidekick (actual sample dialogue: "Yer a tasty piece of sweets. An' I'm gonna have a slice! Ahhhh. Yer so warm inside, girly. An' aren't you the juicy one...") with her mentor having soft-focus orgasms while another character goes down on her, I just... stopped. I'm not down with how any of these comics approach sex. It's hollow at best, but leans toward being gross overall. Most of all, it's not good at what it's trying to do. It doesn't fit. It's not that it can't be done. It's that it seems like the most common result is gross, rather than sexy.

That sent me down another line of questioning: What are cape comics trying to do, exactly? A lot of the time that isn't exactly clear. I would guess that they're trying to tell stories aimed at adults (content ratings aren't necessarily representative of the target demographic, for the record) that occasionally utilize sex and violence. Sometimes it's grindhouse-y sex and violence, which isn't an objectively bad thing at all; sometimes it's soap-operatic in nature, with chaste kisses and then a fade to black representing a sex scene. But the scenes I read didn't work for me, not a one of them. They felt out of place -- too hardcore for the story that was being told, or else were empty fantasies that would be way more exciting if they'd included nudity and actual penetration. Really, they felt like things that would've been really, really exciting back before internet porn existed.
So when do cape comics succeed at what they're trying to do with sex, and what makes that specific depiction right? That's incredibly subjective, as anything to do with sex and sexuality tends to be, but it's something worth exploring.
My main go-to for good depictions of sex and cape comics is Adam Warren's Empowered. He describes it as a "sexy superhero comedy," but that's just scratching the surface. It's a work that has plenty of boobs, butts, and (boy) bulges, damsel-in-distress stories, yaoi interludes, and cosplay fetish sex. On top of that, though, Warren has created a work that contains a sometimes staggering level of emotional depth, an incredibly positive attitude toward sex, a self-conscious awareness of the tropes he alternately embraces and lampoons, and most of all, a good comic.
Empowered's eponymous heroine is a superhero with issues. Her costume is too skintight and ineffectually fragile, and neither her teammates nor her nemeses respect her. She gets tied up way too often for her liking. It's a book that started out as a series of pin-ups, and somehow transformed into one of the better ongoing superhero tales today. Let's see if I can talk this through from the ground up.

Comparing Empowered, a cheesecake comic, to theoretically neutral cape comics is a tricky prospect. Adam Warren is honest about Empowered's roots and what type of story he's telling. It's a sexy comic, so by its nature, it requires sex and sexiness of a variety of types. Neutral comics, whether they be from DC or Marvel or Image, have the capacity for cheesecake, but don't necessarily require it. It's one element that can be utilized, but it must be used carefully, because it's easy to tip too far over into contextually inappropriate excess that feels gross. But Empowered has yet to make me feel gross, even with its cheesecake roots and overt sexual overtones. Why is that?
While pornography often requires less to achieve its aims, good sex in non-pornographic fiction demands a few different things. It needs to be drawn well, obviously, although "realism" varies depending on comic's aesthetics. Bill Sienkiewicz did an amazing job depicting sex and obsession in Elektra Assassin, despite his art being as "unrealistic" as you can get. The art is just half the story, though. For sex to be good or believable, you have to believe in or care about the characters having it. Two random people having sex is about half as interesting as two characters that mean something to you making out on a couch, no matter how well the sex may be drawn.
The idea that art and characterization are the two most important building blocks for sex in superhero comics feels like a good one. Let's run with that.
Empowered has covered a lot of ground, characterization-wise, than you'd expect. Warren's seventh 200-page graphic novel comes out this year, and he's done a solid job of building up his cast into believable people over the past 1200+ pages, creating an intricate web of relationships. Those relationships are what power the sex that pops up over the course of the series, and if they didn't work, neither would the sex.

The foremost relationship in the book is between Emp and Thugboy, her boyfriend. They both get different things out of the relationship, aside from just sex. Thugboy clearly loves Emp, and expresses that in a way that's both a little paternal and a lot touching. He gets her issues with her body and career, and when she doubts herself, he's there to point out how wonderful she is. He supports her, and the reverse is true, too.
More important than that, though, is the fact that she's comfortable expressing her insecurities to him. It takes a lot to admit the truth, or what you feel is the truth, about yourself to others. We like to keep our fears secret. They're weaknesses, or they're contemptible, or they're whatever we need them to be in order to repress them and keep them under wraps. They're the exact things that would chase away the person we're romantically interested in -- or so we think.
Shame kills. It corrupts and warps our minds to the point where we make stupid decisions in the name of self-protection. You might feel bad about that little bit of extra gut you have, your ugly feet, or some aspect of your face that you aren't particularly proud of. That's normal, but it's also something worth fighting against, and a side effect of the Emp/Thugboy relationship is that it turns Empowered into an attack on shame.
Humans are critical creatures, and even our tiniest flaws can seem worthy of obsessing over. But in practice, it usually turns out that no one cares as much about your flaws as you. In that case, are they even really flaws? Or are they flavor? Do they become something worth owning, rather than being ashamed of? When Emp feels insecure, Thugboy is more than happy to show her that she's fine as-is and someone worth loving, no matter how much she occasionally thinks otherwise.
And of course, since this is a sexy superhero comedy, sex plays a part in their relationship. They go at it often and vigorously, and it's never shown as anything but loving and exciting. Sex is also another opportunity for Thugboy to show Emp just how off-the-mark those insecurities are, as her butt or torn costume transform from objects of shame to tentative turn-ons.
It all comes across as honest and a bit healthy, even, and it's a dagger in shame's heart. Someone loves those things about you that you hate, so why are you ashamed of them? That's a beautiful problem to have. That's how shame eventually gives way to being proud of yourself, or at least accepting your weaknesses as something other than the end of the world.
It doesn't end there, either. Emp and Thugboy's relationship has its silly side, too. She's a superhero, he's an ex-henchman, and their relationship can come across as comic book/soap opera absurd, but it's also relatable. They have problems just like us -- except bigger and more outlandish -- and that makes their relationship funny, as well as endearing and sexy, another thing that makes a huge difference when looking for good sex in cape comics.
You can't take things too seriously all the time. Sex is wonderful, but it's also awkward and weird. If your story features super-serious high-impact sport screwing, as in Catwoman #1, it comes across as off-putting. Sex, love, and life are wonderful and ridiculous. But it seems like all I ever see in cape comics are grim faces and porno smiles, and that doesn't remind me of real life at all. I can't believe in it. But two characters who stop mid-sentence and realize that the next best step in their conversation is to duck into the bedroom for a bit of fun because they accidentally turned each other on? That's much more real.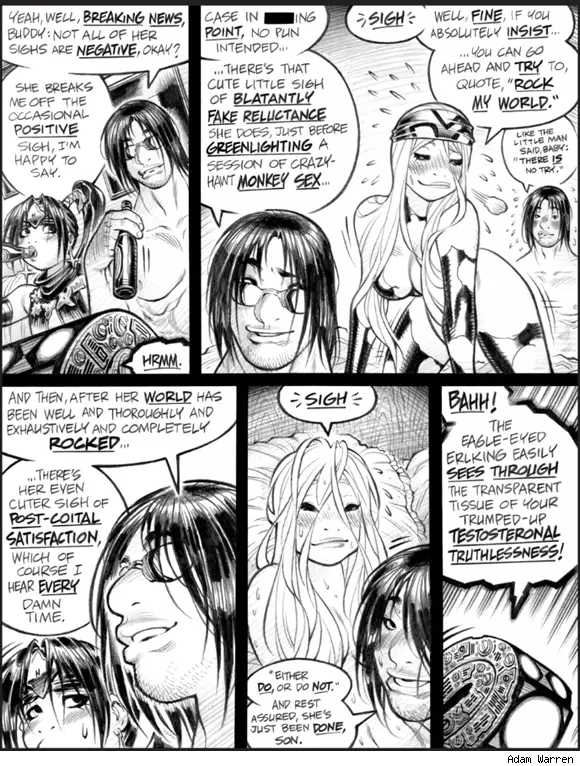 Warren's created an incredibly positive comic in Empowered. The main character has people she can confide in and protect, the supporting cast are the perfect complements to Emp's personality, and the result is a latticework of believable kindness. They're the bait that makes us bite into Warren's concepts, and then we're along for a ride that is sexy without being soulless. We believe in Emp, and when she wins the day, we cheer. When she sleeps with Thugboy, we see a person, rather than a T&A paper doll, and that makes a tremendous difference.
There's no one right way to do sex in cape comics. Actually, there is, but it's unfair: Make good comics. But in a more charitable sense, there's no one-size-fits-all solution for not making creepy comics, instead of sexy ones. Some will be turned off by Empowered's art or damsel-in-distress foundation. Others will be turned on by it. Both sides will have thousands of words of justification for their opinion. Neither side is wrong, because our approach to sex and sexuality is unique. It's about finding what works for you, and then figuring out why it works so that you can seek out more of it. That's true of real life and it's true of comic books.
But step one for improving the way sex and cape comics intersect is to demand better.