Say Goodbye To Summer With Photos of Acrobatic Waterskiing Super-Heroes

I hate to say it, friends, but with August coming to a close, the end of summer is upon us. [Ed. Note: Noooooo!] But before we fully brace for autumn (or as we know it around here, Hurricane Season), Marc Tyler Nobleman has unearthed the perfect piece of summer: A series of photographs of Sea World's "Salute to the Super-Heroes' Waterskiing Show from 1977, where many of DC Comics's most popular characters saved the day through the power of legitimately impressive waterskiing pyramids. And also America.The photos are part of a very interesting oral history of the show Nobleman, the author of Boys of Steel is putting together for his retrospective on the more obscure pieces of super-hero pop culture ephemera from the '70s and 80s. And for a super-hero comics reader, they're the perfect way to bid a fond farewell to the summer.
Aside from the shots of the performers in action, Nobleman also has a group shot of all the performers, including the heroes of the Justice League and the enemies that presumably thought it would be a good idea to devote themselves to waterski-based crime: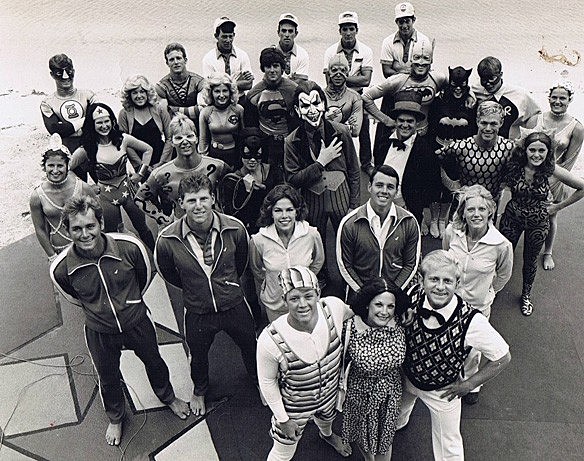 This is notable for a number of reasons, including that I really wish more DC Comics heroes and villains wore matching track suits, that Catwoman apparently used her whip while waterskiing, and HOLY CRAP THE JOKER IS TERRIFYING.

Gah! I wonder how many kids capped off their vacation to Sea World by never sleeping again.
There were also the incredible feats of strength that you'd expect from the super-heroes, like Batgirl doing a handstand with the support of Batman and Robin, Aquaman hefting the lovely Mera, proving that the surprising number of Mera cosplayers these days are actually part of a legacy that goes back to the '70s:

And Superman skiing through the surf while lifting up.... actually, I have no idea who this is.

The only character I can think of with a costume like that is Elektra. Could this be the first and only example of a Marvel/DC Crossover Waterskiing Spectacular?!
I'm not really sure how effective these techniques were in crime-fighting, but fortunately Batman was there to bring out the classics: punching.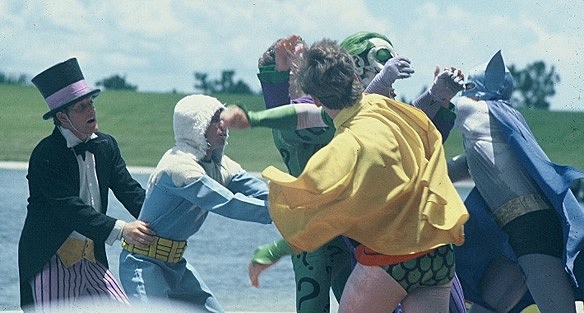 Of all the pictures Nobleman has compiled, though, this one is my favorite. I just love that Green Lantern is giving a friendly wave to the crowd and Green Arrow appears to be brushing haters off his shoulder, while good ol' Barry Allen is keeping his hands on the rope in the approved method depicted in the safety guidelines.

For more pictures (and a video of the show in action!) check out Nobleman's website, where he has an absolute treasure trove of obscure super-hero pop culture!