Tony Harris & B. Clay Moore's 'Whistling Skull' Resurfaces As 'JSA: The Liberty Files' Miniseries
DC Comics has announced JSA: The Liberty Files - The Whistling Skull, a new six-issue miniseries created by Tony Harris (Starman, Ex Machina) and B. Clay Moore (Hawaiian Dick, '76) that's set in Europe during the days of World War II. The previous Liberty Files projects, last published in 2003, focused on the "Unholy Three": the Bat (Batman), the Owl (Doctor Mid-Nite) and the Clock (Hourman), but it would seem that the Whispering Skull will spotlight new leading characters, as it was originally envisioned as a creator-owned WildStorm project that has since been retrofitted to be part of DC's Liberty Files franchise.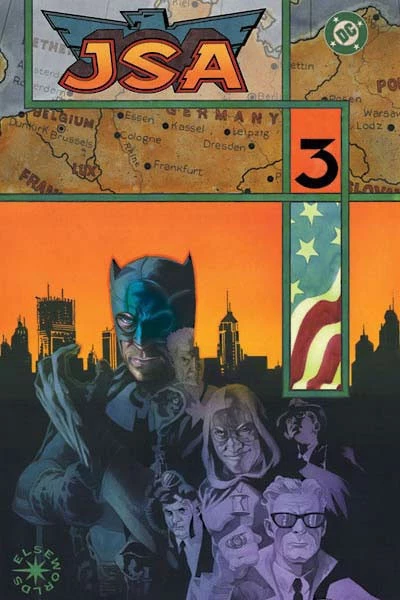 Originally published as two-issue miniseries between 2000 and 2003, JSA: The Liberty File and JSA: The Unholy Three -- known collectively and published in book form as JSA: The Liberty Files -- may very well be the best work of Tony Harris' career. Set in an alternate timeline distinct from DC Comics canon, The Liberty Files depicted characters from the Golden Age of superhero comics as covert agents working for various governments and other interests during World War II. Beyond the three principals mentioned above, Liberty Files featured new visions of Superman, the Martian Manhunter, The Flash, Black Canary, the Joker and many, many more. Co-written by Dan Jolley and inked by Ray Snyder, the stories were equal parts Indiana Jones, Casablanca and The Dirty Dozen, giving Harris even more latitude than his perennial art deco hit Starman to indulge his fondness and skills with retro aesthetics. If you haven't read it, you absolutely must.

Harris and Moore's The Further Adventures of the Whistling Skull was first announced all the way back in April of 2010, when it was meant to be a WildStorm miniseries set in 1940s Europe but unconnected to any other works. Harris discussed the project in an interview with CBR's Jeffrey Renaud, who described Skull as "A pulp noir story set in wartime London in the 1940s... the series features the titular Whistling Skull and his sidekick, Brickfist cleaning up the filth and scum of the world's seedy underbelly while seeking answers about their own pasts and what it means to not only be a super man but a super friend."
DC shuttered the WildStorm imprint later that year. This past March, Harris indicated that the project would be published as a creator-owned series at DC proper, and that he'd already begun penciling issue #6 of what he intended to be a 40-issue work created in the Hellboy series-of-miniseries format. Although DC's official press release doesn't make it explicit, the project would appear to have since morphed into a Liberty Files release, making it Harris' return to the beloved brand for the first time in nearly 10 years.
"This is a long haul, sweet baby that's finally coming together," continued Harris. "Clay and I have been developing THE WHISTLING SKULL for a few years now. Taking every precaution and the utmost care with every word and every line of ink to make sure we bring you something new, fresh and exciting. I could go on and on dropping catch phrases and bore you to death with 'personal' 'important' 'kickass' 'bloobidy-blah-blab-blab.' Not gonna happen here.

"What I will say is that a host of friends, contemporaries and scores of fans have shepherded this project carefully and steadily towards the waiting hands of countless devotees of mine and Clay's creative efforts. It's something I will NEVER forget as we approach the release of JSA: LIBERTY FILES - THE WHISTLING SKULL. And DC Comics' willingness to marry and 'seat' SKULL firmly in the JSA: LIBERTY FILES universe that I was a part of creating in years past, in effect resurrecting that franchise and allowing us to breathe NEW life into it, is a testament to DC Comics' dedication to producing exciting, new properties that have the potential to go on for many years to come. I feel like I did when James Robinson and I were preparing to release STARMAN into the world. I can barely sit still."
Here's the cover to JSA: The Liberty Files - The Whistling Skull #1, which as you can see does indeed feature the DC characters Hourman, Wildcat and Doctor Mid-Nite. The book debuts in December.