This Week's New Releases and Recommendations
I turn 85-years-old on June 27th. I'm gonna be on the Today Show with Willard Scott and everything. This year the only thing better than the free ice cream I get from Friendly's is that new comics come out on my birthday. I'm certainly no math genius, but the way I figure it - new comics day only aligns with your birthday once every 22 years (23 if there is a Leap Year in the mix somewhere). So this is a pretty special week for me indeed. If you want to come over, they're having chocolate pudding in the home where the State keeps me. They're gonna search you for contraband at the door though, so hide your stash.
BUFFY THE VAMPIRE SLAYER OMNIBUS VOL 1 TP
Let's get one thing straight - If it says "Omnibus" in the title, I'm buying it. There could be a Force Works Omnibus and I'd buy it. "Omnibus" is like a four-star rating in the comics Zagat guide.
GREEN LANTERN SINESTRO CORPS SPECIAL #1
Hell yeah. There is going to be some serious ass-kicking in this Sinestro Corps story and it all kicks off here. That's right - the ass-kicking is kicking off.
ANT-MAN VOL 1 DIGEST TP
I gotta say that this book continues to surprise me. The main character is a serious jerk-face and yet I'm still curious to see what's going to happen to him every issue. Extra points are also awarded for the reintroduction of Damage Inc. Not the Metallica song. Look it up.
WORLD WAR HULK FRONT LINE #1 (OF 6)
WORLD WAR HULK X-MEN #1 (OF 3)


Every week. Every week I'm going to tell you to read World War Hulk.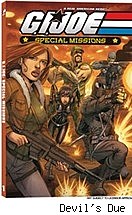 GI JOE SPECIAL MISSIONS VOL 1 TP
Wait a second...is this like the old Special Missions or the new Special Missions? I'd really like a collection of the old ones. And while I'm at it let's get going on those missing collections of the original series. And I'll take that cake I ordered now too.
Here's the complete list of new comics in stores today:
DARK HORSE COMICS
FEB070077 ART OF BONE HC $39.95
APR060046 ARTIST WITHIN HC $39.95
MAR070019 BUFFY THE VAMPIRE SLAYER OMNIBUS VOL 1 TP $24.95
JAN070063 CONAN HALL O/T DEAD & OTHER STORIES VOL 4 TP $17.95
MAR070026 DWIGHT T ALBATROSS THE GOON NOIR TP $12.95
JAN070104 HELLBOY ANIMATED MINI BUST LIZ SHERMAN $39.99
APR070033 HELLBOY DARKNESS CALLS #3 (OF 6) $2.99
FEB070081 JACKSON 500 VOL 3 HC $14.95
MAY070066 JOURNAL TOKIDOKI SPIRAL BOUND $9.99
DC COMICS
APR070186 AMAZONS ATTACK #3 (OF 6) $2.99
APR070190 BLUE BEETLE #16 (CD) $2.99
APR070229 CARTOON NETWORK BLOCK PARTY #34 $2.25
APR070183 COUNTDOWN 44 $2.99
APR070263 CROSSING MIDNIGHT #8 (MR) $2.99
MAR070267 CROSSING MIDNIGHT VOL 1 TP (MR) $9.99
APR070264 DEADMAN #11 (MR) $2.99
APR070195 GREEN LANTERN SINESTRO CORPS SPECIAL #1 $4.99
APR070266 JACK OF FABLES #12 (MR) $2.99
APR070205 JSA CLASSIFIED #27 $2.99
JAN070377 NEIL GAIMAN AND CHARLES VESS STARDUST HC (RES) (MR) $39.99
APR070255 NIGHTMARE ON ELM STREET #8 (MR) $2.99
APR070247 NINJA SCROLL #10 $2.99
MAR070219 SHOWCASE PRESENTS BATMAN VOL 2 TP $16.99
APR070216 SUPERGIRL AND THE LEGION OF SUPER HEROES #31 $2.99
APR070175 SUPERMAN BATMAN #37 $2.99
APR070176 SUPERMAN BATMAN VAR ED #37 $2.99
APR070217 TEEN TITANS #48 (AA) $2.99
APR070227 TEEN TITANS GO #44 $2.25
MAR070226 TRIALS OF SHAZAM VOL 1 TP $14.99
APR070253 WETWORKS #10 $2.99
APR070222 WONDER WOMAN #10 (AA) $2.99
IMAGE COMICS
APR071867 FRANK FRAZETTAS DEATH DEALER #3 (OF 6) (MR) $3.99
MAR071844 INVINCIBLE #43 $2.99
APR071914 KISS 4K #2 $2.99
FEB071910 NIGHTLY NEWS #6 (OF 6) $2.99
APR071876 SPAWN GODSLAYER #2 $2.99
FEB071919 WALKING DEAD #38 (MR) $2.99
JAN071953 WITCHBLADE #107 $2.99
MARVEL COMICS
APR072363 ANNIHILATION BOOK 3 HC $29.99
APR072365 ANT MAN VOL 1 DIGEST TP $9.99
MAR072077 BLACK PANTHER #28 CWI $2.99
APR072336 CABLE DEADPOOL #42 $2.99
APR072348 CRIMINAL #7 (MR) $2.99
APR072295 DAREDEVIL #98 $2.99
APR072297 FANTASTIC FOUR #547 CWI $2.99
MAR072087 IMMORTAL IRON FIST #6 $2.99
APR072317 LEGION OF MONSTERS SATANA $2.99
FEB072178 MAGICIAN APPRENTICE #8 (OF 12) $2.99
APR072314 MARVEL ADVENTURES AVENGERS #14 $2.99
APR072275 MARVEL ILLUSTRATED LAST OF THE MOHICANS #2 (OF 6) $2.99
APR072357 MARVEL MASTERWORKS SUB-MARINER VOL 2 HC VAR ED 79 $54.99
APR072356 MARVEL MASTERWORKS SUB-MARINER VOL 2 NEW ED HC $54.99
MAR072110 SHE-HULK 2 #19 $2.99
APR072330 SILENT WAR #6 (OF 6) $2.99
APR072331 SILVER SURFER REQUIEM #2 (OF 4) $3.99
APR072284 SPIDER-MAN FAIRY TALES #2 (OF 4) $2.99
APR072333 THUNDERBOLTS #115 CWI $2.99
APR072334 THUNDERBOLTS BIANCHI VAR #115 $2.99
APR072277 ULTIMATE FANTASTIC FOUR #43 $2.99
JAN072351 ULTIMATE VISION #4 (OF 5) $2.99
APR072279 ULTIMATE X-MEN #83 $2.99
APR072368 ULTIMATES 2 VOL 2 GRAND THEFT AMERICA TP $19.99
APR072372 WOLVERINE BLOOD & SORROW TP $13.99
APR072342 WOLVERINE ORIGINS #15 $2.99
APR072304 WORLD WAR HULK FRONT LINE #1 (OF 6) WWH $2.99
APR072305 WORLD WAR HULK X-MEN #1 (OF 3) $2.99
APR072339 X-FACTOR #20 $2.99
APR072382 X-MEN #200 B&W PANORAMA DOOR POSTER $15.99
APR072381 X-MEN #200 PANORAMA DOOR POSTER $15.99
APR072344 X-MEN 50/50 WRAPAROUND #200 $3.99
APR072343 X-MEN FINCH GATEFOLD VAR #200 $3.99
APR072345 X-MEN FIRST CLASS VOL 2 #1 $2.99
WIZARD ENTERTAINMENT
MAY073095 CAPTAIN AMERICA #25 NEW PTG EPTING CVR CGC 9.8 ED PI
MAY073099 CIVIL WAR #1 CAP GOES AWOL NEW PTG MCNIVEN SGN ED PI
MAY073096 CW CONFESSION DEATH OF CAPTAIN AMERICA CGC 9.8 ED PI
MAY073109 ULTIMATE SPIDER-MAN #100 BAGLEY SGN PI
MAY073108 WITCHBLADE MANGA #1 SILVESTRI FANT REALM EX CVR CGC 9.8 (NET PI
MAY073084 WIZARD MAGAZINE GREG HORN NEW AVENGERS CVR #190 $5.99
MAY073086 WIZARD MAGAZINE MIGNOLA HELLBOY CVR #190 $5.99
MAY073085 WIZARD MAGAZINE TRANSFORMERS MOVIE CVR #190 $5.99

MAY073106 WOLVERINE ORIGINS #5 QUESADA SGN PHX SAMURAI VAR SKETCH (NET PI
MAY073107 X-MEN #175 WWB SKETCH CVR LAROCCA SGN PI
ALL OTHER PUBLISHERS
MAY073678 1-800 MICE #2 (MR) $3.95
MAR073670 2000 AD #1539 $4.10
APR073920 2000 AD #1540 $4.10
MAY073838 ABSOLUTE BOYFRIEND VOL 4 GN $8.99
MAR073463 AFTER SCHOOL NIGHTMARE VOL 4 GN (MR) $10.99
MAY073524 ANY WAY I WANT IT TP (JUL063206) (A) $19.95
APR073392 ARCHIE DOUBLE DIGEST #180 $3.69
APR073489 BART SIMPSON COMICS #36 $2.99
MAR073311 BATTLESTAR GALACTICA #11 $2.99
APR073396 BETTY #166 $2.25
APR073373 BIZARRE NEW WORLD #2 (OF 3) $3.50
MAY073772 BLACK GHOST APPLE FACTORY $5.00
MAY073821 BLEACH VOL 20 TP $7.95
MAY073337 BOYS #8 (RES) (MR) $2.99
MAR073588 BREATHE #2 CVR C SGN ED $5.00
APR073851 BREATHE CVR A #3 (OF 4) $2.99
APR073852 BREATHE CVR B #3 (OF 4) $2.99
MAY073625 BUCKAROO BANZAI SCREWY 3 PACK $11.50
MAY073827 BUSO RENKIN VOL 7 TP $7.99
APR073688 CASTLE WAITING VOL II #7 $3.95
MAY073414 CHALLENGERS VOL 2 GN $12.99
MAY073415 CHALLENGERS VOL 3 GN $12.99
MAY073416 CHALLENGERS VOL 4 GN $12.99
MAR073406 CHINESE HERO VOL 2 TALES O/T BLOOD SWORD SC $19.95
MAY073828 CLAYMORE VOL 9 TP $7.99
APR073745 CODE #1 (O/A) $2.99
APR073850 COLLECTED TOUPYDOOPS TP (MR) $14.95
MAY073300 COYOTE RAGTIME SHOW VOL 1 GN (MR) $9.99
MAY073829 D GRAY MAN VOL 6 GN $7.99
OCT063735 DEAD AT 17 VOL 2 #4 (MR) $3.25
MAR073400 DISNEY JR VOL 4 PIRATES OF THE CARIBBEAN GN $3.99
MAY073822 DRAGON DRIVE VOL 3 TP $7.99
APR073589 DRAGON EYE VOL 1 GN $10.95
MAY073632 DUNGEON VOL 1 TP (O/A) (JUN042672) $14.95
MAY073255 ESCAPE O/T LIVING DEAD AIRBORNE SKETCH CVR #1 (OF 3) (MR) $29.99
APR073787 FALLEN ANGEL IDW #17 (MR) $3.99
APR073412 FATHOM KILLIANS VESSEL ODAGAWA CVR #1 $2.99
APR073413 FATHOM KILLIANS VESSEL TURNER CVR #1 $2.99
MAR073608 FOREVER NUTS THE EARLY YEARS OF MUTT & JEFF HC $24.95
APR073617 FORGOTTEN REALMS STREAMS SILVER SEELEY CVR A #3 $5.50
APR073618 FORGOTTEN REALMS STREAMS SILVER WALPOLE CVR B #3 $9.50
APR074013 FOX BUNNY FUNNY TP $10.00
APR074044 GAMEKEEPER EXTENDED COLL EDITION #1 (MR) $2.99
MAR073190 GARTH ENNIS STREETS OF GLORY PREVIEW (MR) $1.99
APR073746 GENESIS FIVE #1 (O/A) $2.99
APR073591 GHOST HUNT VOL 8 GN $10.95
DEC063513 GI JOE AMERICAS ELITE VOL 3 TP (NOTE PRICE) $18.99
JAN073566 GI JOE SPECIAL MISSIONS VOL 1 TP $18.99
MAY073840 GODCHILD VOL 6 TP $8.99
DEC063601 GOOSEBUMPS GRAPHIX VOL 2 TERROR TRIPS HC $16.99
DEC063600 GOOSEBUMPS GRAPHIX VOL 2 TERROR TRIPS SC $8.99
MAR073851 GRIMM FAIRY TALES #15 (RES) (MR) $2.99
APR074093 GRIMM FAIRY TALES RETURN TO WONDERLAND #1 (OF 7) (MR) $2.99
DEC063253 HAUNTED MANSION #6 $2.95
MAR073407 HIGH SCHOOL GIRLS VOL 8 TP (MR) $9.95
MAY073823 HIKARU NO GO VOL 10 TP $7.95
MAY073824 HOSHIN ENGI VOL 2 TP $7.99
APR073747 JOE & MAX #1 (O/A) $2.99
MAY073831 JOJOS BIZARRE ADVENTURE VOL 8 TP $7.99
MAR073671 JUDGE DREDD MEGAZINE #259 $7.50
JAN073824 JUDGE DREDD ORIGINS GN $25.99
APR073402 JUGHEAD #182 $2.25
APR073593 KAGETORA VOL 6 GN $10.95
MAY073841 KAZE HIKARU VOL 6 GN $8.99
APR073835 KNIGHTS OF THE DINNER TABLE #128 $4.99
APR073381 KONI WAVES VOL 1 FIRST WAVE TP $9.95
APR073596 KUROGANE VOL 5 GN $10.95
MAY073256 LADY DEATH DARK HORIZONS ARABIAN NIGHT CVR $5.99
MAY073257 LADY DEATH SACRILEGE SEXY BEAST CVR #0 $5.99
MAY073326 LADY DEATH SHI JUNGLE BOOGIE CVR #0 (OF 2) $5.99
MAY073258 LADY DEATH SHI MOMENTS REST CVR #0 (OF 2) $5.99
MAY073259 LADY DEATH SHI PRISM FOIL CVR #0 (OF 2) $12.99
MAY073260 LADY DEATH SHI ROYAL BLUE CVR #1 (OF 2) $75.00
MAY073261 LADY DEATH WARRIOR TEMPTRESS QUICK DRAW CVR $5.99
APR073598 LE CHEVALIER DEON VOL 1 GN (MR) $10.95
MAY073607 LIVING STATUES (MR) $3.50
FEB073339 LONE RANGER VOL 1 PX CVR TP $19.99
FEB073338 LONE RANGER VOL 1 REG CVR TP $19.99
APR073483 LOST RAVEN GN (RES) $11.99
APR074040 MACEDONIA GN $17.95
MAR073639 MAINTENANCE VOL 1 ITS A DIRTY JOB TP (MR) $9.95
MAY073468 MEGAMANGA VOL 23 SEX WARRIOR ISANE XXX TP (A) $24.95
MAR073464 NIGHT OF THE BEASTS VOL 4 GN (MR) $10.99
MAR073132 NINJA HIGH SCHOOL SIGNED ED #150 $4.95
MAR073133 NINJA HIGH SCHOOL SKETCH ED #150 PI
MAY073825 ONE PIECE VOL 15 TP $7.95
APR073834 ONLY WORDS GN (A) $12.95
APR073833 PAINTINGS OF YOU GN (MR) $12.95
APR073599 PASTEL VOL 7 GN (MR) $10.95
APR073865 PHANTOM CVR A #17 $3.50
APR073866 PHANTOM CVR B #17 $4.50
MAY073357 REANIMATOR #0 FOIL ED $10.00
MAR073333 RED SONJA #23 $2.99
APR073801 RICHARD MATHESONS I AM LEGEND TP $19.99
APR073682 ROBERT KURTZMANS BENEATH THE VALLEY O/T RAGE #1 (OF 4) (MR) $3.99
MAR073146 SHADOWFLAME #4 (OF 4) $3.95
APR073605 SHEENA #1 (OF 5) $3.50
APR074054 SHONEN JUMP AUG 07 #56 $4.99
APR074045 SNAKEWOMAN VOL 2 TALE OF THE SNAKE CHARMER #1 (MR) $2.99
APR073409 SONIC X #21 $2.25
MAR073589 STARSHIP TROOPERS ONGOING CVR A #2 $3.50
MAR073590 STARSHIP TROOPERS ONGOING CVR B #2 $3.50
MAY073115 STEWART THE RAT #1 (O/A) (MR) $3.95
MAR073139 SUBCULTURE #1 (OF 4) (MR) $3.50
APR073864 TALES OF TMNT COLL BOOKS VOL 3 TP $12.00
MAR073282 TAROT WITCH OF THE BLACK ROSE DLX ED #44 (MR) $19.99
MAR073755 TEZUKAS APOLLOS SONG SC (MR) $19.95
APR074035 TO TERRA VOL 3 TP $13.95
MAY073588 TRAILER PARK OF TERROR COLOR SP #6 (RES) (MR) $3.99
MAR073465 TRAIN PLUS TRAIN VOL 3 GN $10.99
APR073771 TRANSFORMERS MOVIE ADAPTATION #4 (OF 4) $3.99
APR073356 VAMPIRELLA INTIMATE VISIONS AMANDA CONNER SET $9.95
APR073357 VAMPIRELLA INTIMATE VISIONS JOE JUSKO SET $9.95
APR073353 VAMPIRELLA QUARTERLY SPR 07 VIRGIN SIENKIEWICZ CVR $19.95
MAR073584 VENGEANCE OF THE VAPOR CVR A #1 $3.50
MAR073585 VENGEANCE OF THE VAPOR CVR B #1 $4.95
APR073603 WALLFLOWER VOL 12 GN (MR) $10.95
MAY073236 WARREN ELLIS BLACK GAS VOL 1 SET (MR) $11.99
APR073375 WHITE PICKET FENCES #2 (OF 3) $3.50
APR073470 WITCHBLADE TAKERU VOL 1 GN $9.99
MAY073826 YU GI OH DUELIST VOL 22 TP $7.95