The Monsters of H.P. Lovecraft's Cthulhu Mythos, As Drawn By Children Since their original publication in the 1920s, the stories of H.P. Lovecraft have endured and grown into an entire subset of the horror genre unto themselves, with themes of the unavoidable insanity that comes with knowledge and cosmic insignificance that are far more subtle and ultimately terrifying than the average ghost story.
Which makes them great entertainment for eight year-olds.

That was the conclusion reached by David Milano, who ran an art project for a children's choir in the weeks before Halloween where he told them abbreviated versions of Lovecraft's Shadow Out of Time, At the Mountains of Madness and (of course) The Call of Cthulhu and had the kids draw the monsters. Not only is that a suitably spooky (and apparently pretty fun) Halloween activity, but the end results -- like the drawing of a Yithian above by Emma, age 11 -- are undeniably awesome. Check out more after the jump!

The Great Race of Yith
"The beings of a dying elder world, wise with the ultimate secrets, had looked ahead for a new world and species wherein they might have long life; and had sent their minds en masse into that future race best adapted to house them – the cone-shaped beings that peopled our earth a billion years ago."

-- H.P. Lovecraft, The Shadow Out of Time
Julianne, age 11 (and a half)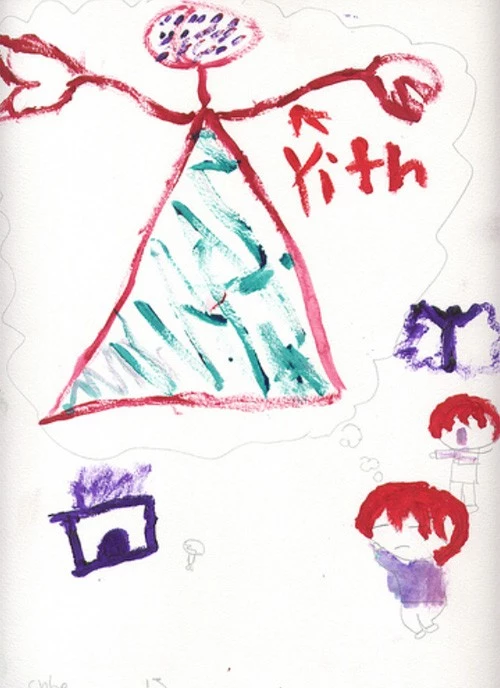 Shoggoths and Elder Things

"It was a terrible, indescribable thing vaster than any subway train-a shapeless congeries of protoplasmic bubbles, faintly self-luminous, and with myriads of temporary eyes forming and un-forming as pustules of greenish light all over the tunnel-filling front that bore down upon us, crushing the frantic penguins and slithering over the glistening floor that it and its kind had swept so evilly free of all litter."

-- H.P. Lovecraft, At the Mountains of Madness
Julianne, age 11 (and a half)

"It seemed to be a sort of monster, or symbol representing a monster, of a form which only a diseased fancy could conceive. If I say that my somewhat extravagant imagination yielded simultaneous pictures of an octopus, a dragon, and a human caricature, I shall not be unfaithful to the spirit of the thing. A pulpy, tentacled head surmounted a grotesque and scaly body with rudimentary wings; but it was the general outline of the whole which made it most shockingly frightful."

-- H.P. Lovecraft, The Call of Cthulhu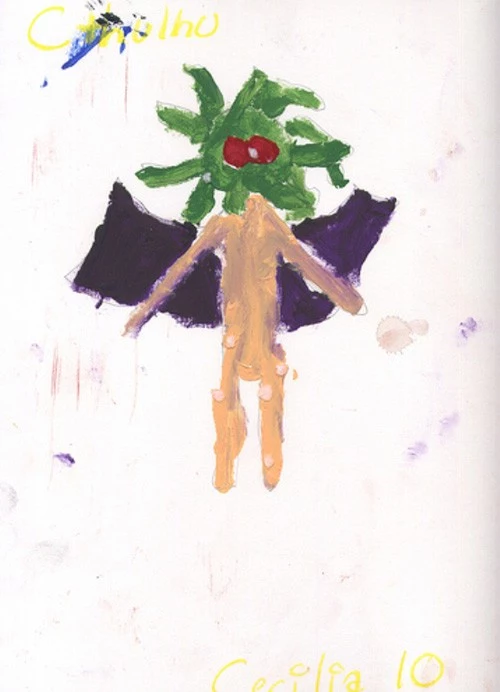 Milano has more at his website, and they're well worth checking out. After all, it's not every day that you get to see drawings that would be equally at home as creepy handouts in a Cthulhu RPG campaign or just tacked up on the fridge in a house at R'lyeh where dead Cthulhu waits dreaming.