Comics Pride: 50 Comics and Characters That Resonate with LGBT Readers
We are not the mainstream.
That's a truth understood by anyone who identifies as lesbian, gay, bisexual, transgendered or in any other way queer. We are not the audience. We are not the market. We are not the people.
It's also a truth understood by a lot of people with a passion for comics. We know our love for this medium has traditionally marked us as niche. We are kids with a solitary hobby. We are adults who read picture books. We are customers of stores that other people have never been to. So perhaps it's not surprising that a lot of LGBT people are proud nerds, and a lot of comic nerds are proudly queer. We already know we're fringe. Why not embrace it?
As Pride Month draws to a close, ComicsAlliance looks at the intersection of comics and queer identity. We convened an expert panel of cartoonists, writers, editors, journalists and more to vote on the comics and characters that had the most impact on them. With their help we've created the Comics Pride list of the 50 most important comics and characters to LGBT readers.A note on methodology: We asked dozens of LGBT people working in or around comics to nominate comics and characters. You can see a list of contributors at the end of this article. The panel gave us an initial list of over 250 nominees, and voted to cut this down to a ranked list of 50.
Several panelists noted that they pursued a career in comics in part because of a shortage of relevant role models in comics and other media. Not all of the comics in this list are explicitly queer-themed, and not all of the characters are LGBT, but they all resonate with an LGBT audience.
50. Rictor and Shatterstar
From X-Factor by Peter David, Marco Santucci and others. Characters created by Louise Simonson and Walt Simonson, and Fabian Nicieza and Rob Liefeld. Published by Marvel.
For years the romantic relationship between these two macho heroes was strictly subtext. David and Santucci made it text in the boldest way: with a kiss. Shatterstar co-creator Liefeld criticized the idea of an adult man coming out as gay, saying, "Can't wait to someday undo this. Seems totally contrived." But these characters have never been more interesting than they are today.
49. Wandering Son
By Shimura Takako. Published in English by Fantagraphics.
Wandering Son is the story of a friendship between a boy who wants to be a girl and a girl who wants to be a boy. Gender reversal is not unheard of in comics, but it's rarely so sensitively handled. "Transgender characters in comics are usually either a joke (Ranma 1/2), a curse (Sasquatch in Alpha Flight), or at best already firmly established as who they are (Isabella in Paradise Kiss)," said reviewer Greg McElhatton. "That's part of what makes Wandering Son instantly stand out, as it details two young school-age protagonists who begin to understand their identities and try to figure out what that means for their future. It's heartbreaking and hopeful, all wrapped up in a compelling narrative."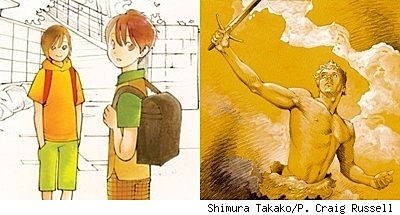 48. The Works of P Craig Russell
Including Fairy Tales of Oscar Wilde, Ring of the Nibelung, The Sandman, Elric, etc. Published by NBM, Dark Horse, Vertigo.
Russell came out as gay in 1991 in an interview with The Comics Journal. At the time it was unheard of for an openly gay artist to draw action heroes like Batman and Killraven. Russell was one of the greats even then, and his reputation has only grown since. His adaptations of fairy tales and operas have showcased his gifts for innovative storytelling and rich aesthetics, and his ability to capture beauty on the page is extraordinary. In an industry that specializes in angry bruisers with pained grimaces, the classic youthful beauty and vulnerability of Russell's men can seem almost subversive.
47. Kate or Die
By Kate Leth. KateorDieComics.com.
One of the wonders of webcomics is that they provide a platform to so many queer voices that might otherwise go undiscovered. Kate Leth has emerged as one of the freshest of these voices.
Kate or Die splices together slice-of-life comics and moments of profound self-reflection with short, witty dissertations on issues such as youth, feminism, tattoo etiquette and bisexuality.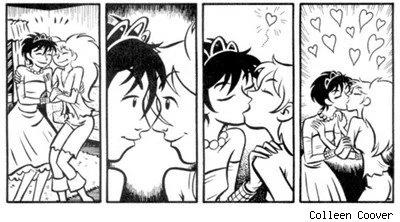 46. Small Favors
By Colleen Coover. Published by Top Shelf.
Described by its author as "girly porno," Small Favors is an erotic queer story with nuance, tenderness and, yes, narrative, which makes it very different to the usual non-girly porn. It's for women, about women, and by a woman.
Kate or Die's Kate Leth counts herself among Small Favors' fans, though it took her years to track down a copy. "Everyone told me how wonderful it was -- that Colleen Coover drew women with such devotion and glee, that it was fun and filthy and very sexy -- and even that didn't prepare me for just how fantastic it really is. I love Colleen's art whenever I see it, but I'll always love Small Favors the most."
45. The Less Than Epic Adventures of TJ and Amal
By EK Weaver. TJandAmal.com
Weaver's occasionally adult webcomic about two strangers making a connection on a cross-America road trip is smart, insightful, and frequently sexy. Blue Delliquanti, creator of webcomic O Human Star, counts herself as a fan. "[I]t depicts a friendship-with-benefits with more joy and emotional honesty than you would ever see in mainstream pop culture. The fact that it stars two cute guys is just gravy."
44. The Maxx
By Sam Kieth. Originally published by Image and collected by DC/Wildstorm.
Sam Kieth's best-known work is an extremely unorthodox superhero story that explores the distance between our real lives and our interior lives. That makes it intrinsically queer.
"The Maxx meant a lot to me when I was growing up," said cartoonist Jess Fink. "Sam Kieth was the first real exposure I had to feminism. Julie's character played with the sad tired notions of women being exploited in comics and she was a real person with real flaws. The Maxx was someone who wanted to be important but didn't know how. Sarah was a depressed, tormented kid with no friends having a terrible time in high school and I could relate. ... I felt like I could write better characters because of Sam Kieth."
43. The works of Maurice Vellekoop
Including Vellevision, A Nut at the Opera, Gloria Badcock. Published by Drawn & Quarterly, Koyama Press, etc.
Maurice Vellekoop is one of the best-known magazine illustrators in the business, and his queer-tinted visions of men, women, sex and society have found their way into the hands of readers of GQ, Vogue and Cosmopolitan.
Vellekoop is also a comics renaissance man, as Christopher Butcher of The Beguiling Art & Books explained: "The emergence of Maurice Vellekoop was remarkable for being a full-scale assault on comics. From quiet and introspective veiled autobiography run off on a photocopier, to fun and fantastic pornography published in the hallowed halls of Drawn & Quarterly, to full-on comics reportage in the pages of Time Magazine, Maurice Vellekoop's decidedly queer artwork was everywhere, and the medium was better for it."
42. Lulu Moppet
From Little Lulu by Marjorie Henderson Buell, a.k.a. Marge. First published by The Saturday Evening Post. Collected editions by Dark Horse.
She looks like a little girl in a red dress, but Lulu Moppet is a radical icon. Just ask Stuck Rubber Baby author Howard Cruse. "I loved Little Lulu because she was the smartest kid in the neighborhood even though she was a girl, thereby undermining oppressive gender stereotypes in a way I couldn't have defined at the time." Christine Smith, author of the webcomic The Princess, agreed with that assessment. "Little Lulu Moppet is famous for challenging the 'boy's only club' mentality. To my mind, she's comics' first lady of feminism."
41. Katchoo
From Strangers in Paradise by Terry Moore. Published by Abstract Studios.
Strangers in Paradise started out as a relationship soap opera and transformed into an eccentric thriller. The transition might not have worked but for the character of Katina Marie Choovanski, a temperamental artist with a dark past whose passion, confusion and rage provided the through-line for the book. Katchoo stood apart during the heyday of the comic book "Bad Girls" because she had something they didn't have: complexity.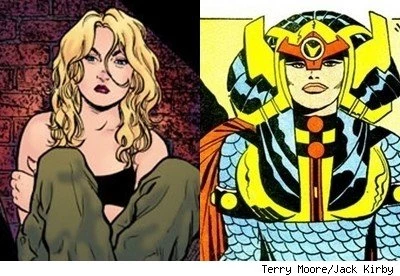 40. Big Barda
From various DC titles including Mister Miracle. Created by Jack Kirby. Published by DC.
Big Barda is no-one's sidekick or feeble love interest. "Big Barda had an amazing, powerful bod, acted like the warrior and leader she was at all times, and her equally cool, physically smaller husband adored her for it," said Joan Hilty, former senior editor at DC's Vertigo line. "So rare. I loved it."
39. The Mostly Unfabulous Social Life of Ethan Green
By Eric Orner. Published by St Martin's Griffin.
Eric Orner's light-hearted and sometimes surreal strip about gay culture and gay dating has appeared in dozens of alternative papers and reached thousands of readers. "Ethan Green is funny, sexy, politically astute, wistful, and somehow, through a gay man's POV, always speaks to me and my experiences," said Hilty. NPR comic blogger Glen Weldon credits the series with helping him come to terms with his ambivalence for gay culture -- "Rainbow stickers! Pride flags! Terrible novels!" - by "making fun of it all, cleverly and humanely."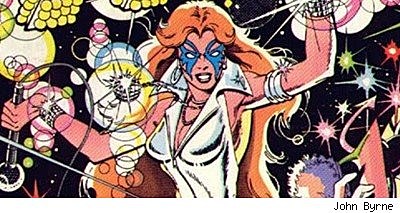 38. Dazzler (Alison Blaire)
From various Marvel titles including Dazzler and Uncanny X-Men. Created by Tom DeFalco, John Romita Jr, Louise Simonson and Roger Stern. Published by Marvel.
"Dazzler is well loved by queers for her high camp premise," said Christine Smith of Marvel's light-generating mutant disco singer. "Are you the kind of queer who just wants to put on a show? Dazzler is your patron mutant saint. Add to that the spectacular backfire of her public coming out as a mutant, frightening the people she'd meant to win over, and her queer icon status is cemented."
37. Hothead Paisan
By Diane DiMassa. Published by Cleis.
Alternative and underground comics have been fertile ground for characters that express the pure white-hot rage of the outsider, often with sublime comic mania. Hothead Paisan is one of the best in her class.
This is another pick that resonates with The Princess's Christine Smith. "Hothead Paisan: Homicidal Lesbian Terrorist is a pure tonic to the queer who is fed up with the indignities that the world heaps upon them. Violent, funny, and sometimes very dear, this comic got me through some very hard times."
36. Ranma Saotome
From Ranma ½ by Rumiko Takahashi. Published in English by Viz.
This well-loved manga series has a remarkable central premise: "Ranma is a boy who turns into a girl, and that whole concept blew my mind for obvious reasons," said Jess Fink. "Rumiko's art and humor were a perfect fit. I only wish there was more making out in these comics."
The shape-shifting in Ranma ½ goes well beyond gender, as former Marvel editor Mike Horwitz noted. "[Rumiko] Takahashi turned people into ducks, pandas, cats and god-knows-what-else, so a boy who turned into a girl (and kicked ass both ways) seems kinda normal. Which is entirely the point."
35. Promethea (Sophie Bangs)
From Promethea by Alan Moore, JH Williams III and Mick Gray. Published by DC WildStorm/America's Best Comics.
Promethea is a book about magic, and magic is ultimately a process of self-realization. Sophie Bangs is a young woman learning to accept her power. As Promethea, she discovers her strength, her beauty and her sexuality. She undergoes a cathartic process of revelation that resonates with anyone who has ever struggled with their identity.
Promethea is a book about sex and self. It's also something close to a sacred text, reminding us that the one thing God cherishes above all else is truth.
34. Twitch Hopeless-Savage
From Hopeless Savages by Jen Van Meter, Christine Norrie. Published by Oni Press.
Twitch is not like the rest of his family. He's a mod, and the others are all punk. He's also gay, but no-one minds about that; much of his drama comes from his on-and-off relationship with musician Henry Shi. "The ease in which Jen Van Meter integrates Twitch Hopeless-Savage and his sexuality into the fabric of the Hopeless-Savage family and their adventures is just so natural and comfortable," said artist Tim Fish. "No grand announcements... it's just the way it is and everyone's cool with it."
33. Curvy
Webcomic by Sylvan Migdal. C.urvy.org.
Curvy is an ongoing sci-fi webcomic about Anaïs Phalèse, a girl in the "boring world," and her Candy World lover Fauna Lokjom. It's weird and filthy in the best ways, and looks like nothing else you've read.
"This is a sexy comic, but Anaïs feels like a real girl, not a stereotype or a hyper-sexualized caricature," said Jess Fink. "A lot of sexy comics starring women use the woman as the thing to be turned on by only. In Curvy the women are the true protagonists; they are sexy but they are also funny and sharp. We relate to them and see the world of the comic through them."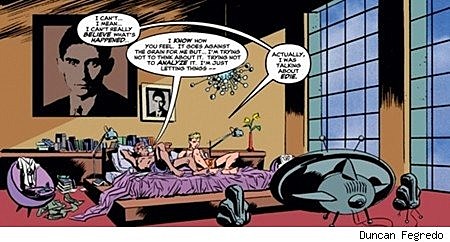 32. X-Statix
By Peter Milligan and Mike Allred. Published by Marvel.
Milligan and Allred's satiricial superteam series was about appearance, fashion, subversion, and trying to find profundity in the midsts of the superficial. It may have had more queer characters than any other team book published by Marvel or DC, and that cast included Vivisector and Phat, whose romance-for-the-cameras transformed into something unexpected.
"Ferociously clever and drawn like a pop art dream, Milligan and Allred's satire of American media and post-everything hyper-sensitivity is the ballsiest thing to have been printed under the X-Men banner and by far the most fabulous," said former Marvel editor Mike Horwitz. "It resurrected Princess Di as a super hero, made Eminem gay (almost kinda sorta), and gave me my personal idol: U-Go-Girl."
31. Y: The Last Man
By Brian K. Vaughan and Pia Guerra. Published by DC Vertigo.
A world without men has occasionally been touted as a possible radical feminist utopia, sometimes by feminists and sometimes by their opponents. Vaughan and Guerra's Vertigo series Y: The Last Man explored the premise in a world with one man, and though that man was the series protagonist, the series was inevitably rich with memorable female characters and significant female relationships. Our panel was especially taken with the kick-ass Agent 355.
"Y: The Last Man was the first comic book series I ever finished," said Kate Leth. "I loved Allison Mann, one of the series' most prominent characters and a lesbian, but I felt the most for the very heterosexual Agent 355. Brian K. Vaughn really knows how to write a character with so much going on beneath the surface, and her interactions with Mann were heartbreaking and very real."
30. Watchmen
By Alan Moore and Dave Gibbons. Published by DC.
Watchmen was not a universally popular choice for our panel, as the queer content is mired in scandal and tragedy and consigned to the margins of the story. Moore and Gibbons' seminal superhero reinvention paints a grimy picture of sexual diversity as secret deviancy -- but that fits the noir world the authors set out to create, and scandal can be ever so compelling. "The footnote insinuations are as engrossing and revelatory as the densely calculated main tale," noted Mike Horwitz.
For Dale Lazarov, the standout character in the margins of Watchmen was the butch lesbian cab driver Joey (pictured, above). "When Joey, unable to make the ends of her life meet and intersect, falls apart and cries, I fall apart and cry with her," said Lazarov.
29. Max and Lily
By Kris Dresen. Published by VP Books.
This former webcomic is no longer online in its entirety, which is a great shame for anyone looking to discover or relive the encounters of a boyish woman named Max and girlish man named Lily. Kris Dresen made these two whip-smart cultural subversives into the sort of friends you wish you had.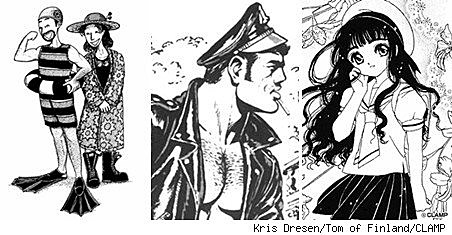 28. Kake
By Tom of Finland. Collected editions by Taschen.
Tom of Finland was one of the biggest stars of Western gay erotic comics from the 1950s through the 1970s. His work helped codify the shifting aesthetics of gay culture from the pre- to the post-Stonewall era. "Tom of Finland's men are the male version of Jessica Rabbit," said Jess Fink. "He's not hiding anything, he's drawing exactly what he likes. It's freeing, wonderfully drawn and very sexy."
Kake is the silent leading man of many of Tom's comics –- a muscular moustachioed leatherman who stumbles into sex wherever he goes and always has a smile on his face. The smile is important. The smile makes it fun. "A gay erotic comics character that smiles. That alone makes him important to me," said writer Dale Lazarov.
27. Tomoyo
From Cardcaptor Sakura by CLAMP. Published in English by Tokyopop.
"I think manga mattered most to me," said webcomics auhor Megan Rosalarian Gedris of her own queer comics influences. "CLAMP featured a lot of LGBT characters whose storylines didn't revolve around them being LGBT."
That includes the children's manga Cardcaptor Sakura, which featured a crucial role for Tomoyo, a young woman in love with the titular Sakura. Smart, warm-hearted and in-control, Tomoyo was a wonderful role model for young readers.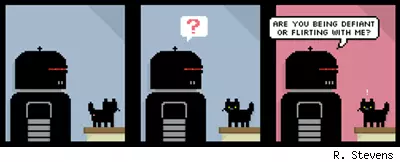 26 . Diesel Sweeties
By Richard Stevens III. DieselSweeties.com.
Pansexuals, bisexuals, closet cases, furries and gay robots. All human life (and robot life) is present in R. Stevens's brilliantly funny, rampantly randy and wholly unapologetic web strip. In its long history, there are few places it hasn't gone. Everyone is invited to this party.
"Diesel Sweeties is one of the very few comics serialized online that I make a point to read every day," said Christopher Butcher, "and is the one I have read and enjoyed for the longest. Given the 12 years that the strip has been in existence, that's quite the accomplishment."
25. Tank Girl
By Jamie Hewlett and Alan Martin. Published by Image and Titan.
Sex, violence and punk. These are the hallmarks of Tank Girl, a character who lives her life like she's in a tank, in part because she's often in a tank.
"I read Tank Girl comics long before I was an anything-sexual, but she really stood out," said Anna Stiffler, creator of webcomic Find Chaos. "Tank Girl was easily the first female character I had ever come across who was brash, vile, and -- while still sexual and feminine, in ways -- also 'one of the guys.' She really blew gender stereotypes out of the water in all ways." Jess Fink added, "I fell instantly in love with Tank Girl and I wanted to be her too. She was strong in a way that seemed natural, not forced."
24. Buffy the Vampire Slayer
By Joss Whedon, Georges Jeanty et al. Published by Dark Horse.
The TV show Buffy the Vampire Slayer already earned a queer following in part because of the presence of a female action hero lead, but also because it put the gay character Willow and her relationships at the centre of its later seasons. In the comic that continues the show's narrative, Buffy has ventured into new territory.
"Not only has this series featured several different lesbian characters (Willow, Tara, and Kennedy), but it also went so far as to allow its main character, Buffy, to experiment with a same-sex encounter," said Anna Stiffler. "Besides the LGBT appearances, I've long been a fan of the Buffy series for portraying a lead female character as strong, complicated, and imperfect. She simply isn't a cookie-cutter heroine, and the series isn't afraid to allow its protagonists some very serious flaws."
23. Seven Miles a Second
By David Wojnarowicz and James Romberger. Published by Vertigo.
David Wojnarowicz was one of the great radical voices on the New York art scene in the 1980s. A filmmaker, performance artist and photographer, he was the sort of enfant terrible who enraged all the right people and inspired all the best people. He died of an AIDS-related illness in 1992 at the age of 37.
His autobiographical comic Seven Miles A Second, illustrated by James Romberger, tells the raw story of his youth as a homeless hustler, and was published posthumously in 1996. "The tragedy of reading Seven Miles a Second is realizing that AIDS continues to rob us of our poets," said Mike Horwitz. "Sadly singular and personal."
22. Girls with Slingshots
By Danielle Corsetto. GirlswithSlingshots.com.
Danielle Corsetto's webcomic is not short on LGBT characters, but it's also notable for its joyously sex-positive content -- something that matters equally to women's rights and gay rights, as sexual repression has long been used as a means of marginalization.
The series also matters because it explores its characters' flaws. "People are messy," said Erika Moen, creator of Dar. "People f--k up and do things that offend others... These characters are not representatives, they're people. People's identities are complicated and sometimes they behave in ways that are contradictory or even a--holish, and Corsetto isn't afraid to go headlong into it. Which is why GWS is amazing."

21. Marcie & Peppermint Patty
From Peanuts by Charles Schulz. Distributed by United Feature Syndicate.
Comics' original lesbian power couple? They may have shared a crush on poor Chuck, but Marcie and Patty have always been devoted to each other, and their school yard proto-Sapphism sparked the attention of many a funny page reader. They were the first and biggest glimpse of an alternative that many of us ever saw.
"Comics fans laughingly refer to DC/Marvel as 'mainstream'," said Tim Fish, "Peanuts is undisputably the true, actual mainstream, and we are blessed to have Marcie and Peppermint Patty representing!"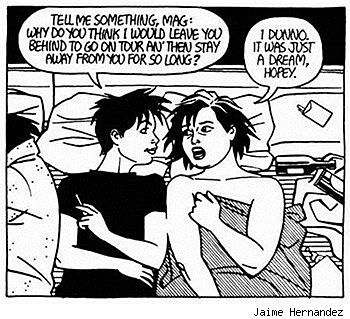 20. Maggie and Hopey
From Love & Rockets: Locas by Jaime Hernandez. Published by Fantagraphics.
Marcie and Patty all grown up? "Jaime Hernandez's Maggie and Hopey are two-of-a-kind; two bodies that start in orbit around one another, then begin a long and fascinating journey to all points and beyond," said Greg McElhatton. "Lesbians? Bisexual? Wandering? There's no easy to way to sum up Hernandez's two headstrong, complex, gorgeous, funny, dramatic leading ladies. Created in a time when non-heterosexual characters in comics were barely present, Maggie and Hopey were not only at the forefront of representation at their time, they're still just as interesting 30 years later."
19. Young Bottoms in Love
By Tim Fish and various. Published by Poison Press.
Young Bottoms in Love was an anthology series that originally ran on the website PopImage and brought together a range of writers and artists to tell comic, romantic, and tragic tales centred on gay characters.
"I'm actually surprised I didn't initially nominate this," said panelist Ed Mathews, who oversaw initial publication of Young Bottoms in Love on the website PopImage. "The impact this webcomic had was incredible. We had users from as far as Saudi Arabia and emails of support pouring in with each volume... All we were trying to do was make more realistic (and fun) portrayals of gay characters on a daily schedule."
18. Pied Piper (Hartley Rathaway)
From The Flash. Created by John Broome and Carmine Infantino. Published by DC.
Piper was one of the pioneering gay characters in superhero comics; the first openly gay character at DC, beating even Northstar to the closet door by a year.
"I loved Piper's coming out moment," said Christine Smith. "He and Wally chatting, Wally asked him about the rumors [of the] Joker [being] gay. Piper matter-of-factly made the assessment that Joker is a sociopath with no real feelings of love, and that's not what being gay is all about. Then casually, he mentions that he's gay, assuming that his friend Wally already knew. Piper completely dismantled assumptions at the root of homophobia, and did so in a way that emphasized the common humanity between all of us. Coming out in super comics has never been so pointed and poignant... and this from 1991."
17. Wallace Wells
From Scott Pilgrim by Bryan Lee O'Malley. Published by Oni Press.
Wallace was the gay best friend of the title character in Bryan Lee O'Malley's Scott Pilgrim series, but he did not shrink in that supporting role.
"He's a gay guy who makes no apologies for who he is or what he wants," said writer Alex Woolfson. "While Scott twists himself into knots dithering over his romance, Wallace Wells sees what he wants, confidently makes it happen and ultimately kicks Scott's butt to the curb when Scott gets in the way of his love life (while still remaining a good friend to Scott). He takes the cliché of the 'supportive gay best friend' and turns it on its head in a way that's very satisfying to me." He also gets all the best lines.
16. Renee Montoya and Gotham Central: Half A Life
Character created by Sean Catherine Derek, Laren Bright and Mitch Brian. Gotham Central: Half A Life by Greg Rucka and Michael Lark. Published by DC.
The story of how Gotham cop Renee Montoya got dragged out of the closet in Gotham Central: Half A Life is one of the most compelling stories to come out of Batman's shadow city. Gotham Central is "a cut above most crime procedurals in any medium," says Alex Woolfson, "and this desperate, honest coming out tale stands as the series' finest moment."
As for Montoya herself, she has her admirers. "I love her as The Question," said Christine Smith. "A woman in a man's suit always gets my full attention. But c'mon, DC... give her a buzz cut already! Heck, give her a chest binder! Commit to her as a heroic butch lesbian! Butches don't often get to see themselves represented in comics, or most of popular culture. Montoya's a natural. Do it!"

15. Enigma
By Peter Milligan and Duncan Fegredo. Published by Vertigo.
Enigma is the story of a straight boy who meets his superhero idol and realizes he's not so straight after all. "The series is essentially a 'coming out' story but not in a traditional sense," said author Scott Robins. "The character Enigma lures the main character Michael to explore his homosexuality, which may seem problematic on first glance. But digging a little deeper, Enigma, as a foppish, theatrical superhero can be viewed as the embodiment of Michael's true acceptance of himself."
"For me, personally, it was an incredible breakthrough," said comics colorist José Villarrubia. "Enigma was a character that was not only gay, but pushed the buttons of the reader about sexual orientation and choice. It was a provocative, original and bold story. Milligan and Fegredo took the idea of the seemingly homoerotic hero worshiping that [Frederic] Wertham had warned us about and took it all the way."
14. Dar
By Erika Moen. DarComic.org.
Dar started life as Erika Moen's personal journal in webcomic form, but as tends to happen with such things, her life took some unexpected turns. Moen identified as a lesbian, but in the strips' second year she met and fell in love with a man. What followed was an honest and courageous exploration of questions of sexuality and identity, told with humour and verve.
"Erika Moen is the reason why I started writing comics," said Sam Orchard, creator of Rooster Tails. "I found her comic when I was just coming out as a (kinda) girl who liked other girl-type people. I've followed her comics for about seven years now, and watched her character in the now ended Dar comic grow and change and more, and find happiness."
13. The X-Men
Created by Stan Lee and Jack Kirby. Titles include Uncanny X-Men, New Mutants, X-Factor, X-Force, New X-Men. Significant contributors include Len Wein, Dave Cockrum, Chris Claremont, John Byrne, Brent Anderson, Louise Simonson, Walter Simonson.
The X-Men are comics' most famous outcasts, born different but sworn to fight for what's right in a world that persecutes them every day. It's no wonder that they've always found a following in the LGBT community. Doom Patrol writer Rachel Pollack believes the X-Men's themes are indelibly queer:
"Mutants are not the same as their parents; for most it's not something visible at birth, it emerges in fact in adolescence, when the kid suddenly realizes he or she is not one of 'us' any more but one of 'them,' and often the parents turn against him/her. Prof. Xavier's Academy could easily have been Harvey Milk High School."
Several members of the panel nominated individual X-Men who mattered to them. These included Storm, Rogue, Colossus, Havok, Wolverine and Shadowcat. In some cases, because they were inspirational, and in some cases because they were a young queer reader's first crush. For Alex Woolfson it was a single story, "God Loves, Man Kills," that had the most power. "[It] was such a clear parable for growing up gay in an oppressive society that assumes you're straight that it totally felt like it was written just for me."
12. Lord Fanny
From The Invisibles by Grant Morrison and various artists. Created by Grant Morrison, Steve Yeowell. Published by Vertigo.
Grant Morrison's fabulous transgender shaman from The Invisibles was the breakout character from that book, and a model and an inspiration for anyone seeking to become their own special creation. Lord Fanny was simply magical. "I am still pissed off that the time she gets to pick up a guy he turns out to be an assassin," said Dale Lazarov. "But she's a figure of, pardon the expression, fierceness in the face of apocalypse."
"Absolutely unapologetic and untragic," added Mike Horwitz. "Lord Fanny for President, please."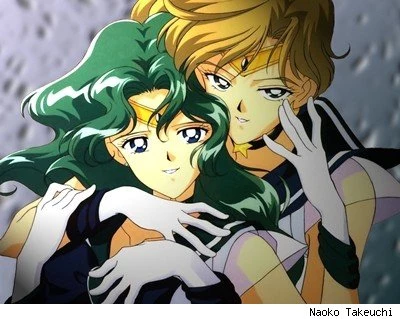 11. Sailor Neptune and Sailor Uranus
From Sailor Moon by Naoko Takeuchi. Published by Kodansha.
Sailor Moon has plenty of camp value. Horwitz remembers getting up early to watch the anime based on the series; "I woke up at 5:30 a.m. to catch Sailor Moon's half-hour morality play. And for Tuxedo Mask. And for the part where she spins around and gets wrapped up in ribbons like a may pole. And Sailor Venus' love whip. And the compact mirror walkie talkies. Mind boggling."
But it was the characters of Sailor Uranus and Sailor Neptune that made the series truly gay. "The realization that Sailor Uranus and Sailor Neptune were actually girlfriends -- as opposed to 'cousins' in the bowdlerized American translation -- was goddamn mind-blowing," remembered Blue Delliquanti.
10. Karolina and Xavin
From The Runaways by Brian K. Vaughan and Adrian Alphona. Published by Marvel.
It's a remarkable fact that all of Marvel's teen team books have at least one LGBT character. It's even retroactively true of titles like the original New Mutants and Power Pack. Credit for that can be split equally between Runaways, Young Avengers and the rebooted New Mutants, which all introduced queer characters in the mid-2000s.
Runaways took an especially interesting approach, not only outing founding member Karolina, but giving her the complication of a gender-shifting lover. This allowed writer Brian K Vaughan to explore questions of sexuality and gender in a way that seemed uniquely suited to superhero comics, and it gave Marvel its second most popular queer teen couple.
9. Northstar (Jean-Paul Beaubier)
From Alpha Flight and various X-Men titles. Created by Chris Claremont and John Byrne. Published by Marvel.
Northstar is the gay superhero poster boy. Because Pied Piper was a reformed villain and not an active hero when he came out, Northstar claims the title of the comic mainstream's first out queer superhero.
Northstar's coming out story in Alpha Flight 20 ago was cringe-inducingly executed, and he spent most of the subsequent two decades in character limbo or dead, but he still merits a high position in the pantheon of LGBT greats simply for opening the door that a lot of superheroes slowly and coyly followed him through. He's never really had his due as a character, but one hopes that his recent attention-grabbing wedding in the pages of Astonishing X-Men marks a serious bid for the spotlight and a new role as Marvel's premiere gay leading man.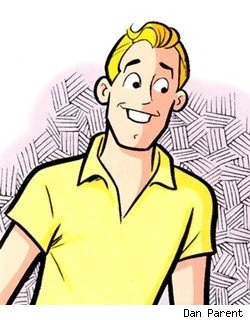 8. Kevin Keller
From various Archie titles. Created by Dan Parent. Published by Archie Comics.
There are several characters in the Archie Comics universe that resonate with queer readers. "My girlfriend and I years ago used to sometimes call ourselves Betty and Veronica," said Rachel Pollack, while Jughead was always "the go-to character for any kid who can't help but march to the beat of a different drummer," according to Christine Smith.
But there's no innuendo around Kevin Keller. You don't have to read between the lines. Kevin Keller is gay, out and proud. "It's easy to dismiss Kevin Keller as not even not 'queer' enough," said Christopher Butcher, "but Keller's strength, both as a character and as a monthly comic book, is his visibility... Three cheers for the boy-next-door from Riverdale for leading the way where heroes feared to tread."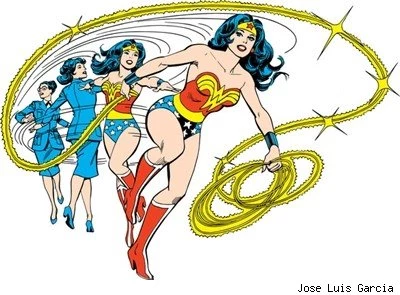 7. Wonder Woman
Created by William Moulton Marston and Harry G. Peter. Published by DC.
There are two things that make Wonder Woman significant LGBT readers. The first is her sex. "Wonder Woman is, perhaps, the most widely known female superhero," said cartoonist J. Bone. "In the male dominated world of superhero comics it's incredibly important that there exists a strong female role model for young readers." Wonder Woman is a gay icon because she's a survivor in a man's world.
The other thing that sets Wonder Woman apart is... well, sex. Her creator William Moulton Marston was a man who knew his own tastes. "Every kink you can think of," is how Rachel Pollack described the character's early appearances. So Wonder Woman is also an icon because she's a figure of sexual subversion. "DC reprinted some of the original stories in, I think, the '70s," remembered Pollack, "and it was what we might call a 'holy sh--' moment."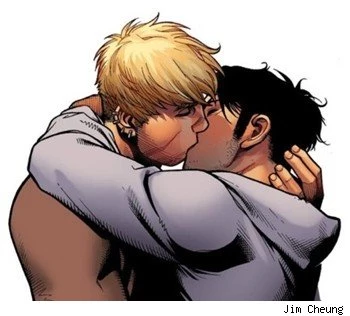 6. Hulkling and Wiccan
From Young Avengers and Avengers: The Children's Crusade by Allan Heinberg and Jim Cheung. Published by Marvel.
It may surprise some that Marvel's highest entry in this list did not go to Northstar or the X-Men, but to a gay teen couple who have been around for less than ten years -- and who shared their first on-panel kiss only this year. Something about the sweetness of the love between Hulkling and Wiccan, aka Billy and Teddy, has struck a strong chord with readers looking for a little romance to melt their hearts. After dealing with time travellers, alien invasions and mad mutants, their story stands out as an It Gets Better for the superhero set.
5. Toland Polk and Stuck Rubber Baby
By Howard Cruse. Published by DC/Paradox Press.
"Howard Cruse's magnum opus about what it's like to grow up gay in the American Deep South during the civil rights movement... transcends its personal and specific setting to be a book that has something to say to just about everyone who reads it," said Greg McElhatton. Glen Weldon added, "Cruse's ability to make Toland's gradual acceptance of his own gayness just one narrative thread amid many helped me keep an otherwise wrenching process in perspective."
McElhatton believes Stuck Rubber Baby should be mandatory reading for "anyone who's either newly out of the closet, or is just taking those first tentative steps." Christine Smith went further, saying, "This is required reading for comics fans... It is comics storytelling at it's most emotionally honest. Read it."
4. The Sandman
By Neil Gaiman, Mike Dringenberg, Shawn McManus, and others. Published by Vertigo.
The Sandman comics, the Death spinoff comics, and several of the unconventional characters from Neil Gaiman's landmark series featured heavily in the panellists' voting, including Death, Delirium and androgynous Desire. This rich mythic world is packed with queerness, difference, deviation and subverion.
The fifth story arc, "A Game of You," was singled out for particular praise because it introduced a whole house full of queer characters. "This was the first time I ever encountered a story arc that not only featured many LGBT characters, but also focused heavily on their various relationships and difficulties," said Anna Stiffler. "Before I was even a part of the LGBT community, it moved me and made me think about a lot of complicated personal and social issues that group often faces."
"['A Game of You'] hits the top of my list for many reasons, but the key highlight is the character of Wanda Mann," said Blue Delliquanti. "Wanda was the first transgender character I ever encountered in comics (and literature in general), and her sympathetic, endearing, and unforgettable character arc stuck with me as a reader and inspired me later as a comics creator. While trans characters and themes are still rare in pop culture in general, Wanda is a shining example of what is out there."
3. Apollo and Midnighter
From The Authority by Warren Ellis and Bryan Hitch. Published by DC WildStorm.
Apollo and Midnighter matter because they turned everything on its head. They were the WildStorm version of Batman and Superman, and they were not only gay, but a devoted couple. They challenged reader's ideas about masculinity, sexuality and heroism.
The very existence of characters like these can make an enormous difference. "I didn't really start seriously reading comics until I was in college," said photographer Judith Stephens, "and it wasn't until college that I chose to discover things about myself that I had been ignoring. But some of the first comics I picked up were the Authority books. Apollo and Midnighter were one of the main reasons I continued to read issues from this Universe. Not only were they strong, authoritative characters, but they were gay and in love."
2. Batwoman (Kate Kane) and Batwoman: Elegy
Created by Greg Rucka, JH Williams III, Michael Siglain, Alex Ross and Devin Grayson. Batwoman: Elegy by Greg Rucka and JH Williams III. Published by DC.
After a few false starts, Batwoman was the first gay superhero to headline her own ongoing title, and that makes her a milestone character. She's also superbly well-realized, especially in her debut storyline Elegy.
As Blue Delliquanti observed: "Every time I start to lose hope in superhero comics, I remember that DC dared to reinvent Batwoman as a driven, self-assured lesbian badass. And that it was immediately popular and successful." For Kate Leth, the character felt especially close to home. "When Batwoman came out, I was a tattooed, red-headed queer girl named Kate and I honestly couldn't handle that DC made a character that so specifically fell into the same niche as me. My hair's no longer red, but I still love DC's headlining bat-lesbian."
1. The Works of Alison Bechdel
Including Dykes to Watch Out For and Fun Home. Published by Houghton Mifflin Harcourt.
In its 25-year run, the comic strip Dykes to Watch Out For became one of the cornerstone works of contemporary LGBT literature. It was a soap opera, a chronicle, and a commentary on queer life. With Fun Home and Are You My Mother?, author Alison Bechdel cemented her position as the leading queer voice in comics. Our panellists voted overwhelmingly to recognize the works of Alison Bechdel as the most important comics for LGBT readers.
"In terms of characters, the ones I gained the most strength from growing up were in Alyson Bechdel's Dykes to Watch Out For," said Alex Woolfson. "With their smart, cheerful empowerment, they were the ones I most wanted to emulate in my late teens as I was coming out." The strip began in the early '80s, but its resonance hasn't faded. "I just finished reading the complete Dykes to Watch Out For," said Sam Orchard. "Even years later it's still so apt, so on point, and so hilarious."
For Dale Lazarov, it was Bechdel's memoir of her gay father in Fun Home that was most effecting. One memory stands out. "The implied juxtaposition of the image of Bruce Bechdel working on his tan with the image of a GQ pin-up's model's pose and the image of a corpse on an embalming table totally nails the idea that the pursuit of aesthetic, material perfectionism is a kind of unfulfilling withdrawal from life and, ultimately, a self-destruction." For creators and readers alike, Bechdel established a high watermark. "Fun Home set the bar for me in terms of writing honestly," said Kate Leth. "Whenever I'm worried about telling a personal story, I think of Alison Bechdel and remember to be fearless."
ComicsAlliance extends its thanks to all the panellists, including Lee Blauersouth, co-author of Godseeker; cartoonist J Bone (Gobukan, Alison Dare); Christopher Butcher, manager of The Beguiling Books & Art; Tristan Crane, photographer and writer of How Loathsome; Howard Cruse, author of Stuck Rubber Baby; writer and letterer Rachel Deering (Anathema, Womanthology); Blue Delliquanti, creator of O Human Star; RJ Edwards, creator of Riot Nrrd; Tim Fish, creator of Cavalcade of Boys; Megan Rosalarian Gedris, creator of YU+ME: Dream; the Gerbil, creator of Cordyceps Tickles; former DC Vertigo senior editor Joan Hilty; former Marvel editor Michael Horwitz; erotic comics author Dale Lazarov, (Manly, Sticky); Kate Leth, creator of Kate or Die; writer Jim McCann (Mind the Gap, Return of the Dapper Men); Ed Mathews, writer of Otter Pup Comics; blogger and comics reviewer Greg McElhatton; Erika Moen, creator of Dar and co-creator of Bucko; Sam Orchard, creator of Rooster Tails; novelist and Doom Patrol writer Rachel Pollack; librarian Scott Robins, author of A Parent's Guide to the Best Kids' Comics; Kate Saturday, creator of Circus Season; Christine Smith, creator of The Princess; cosplay photographer Judith Stephens; Anna Stiffler, creator of Find Chaos; colorist and art teacher José villarrubia (Promethea, Mirror of Love); NPR comics blogger Glen Weldon; comedian and ComicBookResources columnist Brett White; and American yaoi author Alex Woolfson (Artifice).