Digital December: DC Comics and the Future of Digital
Digital December rolls on today to DC Comics, where today's interview is with Hank Kanalz, Senior Vice President, Digital for DC Entertainment. Prior to that, Kanalz was the Vice President and General Manager of WildStorm. We asked DC the same questions we gave everyone else, and the answers are interesting. Video game tie-ins, which aren't huge sellers in comic shops, do gangbusters online. We also discussedt comics being simultaneously released in print and digital, DC's graphic novel plans, and how ownership fits in with their idea of where digital comics should be going. Read on after the jump.ComicsAlliance: Just to start from the beginning, how long has DC been producing digital comics?



Hank Kanalz: We're new to the game, as you can imagine, having launched on two platforms in June of this year.
CA: Generally, how have digital comics performed in the marketplace for DC? Have there been any series which were surprise hits in digital form that just sold on par in print?
HK: Overall, our digital books have been doing great. The books that have done well in print also perform well in digital. We've had a few digital surprises with some of our books that have a wider appeal. Books like Fringe and God of War top our charts. While they may not perform like a Green Lantern in print, they are doing outstandingly well in digital.
CA: Direct Market shops generally service a certain demographic and bookstores service a somewhat more mainstream demographic. Have digital comics sales aligned with one or the other?



HK: For us, they seem to be carving out their own demographic, rather than aligning with bookstores or the direct market. The appeal is definitely broader, but not in the same way we're seeing in the bookstore "mainstream" demographic.
CA: Have comics that traditionally do not work as well in one market or the other, such as video game tie-ins or novel adaptations, sold well digitally?
HK: Yes, they have. I think the potential reach to the customer who may not live near a comic shop but is interested in the transmedia content can be made through these platforms. It's very easy to make an impulse purchase from the comfort of your own sofa.
CA: The industry-wide digital comics rollout has been fairly conservative. How do you go about choosing which series get converted to digital comics first?



HK: That's actually a complex process that isn't based solely on sales in the print world. We try to balance our releases, which I'm happy to see people actually noticing. Everyone wants everything digitally available NOW, but digital doesn't mean "instant" -- there is a lot of work that goes into preparing our material digitally. So, we want to be sure that there is compelling content released on a regular basis.
CA: Can we expect to see complete original graphic novels, such as the Vertigo Crime line or Superman: Earth One, on DC's digital services?



HK: I'd love to give a vague answer, but then I'd shudder to think of the leaps of logic that would come of it. I think it's a reasonable expectation that many things will eventually become available in the digital space, but that we're not prepared to commit to a date or a window of time, at this moment.
CA: Day and date comics -- released in digital format on the same day as in comic shops -- are another sticking point with digital comics. DC already produces at least one day and date title, and a fairly significant one, at that. For non-day and date comics, how do you decide how far behind the print release the digital comics release should lag?
HK: We get tons of requests for more day and date books! We only have the one book now (Justice League: Generation Lost), with a few more on the way very soon. Much of this is dictated by the production schedule. As I mentioned, "digital" doesn't mean "instant," and with the prep and approval process in place with our digital platform partners, we often cannot get a book out on the same day as in print. Hard to believe in the digital age, but it's how things work right now.
For Brightest Day, we decided to put out in alternating weeks from the print book, but timed with the hardcover collection of the first arc. We have something "new" for Brightest Day each week now.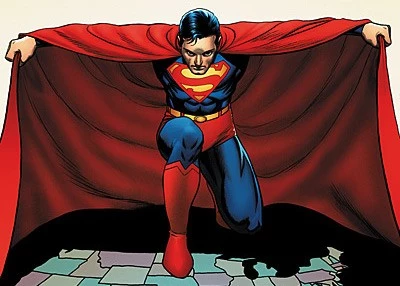 CA: In terms of the comics reading experience as it currently stands, comics are generally stored on the cloud and are inaccessible for anything but reading. How do traditional ideas of ownership, whether that means the ability to legally transfer a work to another machine or simply having the ability to have a comic book stored on your desktop, factor into your plans?



HK: Kind of answered below, too...
CA: A common question is whether or not digital comics will have an iTunes, a centralized store with a deep library across a variety of publishers. DC has allied with ComiXology for the DC Store, which puts it into direct competition with Marvel, Image, and dozens of other publishers. Why did you choose to partner with ComiXology, rather than creating a store that is wholly your own?
HK: Convergence is important to us. We want our customer to buy a book once, and be able to read it on as many devices as possible, and comiXology enables us to achieve that. We're in direct competition with the same companies in bookstores and the direct market too. Overall, we think it's better for the industry. Yes, if we had a closed store, we'd capture sales from the diehards who seek us out. By participating in the open market, customers are rewarded with choice. That ends up lifting sales for everyone, really.
CA: Where and how comics are sold has a habit of creating massive change in the comics industry... How do you see the advent of easy to attain and affordable digital comics affecting the comics industry?
HK: It is so early, but all signs point to "positively." We've heard from [direct market] retailers that they are getting new customers who come in for print versions of books they buy digitally. While they may not buy everything in print, they sample books digitally, and use that to inform their print purchase. The key point here is that they are gaining new customers, and not losing customers. No one has told us they've lost customers to digital. We really look at this as additive to the business.