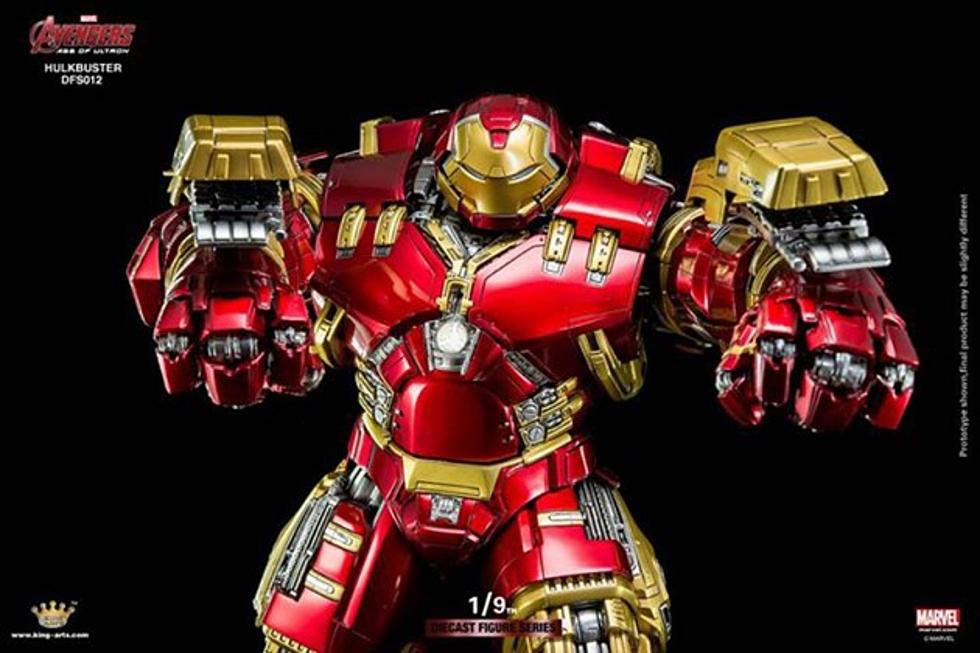 You Won't Believe What Secrets This Hulkbuster Figure Hides Inside (OK, You Might)
King Arts
Yes, yes, it's another Iron Man figure based on the movie version of Marvel's genius, billionaire, playboy, philanthropist. Yes, it's another extremely pricey high-end collectible recreating the Hulkbuster armor at a size that will actually allow it to fit in most homes. What sets King Arts Hulkbuster apart, aside from the 1/9 scale (who does that?), is that you can actually fit a 1/9 scale Iron Man figure inside. Guess it's a good thing that King Arts has one of those, too, isn't it?
King Arts has previously dabbled in 1/9 scale Iron Man figures in the past, but is taking its commitment to the scale to new heights with this Hulkbuster. It's also crafted some extremely expensive mobile phone charger statues, too, but even those pale in comparison to the Hulkbuster. Which, to be fair, isn't all that big an accomplishment considering those are statues, and this figure is fully articulated and fits an Iron Man inside. It's kind of a big deal.
At just over 16" tall, King Arts' version of the oversized Iron Man armor isn't quite as massive as what Hot Toys is delivering, but offers much of the same functionality. There'll be LED lights in the eyes, chest, hands and feet. There's no number of points of articulation given, but the pictures do show a fairly impressive range of motion, as well as digits that can be opened and closed.
Where King Arts is taking things in a different direction is leaving space in the chest cavity to fit a 1/9 scale Iron Man inside. To this point, only a handful of collectibles have offered that kind of feature, and none of them have been bigger than a few inches tall, let alone at this size. Even Hot Toys' version merely includes a static bust of Iron Man's head inside its Hulkbuster. Granted, you actually also have to purchase an Iron Man figure to put inside if you really want the full effect, and an additional $190 might be out of the range of acceptable expenditures for most collectors.
The King Arts Hulkbuster will retail for $649.99 on its own, which is a fairly comparable price to like iterations, but its size differential to most other high-end figures (typically all at 1/6 scale) might be a dealbreaker for some collectors. Also, as cool as it would be to have an Iron Man to put inside, you'd be paying almost $900 to have a figure merely sit inside another, rather than having it on display all on its own.
Learn More About The Avengers With These Videos