Here at ComicsAlliance, we were pretty caught up in Girl Week over the past seven days, but now that things have settled down, we've been reminded that it's the most wonderful time of the year. No, not Christmas: March MODOK Madness!
For the past three years, the mad geniuses behind the March MODOK Madness Blog have turned the 31 days of March into a month-long celebration of Marvel's most ridiculously awesome mental mastermind.
M.O.D.O.K. has been a subject of fascination in the comics community ever since Jack Kirby put pencil to paper for "Tales of Suspense" #93, whether in the infamous "Journal of M.O.D.O.K. Studies," the fantastic Bob the Angry Flower strip that introduced M.O.D.O.K.M.O.D.O.K. (the Mental Organism Designed Only for Killing MODOK), or even in Marvel Comics themselves, where Jeff Parker and Cameron Stewart created M.O.D.O.K.'d versions of Earth's Mightiest heroes in "Marvel Adventures Avengers."
At MMM, though, the idea is to get artists to interpret M.O.D.O.K. however they see fit, in what we can only assume is an effort to raise awareness of comics' greatest giant-headed, brain-blasting, rocket-assed super-villain, and that's a campaign we can get behind. After the jump, a few of our favorite entries from this year's first week!

Dave Lentz, artist of Registered Weapon, mashes up M.O.D.O.K. with metal icon Glenn Danzig:
Kenny Keil brings us a MODOK that likes it loud, 'cause he's the man with the box that can rock the crowd:
Ryan Estrada shows us a slice of MODOK's awkward teenage years:
Polywen goes 3D to bring us MODOK in the CubeDude LEGO style!
Ryan Dunlavey, who has been a key part of Marvel's M.O.D.O.K. Renaissance with his "MODOK: Reign Delay" title, gives us the set of sketch cards we've been waiting for: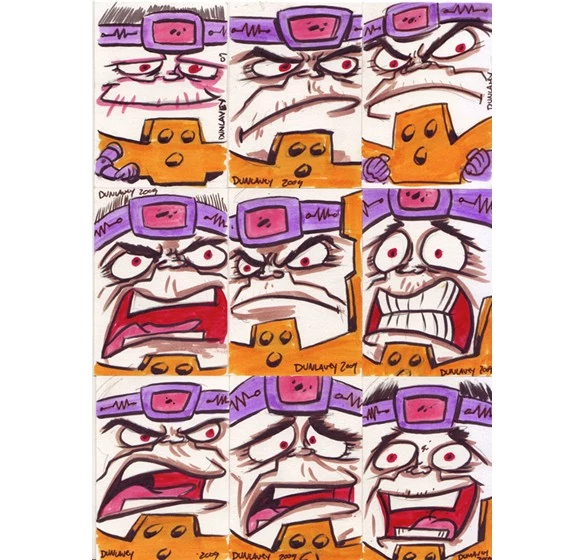 Those are just a few of the over 40 entires the March M.O.D.O.K. Madness blog has put up already, so
check back throughout the month
to see the new entries!