'Play Ball' Is a Home Run (Or Your Baseball Pun of Choice) [Preview]

Over the past few years, the writing team of Nunzio DeFilippis and Christina Weir have been quietly producing some of the most solid character-driven comics on the market. They've done it everywhere, from independent OGNs to webcomics, and even a story that introduced TV's King Tut to the Batman comics. This week, they've teamed up with up-and-coming artist Jackie Lewis to do it again.
The result is Play Ball, a fantastic all-ages graphic novel from Oni Press about a young girl named Dashiell Brody who -- as the title suggests -- wants to play baseball for her high school team. It's a great story and a beautifully designed hardcover, and we've got a massive 26-page preview and a few extra sketches from Jackie after the cut!We've featured Jackie before here at ComicsAlliance thanks to her incredible Sad Baby Monsters mini-comic, which delivers on the title in the most adorable way possible, and Play Ball is perfectly suited to her strengths. The requisite amount of Teen Drama that DeFilippis and Weir set against the backdrop of high school baseball plays out beautifully on the fluid facial expressions that Lewis gives to her characters, an aspect of the book that's every bit as important as getting the baseball stuff down pat.

It adds up to something that's fun to read, largely because the fun Lewis had while drawing it comes right through the page:
"I had an awesome time working on this book. My editor, Jill Beaton, is incredibly nice and has a good eye for a good story. The writers, Christina Weir and Nunzio Defilippis, really knew their baseball and helped me with finding good visual references. I'm still no expert on the game itself, but I can draw the hell out of a baseball cap now."
Check out the preview below!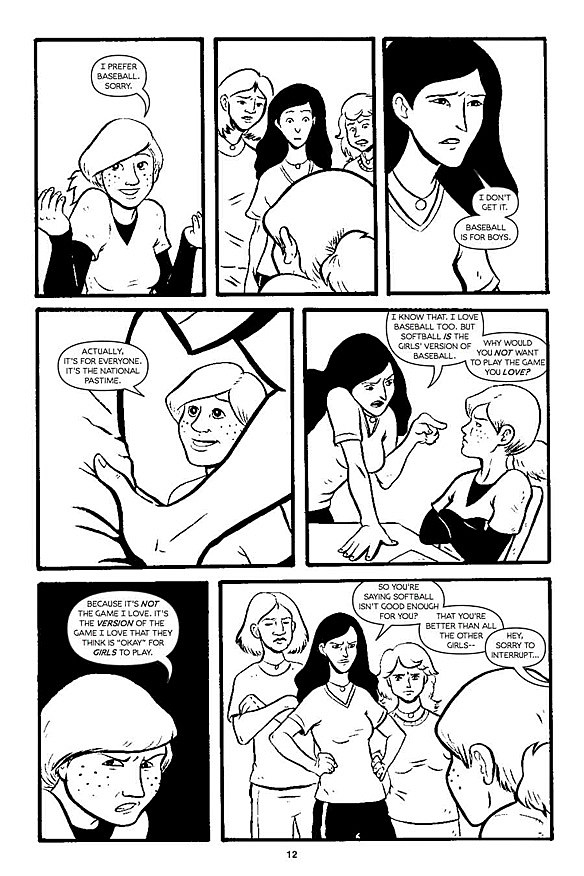 Play Ball is available in hardcover today in finer comic shops everywhere, or digitally through Comixology. Give it a shot, it's well worth it!