War Rocket Ajax Podcast #3: Jason Aaron Talks Punisher, Ghost Rider, John Carpenter

This week on War Rocket Ajax, the incredible Jason Aaron joins ComicsAlliance's podcast to talk about what it's been like to work on Ghost Rider and Wolverine, and to take over as the writer of PunisherMax after a character-defining eight-year run -- and he does it all while risking his very life by being interviewed during a gas leak. And you can listen to the entire show right here at ComicsAlliance!War Rocket Ajax v.2, #3: This May Be The Gas Talking With Jason Aaron

(WARNING: Contanis NSFW language)
In this week's episode, Chris and Matt are joined by Hundo Club member Clayton Johnston, the creator of KrakaDOOM Comics, who sits in on a discussion of Matt's plans to audition for the new Superman movie and the many surprising similarities between Batman and "The Nature Boy" Ric Flair. Plus, Big Ups To All My Haters returns for a rare second consecutive week, as Chris and Matt are taken to task for their "ums" and "ahs" by an educator from the Fourth World!
During the interview, Jason Aaron tells us about what he wanted to do when he took over Ghost Rider, the story of a carnival stunt biker who sold his soul to demons and turned into a flaming skeleton on an equally flaming motorcycle:
"I didn't just want to have him fighting ninjas with spikes all over them and do those same sort of Scarecrow stories again and again. So I tried to use as much of the '90s stuff as I could and, you know, just find some cool little bits and incorporate them. We brought Danny Ketch back in a big way, but yeah. The whole point was just to amp it up, and if you're doing Ghost Rider, you've got to embrace the fact that it's a guy with a flaming head who rides a motorcycle, and if you don't embrace how crazy and wacky that is and do some balls-to-the-wall sort of grindhouse stories, I don't know what you can do with it. It can't be a super-hero book. If it is, I wouldn't know how to write that. "

On following Garth Ennis's eight-year run on The Punisher:
"Anybody who works on Punisher for as long as there is a Punisher will be compared to Garth Ennis. There's no avoiding that, he's done the defining run in perpetuity.

"Garth's run on Punisher Max is one of my favorite runs by any writer on any character in the past several years. I think that those whole 60 issues are just rock solid. Anybody who you think would like a hard-hitting crime story like that, you can pick up any volume from that run and hand it to them and they would get an awesome complete story right in that book. So I was a huge fan of that the whole time it was going on.

"Him kind of winding down his run sort of coincided with me first starting to get work with Marvel, and I was first starting to work with Axel Alonso. And I told him as soon as I heard Garth was leaving, I said 'I would love to be in the mix for this.' And it never even crossed my mind, on the one hand it's kind of crazy. Who would want to follow what, like I said, was the defining run for this character and always will be? But you know, as a writer, if you don't get excited to do that, then what's the point?"

On his statements in response to Alan Moore:
"Obviously I don't know Alan Moore, never met him, but he freely admits that he doesn't read comics today, he doesn't really know many people anymore who work in comics. He has no f***ing idea who Geoff Johns is and I'm sure has never read any of his work. So yeah, I think some of his accusations about "here DC is ripping me off again" seemed a little ridiculous, considering they weren't based on anything than maybe a one-line summary that he'd read online somewhere.

"So no, I don't think we're all just sitting around raping the bones of Alan Moore. We've still got the bones of Chris Claremont and Frank Miller we pick at."
The Ghost Rider of the '80s, inspired by Lone Wolf McQuade (the finest of all Chuck Norris films), featuring a distinctly Michael Ironside-esque villain, who can be found in the Ghost Rider: Trials and Tribulations paperback:

The car from Corvette Summer, which is definitely on Netflix Watch Instantly right now:

Matt's Rec: Four Lions, which he wrote a review of here.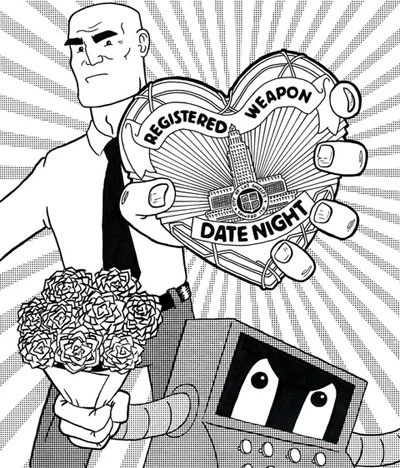 Chris and Matt give a glowing review to Scott Snyder, Kyle Higgins and Trevor McCarthy's relatively Hush-less Batman: Gates of Gotham #2, Clayton hips us to Joe Casey and Mike Huddleston's Butcher Baker: The Righteous Maker, and the crew discusses just what the heck happened with Chris Roberson and Eddy Barrows' Kurt Busiek and Rick Leonardi's Superman #712.