 Digital ComicsAlliance: 'Thor,' 'Detective Comics,' and 'The Complete Essex County'
Welcome to Digital ComicsAlliance, your headquarters for digital comics news and recommendations. We've got only the best for you this week: a bloody Thor comic by Matt Fraction, a Detective Comics mystery by Scott Snyder, and the relationship-driven drama of Jeff Lemire's Essex County.
1. Name: Thor: Ages of Thunder - Reign of Blood

Creative Team: Matt Fraction (script), Khari Evans (pencils), Victor Olazaba (inks), Matt Milla (colors), Patrick Zircher (artist), June Chung (colorist), Chris Eliopolous (letters)

Platform: ComiXology/Marvel (iOS, Web)

Price: $1.99

Format: One issue

Why: Back before Matt Fraction picked up the reins to the main Thor title, he did a few trade paperback-ready one-shots grouped under the name "Ages of Thunder." They were stories that drew more on Norse myth than the Marvel version of Norse myth, and brought some interested depth to a classic cast of characters. We get to see the petty nature of the gods, and the way that they callously treat each other and the humans who occasionally worship them. We see Thor and Odin repeating the same errors over and over again, until it finally reaches a tipping point. This one doesn't have the tipping point, but it does feature Thor piloting a device called a "Blood Colossus." There's a list of comics you need in your life. This comic? It's on it.

2. Name: Detective Comics: The Black Mirror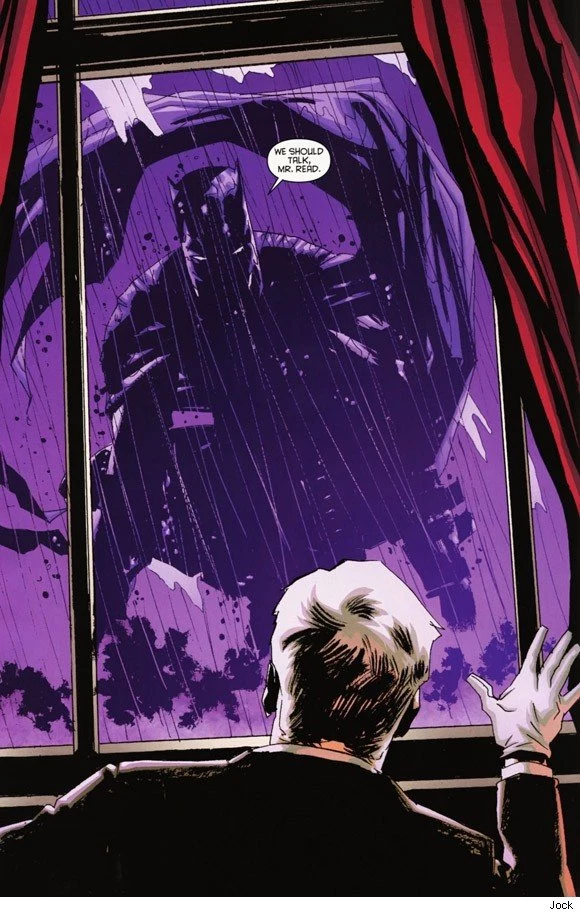 Creative Team: Scott Snyder (writer), Jock (art), Francesco Francavilla (art), David Baron (colors), Jared K Fletcher (letters)

Platform: ComiXology/DC (iOS, Web, Android)

Price: $1.99 each

Format: #871-881

Why: Scott Snyder's big cape comics debut, after a strong debut over at Vertigo with American Vampire, also ended up being the last Detective Comics story. This one stars Dick Grayson as Batman, and features Jock and Francesco Francavilla on art duties. They're a combination that don't seem like they would work well together on paper, but Snyder's deliberate plotting and Baron's steady color palette keeps Jock's more kinetic style in tune with Francavilla's pulpy pages. The story suggests that Gotham reflects her hero, and then introduces a new villain for Dick Grayson to interact with. It's an interesting take, and mostly successful I'd say. It's definitely well worth reading, and it's rarer than it should be for Batman comics to look this good.
3. Name: The Complete Essex County
Creative Team: Jeff Lemire (cartoonist)

Platform: ComiXology (iOS, Web, Android)/iVerse's Comics+ (iOS, Nook Color)

Price: $14.99

Format: One volume on ComiXology or the Comics+ app

Why: Here's something nice to wash down your cape comics with. Jeff Lemire is a rising star at DC, as near as I can tell, with Animal Man and Frankenstein being a couple of pretty good books out of the New 52. This was the book that made me first take notice of him, however. Essex County is one of those stories that's just about life in the countryside, family, and growing old. It's alternately touching, funny, and heart-wrenching. Lemire shows a real knack for creating believable characters, and his scratchy and thick lines make for a book that's real nice to look at, too. Lemire absolutely nails a visual style that makes the conflicts in this book feel just right, no matter how sad the outcomes. This book is one of those tearjerkers, though, so come in with your eyes wide open and tissues at the ready.
THE SALES

-ComiXology runs Marvel Mondays sales (wait for it) every Monday. Certain Marvel comics, usually ones from a specific series or united under a theme, are offered for half off. You can check their blog for the current sale on Monday mornings, and sometimes Sunday nights. Once Monday is gone, though, so is the sale. Keep an eye on their blog for other sales, too.
-Dark Horse runs themed sales every weekend. They've run sales on Serenity, The Goon, Conan, and Fray, among others, so you're pretty much sure to find something to like at some point. This week's sale hasn't been announced yet, but stay tuned to the Dark Horse Digital blog. There is also a page on Dark Horse Digital that lists ongoing specials.
THE PLAYERS

There are a few different ways to get digital comics right now. Here's a selection of the methods, listed by company in alphabetical order, and the formats they support:



Archie Comics (iOS)

Boom! Studios (iOS [identical to the Boom! offerings on ComiXology and syncs with your ComiXology account])

Comics4Kids (iOS [ComiXology for all-ages comics])

ComiXology (iOS, Web, Android)

Dark Horse (iOS app that syncs to your account on the web)

DC Comics (iOS, Web [identical to the DC offerings on ComiXology and syncs with your ComiXology account])

Double Feature (iOS, Web)

DriveThru Comics (CBZ, PDF, ePUB, and more)

Dynamite Entertainment (iOS,Web, Android [identical to the Dynamite offerings on ComiXology and syncs with your ComiXology account])

eManga (web)

Graphic.ly (iOS, Web, Android, Nook Color)

IDW Comics (iOS)

Image Comics (iOS [identical to the Image offerings on ComiXology and syncs with your ComiXology account])

iVerse's Comics+ (iOS, Nook Color)

Marvel Comics on Chrome (Web)

Marvel Digital Comics Unlimited (Web)

My Digital Comics (PDF, CBZ, and more)

The Illustrated Section (PDF)

Square Enix Manga (web)

Viz Manga (iOS, web)

Yen Press (web)


THE BASICS
There are a few things you need to know. You no longer need an iOS device (you know: iPad, iPod, iPhone), but you will need an internet connection, web browser, and, usually, Flash. Generally, you don't get to actually own your digital comics. You're paying to read them, and while this has been a fairly smooth process this far, that may rankle for some readers.
Are all these distributors different? Functionally, no, they aren't that different at all. Most of them allow for panel by panel reading (or a variation thereof) or page-based reading. The main differences are in selection. Frustratingly, certain comics are offered on several services, but released at different times. Marvel alone offers five choices. Most other publishers keep to one distribution method, and if they don't, they tend to keep their stuff mirrored across the various methods. If you want DC Comics, you're using ComiXology, for example, but Boom! Studios has comics on both. For Marvel Digital Comics Unlimited, you'll have to pay a subscription fee. It's essentially Netflix for comics, however, so that may be worth it for you.
Personally, I use a mix of all the services, which is far from an optimal configuration, but one that works well. Poke around and see which one you like the most.
When do digital comics come out? Marvel has a weekly schedule, with an option for viewing the next month's releases. That's as close as you'll get to a release schedule. To see what's new on ComiXology, subscribe to this RSS feed. IDW generally releases books four weeks after they ship in print. ComiXology updates on Wednesdays, Graphic.ly updates throughout the week, and IDW's app updates on Tuesdays, with day-and-date books arriving on Wednesday. Dark Horse updates on Wednesdays. This category on iVerse's Comics+ site lists the updates for the week. Marvel Digital Comics Unlimited releases books every Monday.
I'll update with RSS feeds and landing pages that show new releases as they appear! If you're a digital comics publisher and you don't have a feed or page that users can visit... well, please create one. We'd all appreciate it.