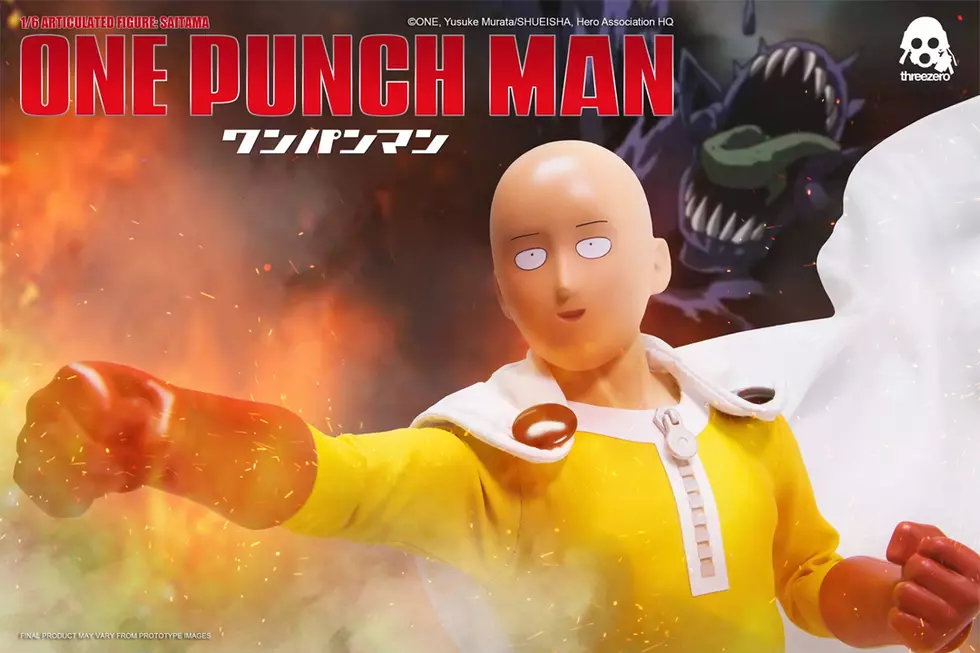 Get A Hero For Fun With Threezero's 1/6 Scale 'One Punch Man' Figure
ThreeZero
There have been a lot of action figures made for a lot of superheroes over the years, but I don't think there's ever been a figure made of a hero less suited for "action" than ThreeZero's brand-new 1/6 scale figure of Saitama from One Punch Man. I mean, at least the Man-Eating Cow from The Tick --- who actually did get an action figure --- ate a man once or twice.
Saitama, on the other hand, might have the unfathomable strength to defeat any enemy in a single punch in Yusuke Murata and ONE's manga, but since every fight he's in goes pretty quickly, he's far more likely to be seen on the page getting groceries. But with its new 1/6 scale action figure --- which clocks in at a full foot tall --- Threezero has actually captured that pretty well. This may be the only figure I've ever seen who comes with a sweatshirt, a shopping bag, and a single leek.
Here's Threezero's official description:
This collectible figure stands approximately 12" (30cm) tall, comes with Two Interchangeable Heads with different facial expressions; Tailored Hero Suit Costume with Cape, Exchangeable Hands and different accessories (please check detailed description below).
ONE-PUNCH MAN 1/6 Articulated Figure: SAITAMA Collectible Details:

 

SAITAMA stands ~12" (~30cm) tall;
Includes Two Interchangeable Heads:
Serious expression;
Usual comical expression.

 

Articulated figure features the following clothing and accessories:

Tailored Hero Suit Costume with Cape;
"Munageya" Supermarket Shopping Bag;
Snap-lock Coin Purse;
One Package of Crab Claws;
One Leek.

 

Collectible comes with Exchangeable Gloved Hands:
1 pair relaxed;
1 pair fists;
1 pair gripping.

 

Threezero Store Exclusive version in addition comes with following:
"OPPAI" logo Hoodie;
Cotton Pants;
Sneakers.
Exchangeable Bare hands:
1 pair relaxed;
1 pair fists;
1 right gripping hand.
If you're interested in getting one for yourself, pre-orders open on November 15 at threezerostore.com, where the price for the regular version is $160, and the exclusive version (complete with Cotton Pants) is $180.